Flipping Toys Online Is a Virtually Untapped Market — How You Can Get In on the Side Hustle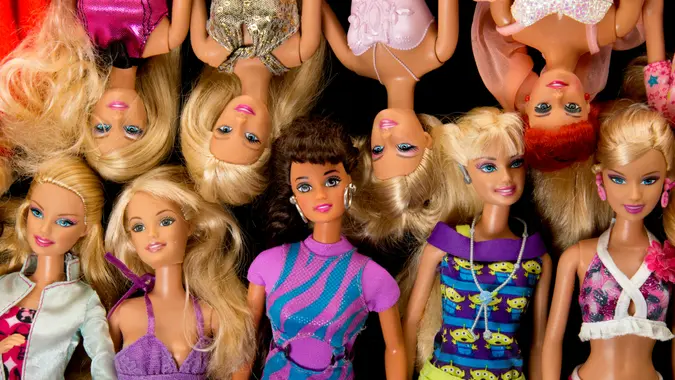 ivanastar / iStock.com
Flipping toys is an emerging industry, and if you get in on this trend early enough, you could be seeing big money for your old toys. Even if you don't have a ton of action figures and dolls from your childhood, acquiring them can be pretty easy and inexpensive if you know where to look — so you could be turning a profit on every sale. All it takes is a little ingenuity and research.
Learn More: 15 Times You Should Splurge, Settle or Skip When Shopping
Read: Wrapping Paper, Greeting Cards and More Holiday Items to Only Buy at Dollar Stores
Take Stock of What You Have

Whether you have a storage unit full of toys and collectibles, or maybe just a few stashed away in a closet, it's worth researching how much they're worth now. The "hot" vintage toys are always fluctuating based on demand. One of your most valuable resources as a toy flipper is eBay. There, you can search for toys to get an idea of how much you should list your toy for based on condition. However, if the toy you're looking to sell isn't on eBay, you can check out a few other resources to assess what your asking price should be.

This Old Toy has a wealth of information on how to determine the model of your toy and its authenticity if it happens to be a Fisher-Price, Playskool, Kenner or Hasbro item. The site also offers replacement parts if your toy is in need of a fix. On that note, if your toy is broken or you only have a piece of a toy, this site is proof there's a market for that as well! Take a look and see how much the replacement parts or incomplete versions of your toy are worth to see what your toy could bring in.
The Action Figure Archive lets you look up the type of action figure and what year it was made to get an idea of its worth. For antique toys, Grand Old Toys has a search function where you can reference many old toys and how much they're currently selling for. Plus, all of these sites have an email you can reach out to if you had any specific questions about your item.
Find Out: Shopping Mistakes You're Making and How To Stop
Check Out Your Local Sellers
If you left your toys in the past, there's still a way to get a piece of the action. One man's trash is another man's paycheck. Thrift stores, antique shops, garage sales, Craigslist and Facebook Marketplace are goldmines for scooping up old toys for cheap, then using the resources above to figure out how much they're worth, and selling them online.
Make Your Money Work Better for You
Most of the time, the toys in thrift stores or at garage sales are being sold just because kids outgrew them and parents are trying to make some space in the house. Sellers rarely check into the worth of the toys and are more concerned with getting rid of them, which means that you can sometimes pay $1 for something that's worth hundreds.
Even if you find out the toy you bought isn't worth anything, you didn't invest a lot, and you can probably still sell it on Craigslist and make a small profit. 
Ouch: 50 Purchases Buyers Almost Always Regret
Know How to Price Your Item
One of the most competitive places to see your toys is going to be eBay. When you search the item you're going to sell, use eBay's Advanced Search and click "completed listings." This will show you items that have sold already so you can see how much people have actually paid for your item in the past. You can uncheck that and see how much the same item is going for currently–if it's for sale at all. If there aren't any other items that match yours, but it's sold before, you might have an item that's rare. You can try pricing it slightly higher than the completed listing and set it for an auction-style listing. That way, you have the potential to get even more cash if the item is super hard to find.
Additionally, sometimes during the listing process, eBay will offer a "recommended selling price" based on similar listings. If you want to make sure you get a certain amount for your item, you can set that amount as the reserve price, to ensure no one bids less than your asking price.
More From GOBankingRates