Get Paid To Type: 10 Legitimate Sites To Earn Fast Cash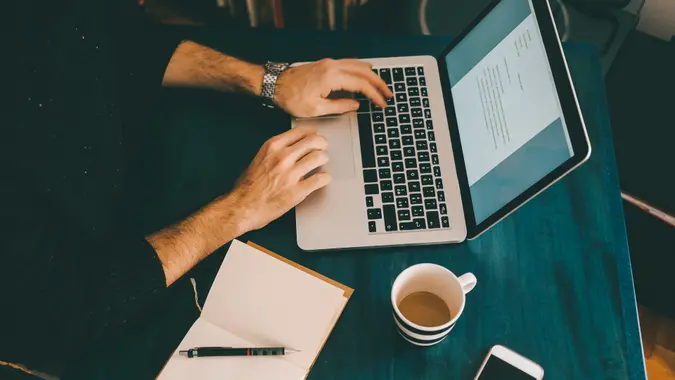 lechatnoir / Getty Images/iStockphoto
In this digital age, it's natural to build up a certain amount of typing skills. If you are looking to score some extra money and find it easy to make your fingers fly over a keyboard, then it should be a breeze to earn cash typing. Whether it is through virtual assistance, transcription services or even just getting paid to type online, the micro job of typing has some major advantages.
Read: 3 Ways to Recession Proof Your Retirement
10 Great Sites That Pay You To Type
It can be hard to find jobs, especially legitimate online typing jobs you can work from home, part or full-time. No matter if it is transcribing audio files, audio recordings, data entry jobs or legal transcription jobs, there is plenty of work out there where your typing speed can shine. Here are 10 sites to explore when searching for online jobs that pay you to type:
Fiverr: Varied
Working Solutions: Data entry
AccuTran Global: Stenography, transcription and voice writing
2Captcha: Captcha solving
TranscribeMe: Transcription
GoTranscript: Transcription
Babbletype: Transcription
Scribie: Transcription
OneSpace: Transcription
Rev: Transcription and captioning
1. Fiverr
Hourly pay range: Set your own
Fiverr is a great site for all types of beginning writers but does have an area where you can submit yourself for projects to transcribe, proofread, edit or work on other typing ventures. The pay does range, as you can set your own rates based on your personal skillset and experience. You can upload a resume and other writing samples to your Fiverr profile and get started.
Make Your Money Work Better for You
2. Working Solutions
Working Solutions is a great site to find jobs to work from home that have a focus on data entry. Though the pay varies, it does increase based on your data entry experience. Working Solutions has a remote team of independent contractors they refer to as the WooHoo! Crew.
3. AccuTran Global
Average hourly pay: $75 per conference call
To work for Accutran Global, you must be a State Board level CART certified contractor, such as CRR, CCP, CRC, RMR or CSR. This company pays you to type in such fields as real-time stenography, contract transcription and voice writing. If you have the typing skills and are certified, the only other thing you need besides headphones and a computer would be voice writing software.
4. 2Captcha
Average pay range: $0.14 to $0.60 per 1,000 words
One way to get paid to type is captcha solving, which is essentially editing or correcting the typing of text shown in images. The captchas are typically easy words or phrases, and all you need to get started is a computer. You have your choice of what platform to receive payment from, as there are options such as bitcoin or WebMoney.
5. TranscribeMe
Hourly pay range: $15 to $22
As the name suggests, TranscribeMe is a site that pays you to type for various levels of transcription, typically audio files. To get started, you simply need to take a skills assessment test. Once you are able to begin, you can earn a decent hourly wage while working flexible hours.
Make Your Money Work Better for You
6. GoTranscipt
Hourly pay range: $0.60 per audio minute
GoTranscript is one of the largest transcription and translation companies working today. They are often hiring and pay competitively. Though the company is based in the United Kingdom, they employ globally for transcribers for audio or video files.
7. Babbletype
Hourly pay range: $0.40 per audio minute
Like applying to any other job, you must interview and pass a few assessment tests. However, BabbleType, which specializes in audio-to-text services, does offer competitive pay and only asks for a minimum commitment of one hour a day of transcribing, four days a week. Not that you couldn't do more, but that is low on the time commitment scale, which may be best for your schedule.
8. Scribie
Hourly pay range: $5 to $20 per audio hour
Though the pay can be below average, one nice benefit about working with Scribie is that it provides automated transcripts, which can save you some time and effort. This a good place to get work from a long-running transcription company.
9. OneSpace
Average pay range: $0.10 per audio task
OneSpace will have you working with a variety of audio files to transcribe, such as interviews, phone calls or focus groups. Though you have to complete a lot of tasks to make money, it is still a viable company to transcribe for, and they only pay per task and not per hour, which offers flexibility.
Make Your Money Work Better for You
10. Rev
Average pay range: $0.30 to $1.10 per audio or video minute
With Rev, not only can you transcribe audio files, but you also have the chance to caption videos, which can add to the stimulation of the gig. You get paid weekly via PayPal and have the opportunity for a pay bump if you are bilingual and can translate as well as transcribe.
Final Take
The online job market is ever-expanding, and it never hurts to see what is newly available, especially in the typing field. If you are a skilled typist and looking for a new side hustle, any of these sites could be a good next move. It may be time to start pumping the old foot pedal and explore your typing opportunities today.
FAQ
Here are some answers to frequently asked questions about getting paid to type.
How can I get paid for typing?

There are many sites offering ways to get paid for typing, such as Fiverr, Freelancer or AccuTran Global. Visit these sites to see what is currently available.

Which is the best website to earn money by typing?

Some sites to explore to help you start earning money typing are 2Captcha, TranscribeMe and Welocalize, though pay range and availability will vary.

Is typing for money legitimate?

Yes, typing for money is legitimate

–

many reputable websites offer money in exchange for various typing skills, such as transcribing audio files, captioning videos or even real-time stenography.
Information is accurate as of March 7, 2023, and is subject to change.
Make Your Money Work Better for You