How To Use Kindle Publishing To Make $1,000 (or More) on Your First Book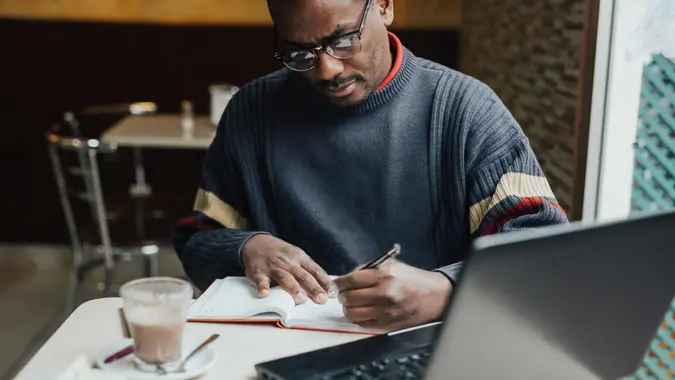 Anchiy / Getty Images
If you are an aspiring author or a published author looking to reach a wider audience online, Kindle Direct Publishing can be a great tool. It allows you as an author to deliver e-books directly to readers, which means you might take home a higher cut than they would through a traditional publisher, thanks to Amazon's royalty options.
However, successfully publishing with KDP does require a bit of knowledge and strategy. Here's everything you need to know about how to make money on Amazon selling e-books.
Read: How To Build Your Savings From Scratch
How To Make Money Through Kindle Direct Publishing
Here are some best practices and tips for maximizing your earnings when publishing your first book through Kindle Direct Publishing.
1. Have an Idea That Will Sell
If you haven't written your book yet, it can be a good idea to do a bit of research on the Kindle Marketplace. See what sorts of books and topics sell well in your category. If you're a first-time author, it might be a good idea to see what worked for other authors and incorporate it into your book.
2. Create an Eye-Catching Title, Cover and Description
Make sure that the title and cover of your book stand out from the crowd. You want to be similar enough to others in your category that you appeal to the readers you want to attract, but also different enough to catch their eye. Try to write a description that will hook potential readers and leave them wanting more. 
Make Your Money Work Better for You
3. Ask Friends and Family for Reviews
When potential readers visit your book's listing, it can be helpful if you already have some five-star reviews to help them make their decision. If you can, ask friends and family to leave reviews on your book's listing. Ask them to also talk about what they liked in the review, not just give five stars.
4. Price Your Book Right
In the beginning, it may be a good strategy to price your book lower to get higher sales. If you want to get on Amazon's bestseller lists, it may be easier to do so when your prices are lower. Then, once you've built reviews and a reader base, you can raise your prices.
How Does Kindle Direct Publishing Work?
Kindle Direct Publishing is a service provided by Amazon that allows authors to publish their books as e-books on the Amazon Kindle store. From there, readers can purchase copies of the e-book and download it directly to their Kindle devices. Amazon self-publishing also gives authors the option to publish their books as physical paperbacks, without going through a traditional publisher.
To use Amazon self-publishing, you must own the rights to the book you would like to publish. As long as you own the rights, you can publish new books or books that you have published through a different company in the past. All you need to do is follow Amazon's instructions on the Kindle Direct Publishing page to upload your files and publish your book. Amazon says that the publishing process takes around five minutes and that your books will be available to purchase on the Amazon Kindle Marketplace within 72 hours.
Make Your Money Work Better for You
When selling books on Amazon, you can choose between a 35% or 70% royalty structure. While the 70% structure pays you more, it is only available in certain markets and limits the price you can set on your book. Books with a 70% royalty must be priced between $2.99 and $9.99. Books with a 35% royalty can have a list price between $0.99 and $200. If you choose the 70% royalty option, Amazon will also charge you a delivery fee of $0.15 per megabyte of data for each e-book sold.
Is KDP Publishing Worth It?
One of the main advantages of publishing through Amazon KDP is that you retain full control over your book. You set your own prices and can make changes to them at any time. You also keep full rights to your work, something you may not always be able to do with traditional publishers.
Authors who publish through KDP get to keep up to 70% of the royalties from sales. In contrast, traditional publishers usually pay authors 5% for a mass-market paperback, 15% for a hardcover book and 25% for an e-book. If you are able to reach your desired audience through the Amazon Kindle store, then you may be able to make significantly more money than you would through traditional publishing.
Amazon has a robust category and recommendation system that can help readers find your books. Amazon Kindle devices are reported to hold 72% of the e-reader market. This gives authors access to a wide audience of potential readers in multiple countries. The Amazon Kindle Marketplace is available in, among others:
United States
Canada 
United Kingdom
Germany
India
France
Italy
Spain
Japan
Brazil
Mexico
Australia
Make Your Money Work Better for You
While there are many upsides to Kindle Direct Publishing, there are some upsides to traditional publishing as well. A traditional publisher can help market your book and get media attention from reputable publications. If you can secure a deal with a book publisher, they may also pay you a cash advance before your book ever reaches shelves. However, in return, you are usually giving the publisher the rights to your work. If your book becomes a bestseller, you are likely to make a lot more if you self-publish. 
Final Take
If you do it right, Kindle Direct Publishing can be a great way to make money from your writing. It's important to research your target genre ahead of time and to find the best ways to design your title, cover, and description to hook your audience. 
Kindle Direct Publishing FAQ
Here are the answers to some of the most frequently asked questions about making money by publishing books through Kindle Direct Publishing.
How much does it cost to publish on Kindle?

Publishing on the Kindle Marketplace is free. Amazon makes money by taking a cut of all sales of your books.

How much do authors make on Kindle Direct Publishing?

Authors can make either a 35% or 70% royalty. The royalty you are allowed to choose will depend on the markets in which you sell your book, as well as the book's category and price.
Editorial Note: This content is not provided by any entity covered in this article. Any opinions, analyses, reviews, ratings or recommendations expressed in this article are those of the author alone and have not been reviewed, approved or otherwise endorsed by any entity named in this article.
Make Your Money Work Better for You
Our in-house research team and on-site financial experts work together to create content that's accurate, impartial, and up to date. We fact-check every single statistic, quote and fact using trusted primary resources to make sure the information we provide is correct. You can learn more about GOBankingRates' processes and standards in our editorial policy.