Misprinted Dollar Bills Can Be Worth Thousands — Keep an Eye Out for These Details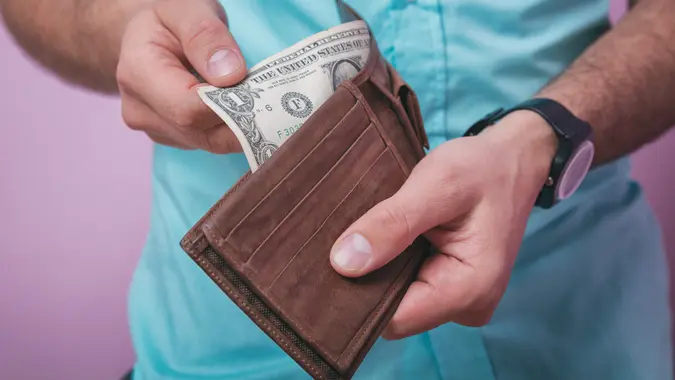 m-gucci / iStock.com
Every year, billions of dollars worth of U.S. currency are printed and engraved. In turn, once in a blue moon, something goes awry and there's a misprinting. This happened in July 2016 when the U.S. Bureau of Engraving and Printing sent a request to its Fort Worth facility to print a batch of dollar bills — the exact same request it had sent to its Washington DC facility in November 2014.
See Our List: 100 Most Influential Money Experts
Read: With a Recession Looming, Make These 3 Retirement Moves To Stay On Track
Learn: Get Your Credit Score on Track With These 3 Tips for Success
As a result, there are 6.4 million dollars out there with duplicate serial numbers (each serial number should be unique). Because these dollars are the consequence of a rare mistake, they're worth far, far more than face value.
Here's what to look for in one dollar bills:
The Series date positioned on the far right of the photograph of George Washington reads "Series 2013"
The bill has a "B" Federal Reserve Seal above the serial number which is located also to the right of the photo of Washington
The serial number ends with a star (*) and falls between B00000001*-B00250000* or B03200001*-B09600000*
Make Your Money Work Better for You
Take Our Poll: How Do You Think the Economy Will Perform in 2023?
If you happen upon one of these unique dollar bills, alas, you're only halfway to triumph. You will then need to find one of the other matching misprinted dollar bills that is floating somewhere out there in the world in order to have a valuable possession — worth between $20,000 and $150,000, depending on the condition of the bills and the serial number, according to Wealthy Nickel.
More From GOBankingRates
Make Your Money Work Better for You