Side Gigs: How To Join the 5% Who Make Over $1,000 a Month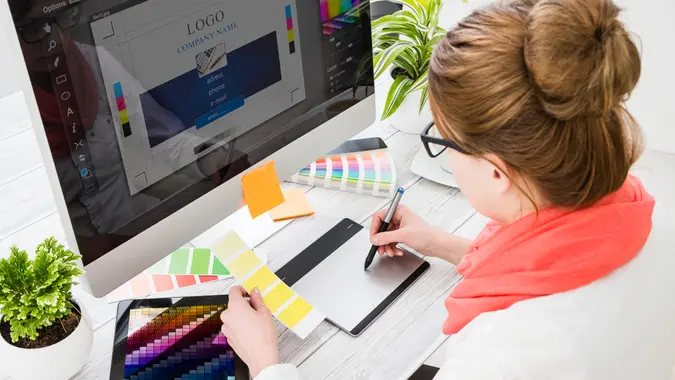 scyther5 / iStock.com
In theory, finding a side gig or a side hustle can be a great way to earn extra income. In reality, however, many people struggle to earn much from this extra work. A recent GOBankingRates survey found that only 5% of people with side jobs bring home more than $1,000 per month from these gigs.
That's not to say that side hustles don't have significant earning potential. In some cases, side gig workers choose to earn less, because they're only working a little to cover particular spending desires or to pay certain bills. But if you do want to earn more, you may need to make some changes — beyond just putting in more hours.
Getting Started
To start earning over $1,000 a month from a side hustle, you need to come up with a plan that works for you. Not all side gigs are a good fit for everyone, and just because someone earns several thousand dollars from one side gig means that you will, too. Conversely, some side gigs might not be lucrative for most, but maybe you have a way to earn more based on your skills.
Joey Ruffalo, owner of J.R. Financial Coaching, has first-hand experience using side gigs to boost his financial position. He said he's done a variety of delivery services, mystery shopping and e-commerce side hustles to help get out of substantial debt.
Make Your Money Work Better for You
Choosing Your Niche
To get started, Ruffalo first recommends doing research on what side gigs are viable for you, such as seeing if there are limitations — like if you live in a rural area with limited demand for ridesharing or delivery apps.
"The second [step] is to identify your skills and passions," he said. "Perhaps you have a talent for words or graphic design, and location plays no role, then apps like Fiverr and Upwork can be at your disposal. Take the first month to get familiar with the different apps."
"Find your strengths, the ones you like the best, and learn who pays what when. I call this 'multi-apping,'" he added. "Sometimes, one company is paying higher during a certain time period than another, so you do the higher-paying one that night and switch when the other starts paying higher. Learning multiple apps also lets you spread your earnings and stay busy."
Explore Earning Potential
Fairlane Raymundo, founder and CEO of Asian Entertainment and Culture, is an entrepreneur who's also held a variety of side jobs throughout her life.
She advises that there are a lot of side gigs with high-earning potential, such as freelance writing, bookkeeping, teaching English online — even if you don't speak another language — and walking dogs. "Many don't know that you can easily earn $200 a day" through a dog walking app, she said.
"Try everything you can try at first," she added. "Whichever side gig you enjoy the most is what you should concentrate on."
Keep in mind, however, that competition can be fierce in the world of side gigs. Your expertise isn't always enough to get paid what you want, said Raymundo.
Make Your Money Work Better for You
"If you are looking for work on online sites, the whole world is your competition," she said. "Despite your belief that you are the best, you probably aren't. Even if you are, the job may not need the best. They might need something a mid-level worker with a better track record can provide at the rate they want."
Sometimes you also need to take a step backward to go forward.
"Remember that what you think you deserve is way different from what a company can pay," said Raymundo. "There is a reason they are looking into getting part-time workers. Just get started. If the rate won't kill you, get started and get your track record rolling. Once you have built a good portfolio, it's easier to shoot for projects paying the rate you want."
Do the Math
In addition to finding a side gig that you're good at and that works for your lifestyle, make sure you do the math to see how to reach $1,000 or more per month.
"That amount might seem daunting, but if you break it down into bite-sized pieces, it becomes much more manageable," said Ruffalo. "Take $1,000 and divide by an average of 30 days in a month, and you need to earn roughly $33 a day. Work just three hours a day on your side gig, you need to earn just $11 an hour to reach [$1,000]."
That said, working an extra three hours per day isn't feasible for a lot of people, especially if you have a full-time job. But the point is that you can do the math and see how many hours and how much you need to earn per hour to reach your goal, whether that's $1,000 per month, $5,000 or even more.
Make Your Money Work Better for You
The same can apply to calculating how much you need to sell, such as if you have an e-commerce side hustle. Doing the math can then make it easier to stick to your goals.
Don't Burn Yourself Out
However, if you're trying to earn more than $1,000 per month in side gig income, that often involves working more than you currently are, so you need to be careful about burnout.
"When working with clients and even when I am doing the apps myself, I refer to these times as Goal Jobs," said Ruffalo. "You are trying to reach a certain goal by doing them. This keeps me focused on what I am trying to achieve and helps to stave off burnout."
But goals alone aren't the only solution.
"Don't be afraid to say 'no,'" said Ruffalo. "Not all offers pay the same amount. Stay away from the small, low-paying ones. Set a bottom amount for yourself. Yes, you want to stay busy when you are dedicating your hours, but you also want to feel appreciated, and feeling appreciated can help stave off burnout."
It can also help to have a clear idea of how you want to use the extra money. You might even find that the real earning potential comes from leveraging a side gig into a full-fledged business.
"Set a goal, and that should include moving on from your side gig to something bigger. Whether it's saving enough money to start a business, or a down payment for a house, or fully paying your debts, you need to have an end in sight," said Raymundo. "That way, you can set little milestones. Accomplishing something has an incredible way of motivating you. It won't do away with the burnout permanently, but it will help manage it."
Make Your Money Work Better for You
Methodology: GOBankingRates surveyed 1,021 Americans aged 18 and older from across the country between Oct. 12 and Oct. 16, 2023, asking twenty-three different questions: (1) How much did you spend on your pet in the last year?; (2) How much have you spent/are you planning to spend on Halloween this year?; (3) How much money do you spend on kid-related activities in a year?; (4) How much do you spend on average on your monthly utility bills (electric, heat/gas, water)?; (5) What spending/saving habits have you had to change in the last year due to inflation/rising prices? (select all that apply); (6) What was the biggest unexpected expense you had this year?; (7) How much do you currently spend on monthly car payments?; (8) Do you live in a single-income or dual-income household?; (9) In the past year, did you have to take on a side gig because of rising prices/inflation?; (10) How much do you bring home from your side job(s) each month?; (11) How much have your overall expenses gone up in the past year?; (12) What is your top financial priorities to end 2023?; (13) What is the top way you've earned your money/gained wealth?; (14) Have you started financially preparing for 2024?; (15) How much have you spent on home upgrades in 2023?; (16) How will the resumption of student loan repayments affect your budget?; (17) How much do you currently owe in student loans?; (18) How much do you spend on yourself (not including housing, food, etc.) out of each paycheck?; (19) How much do you spend on online purchases per month?; (20) Where do you shop for groceries most often?; (21) Do you shop around for groceries to get better deals?; (22) What are you currently invested in? (Select all that apply); and (23) What is the current value of your stock investments?. GOBankingRates used PureSpectrum's survey platform to conduct the poll.
More From GOBankingRates