13 Summer Jobs for Retirees Who Enjoy the Outdoors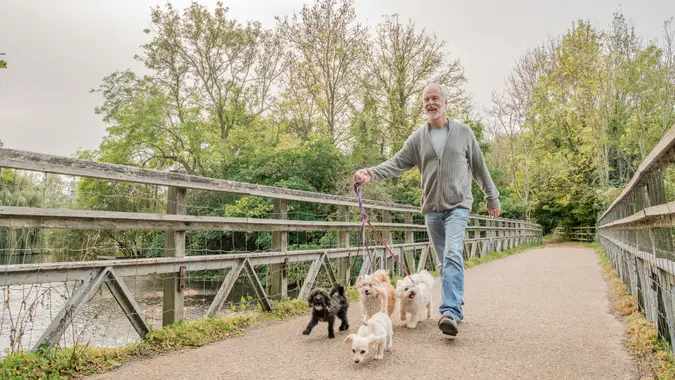 JohnnyGreig / Getty Images
You're retired, but that doesn't mean you're done working. Whether you're bored or simply need some extra cash, you want to find summer jobs for retirees — but you're only interested in those that are primarily outdoors.
See: How To Build Your Savings From Scratch
Winter is long, so you want to enjoy the fresh air and sunshine all summer long. Use this list to find ideas for jobs you might be interested in.
13 Outdoor Summer Jobs for Retirees
If you're a retiree looking for an opportunity to work outdoors this summer, here are 13 options to consider:
Golf course grounds maintenance
Botanical gardens employee
Tour guide
Camp counselor
Camp host
MLB ticket taker or usher
Concert amphitheater parking attendant
Farmers market worker
Catering staff
Referee
Youth sports coach
Dog walker
National park worker
1. Golf Course Grounds Maintenance
Spend your days on the golf course, but get paid for it. Working as a golf course groundskeeper is mostly manual labor, so this can be a great option if you're in good shape.
Specific tasks will vary by job but may include responsibilities such as mowing grass, trimming trees, using motorized equipment such as a leaf blower, moving tee markers, irrigation repair and fertilizer applications. You'll also likely need to be able to drive golf carts and other utility vehicles around the premises.
2. Botanical Gardens Employee
The only thing better than visiting your local botanical garden is earning a paycheck to be there. Job options will vary by garden but may include working in guest services, designing exhibits, coordinating programs, hospitality and maintenance.
Make Your Money Work Better for You
This is a great way to enjoy a local treasure on a frequent basis, without having to pay an admission fee.
3. Tour Guide
Spend your summer educating others on something amazing about your town. There are plenty of options — such as walking tours through your local historic district, local restaurant foodie tours, kayak tour guide, etc. — so search online to see what kinds of tour groups are hiring in your area.
Alternatively, you could start your own business. Find a niche not covered in your local area and create a fun and engaging tour around it.
4. Camp Counselor
School's out for the summer, so parents are eager to fill their children's free time with summer camp. One of the best summer jobs for retirees who previously worked as teachers — or anyone who enjoys spending time with kids — this type of job offers plenty of outdoor time.
Depending on the camp, you might be swimming, hiking, canoeing, playing tennis or doing outdoor arts and crafts with your group of kids. If you specialize in a certain area, you may also be able to get a job centered around your area of expertise.
5. Camp Host
If you enjoy camping, monetize your passion by working as a camp host. This might involve managing a camp store, canoe rentals, a boat ramp or part of a large campground — or all of a smaller one.
This is a fun way to spend your entire summer outdoors while meeting new people and earning a paycheck. You can find a local campground or have a true adventure by getting out of town for the summer and exploring a new area.
Make Your Money Work Better for You
6. MLB Ticket Taker or Usher
It might sound too good to be true, but it's not — you can take yourself out to the ballgame and get paid for it. If you're a baseball fan living in a city with a Major League Baseball team, serving as a ticket taker or usher during home games might not even feel like work.
Do note, if you're an usher you'll need to be able to climb stairs — frequently — and be willing to work in inclement weather when necessary.
7. Concert Amphitheater Parking Attendant
Get involved in the summer concert scene by working in the business of parking. In this job, you'll either park cars or direct traffic, allowing concertgoers to seamlessly leave their vehicles and get into the venue.
Some of your job duties might involve collecting parking fees, moving parking barriers, directing guests into parking spaces, keeping parking areas clean and helping create a safe environment for fans. As an added bonus, you'll almost definitely get to hear each show from the parking lot, so you'll essentially be getting paid to — kind of — attend concerts.
8. Farmers Market Worker
Instead of spending too much money at the farmers market this summer, get a job there. If you're interested in working for the market itself, check with your local parks and recreation department to see if there are any openings.
Another option: Businesses hire people to work at their booths, so you can also search for jobs that would allow you to assist a certain company. Depending on the job you get, you might only work at one farmers market or you could travel around to several local ones.
Make Your Money Work Better for You
9. Catering Staff
Summer is the season for outdoor parties and events, so consider working as a cater waiter. Whether you're working an outdoor wedding, birthday party or corporate event, this is a great way to earn money while spending time outdoors.
10. Referee
There's no shortage of outdoor sports leagues during the summer months, so put your athletic knowledge to work as a referee. Choose your sport and your audience — i.e., adult or youth leagues — and find the right fit in your local area.
11. Youth Sports Coach
Maybe you're a former athlete or perhaps you coached a youth sports league when your kids were young — or both. Regardless, working as a youth sports coach is a fun way to get outdoors and have a positive influence on young athletes.
12. Dog Walker
If getting paid to hang out with dogs is your dream job, making it a reality is easier than you think. You can hang flyers around town and spread the word on social media to advertise your dog walking services or use a site like Rover.com to connect with pet parents in need of your help.
13. National Park Worker
Turn your passion for national parks into a summer job. Find a position at a national park in your area or have a real summer adventure and seek out a temporary opportunity at a park somewhere in the U.S. you've been wanting to visit.
Search for national park worker positions on Usajobs.gov. You'll find a wide variety of options, including maintenance worker, administrative support assistant, museum technician, visitor services assistant and preservationist helper.
Make Your Money Work Better for You
Final Take
As you can see, there's no shortage of outdoor summer jobs for retirees. Whether you're looking for a position similar to your long-time career or something entirely different, you'll likely have no trouble finding an opportunity that meets your needs.