I'm a Self-Made Millionaire in My 20s: Here's My No. 1 Piece of Advice for People in Their 20s To Build Wealth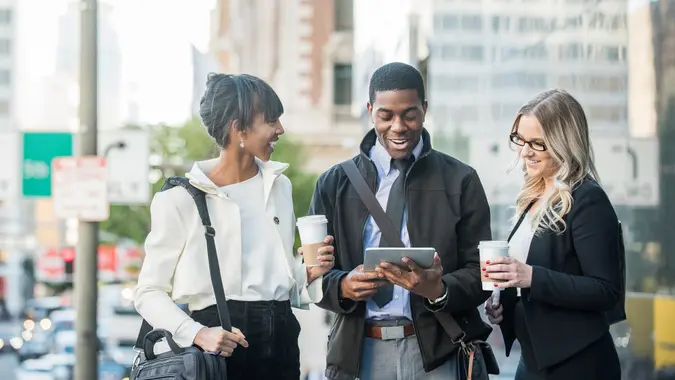 Spiderstock / Getty Images
Becoming a self-made millionaire in your 20s usually tends to inspire countless others in the same age range. How can they reach the same status as a twentysomething? What does it take to become a self-made millionaire by the time you hit age 30?
GOBankingRates spoke to four professionals who all became self-made millionaires in their 20s. Here's their number one piece of advice for people in their 20s to build wealth.
'Try the Idea You Dreamed Of'
Certified life and business coach Dielle Charon became a self-made millionaire at age 27. Her advice to those in their 20s who want to build wealth? Try that idea you have always dreamed of.
"I took a risk and stepped out and made this business," said Charon, adding if she had not tried her business idea, she would still be working in a 9 to 5 job and stuck at an income cap.
'Get the Help You Need'
Jasmine Haitalani is the brand coach and creative director at Highflier Powerhouse. She became a self-made millionaire when she was 26. 
Haitalani, a Syrian immigrant who has been in the United States for nine years, said her number one tip for building wealth is to ask for help.
"I had to learn how to manage money well in this country. I got guidance and an accountant and the help I needed to make the most of the money I was making," said Haitalani. "Do not be afraid to get the help that you need so you can maximize the outcome of your money."
Make Your Money Work Better for You
'Follow Your Instinct and Take Action'
For business coach Kirsten Roldan, who became a self-made millionaire at 27, her instinct was she needed to try entrepreneurship. It had to do with her health.
Becoming an entrepreneur helped Roldan honor how she felt and make more money than she could have dreamt in a typical job. It also helped her take action with her money. Roldan, who just closed on her first home, said she was able to set goals with money and looked at the facts to get there.
'Find Something You're Excited About and Obsess Over the Process'
Ryan Chaw, founder of Newbie Real Estate Investors, became a self-made millionaire at age 28. Now at age 30, Chaw's number one piece of advice for building wealth is to find something you're excited about doing and that pays you well. Then, obsess over the process.
Each day, Chaw said you should take time to master the process. Don't let shiny objects you see around you distract you, either. Chaw uses the example of how he built his wealth by building his rental property portfolio. He ignored the shiny objects — like getting into Airbnb rentals — around him. 
"You have to have an attitude that you'll figure it out no matter what," said Chaw. "With this advice, you'll do whatever it takes to master that one thing."
More From GOBankingRates
Make Your Money Work Better for You