What Does the Harris Vice Presidency Mean for Your Bank Account?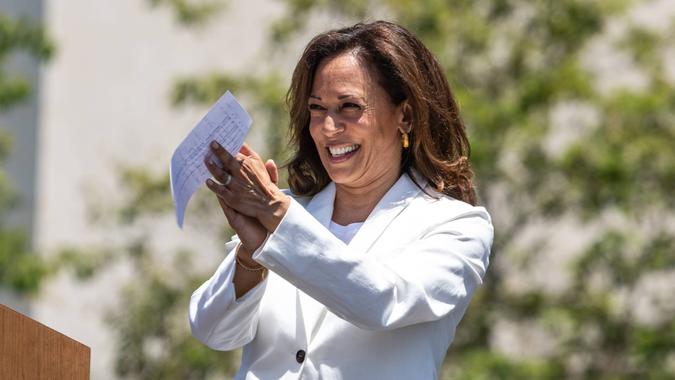 Karl_Sonnenberg / Shutterstock.com
Kamala Harris holds three official "firsts" in her role as vice president: first woman, Black woman and South Asian woman to hold the job. Expectations and projections run high on how she will wield the duties of her job and how much influence she will exert on President Joe Biden's agenda.
Find Out: Where Vice President Harris Stands on Top Economic Issues
"She's had unprecedented engagement so far," Harris communications director Ashley Etienne told MSNBC last week. "She's gonna be a full partner, and she has to be because the issues are just that complex."
Wall Street also responded favorably to Harris' role as vice president. The American Bankers Association told Bloomberg, "We look forward to working with the new administration and the new Congress to lift the economy further so every American has the chance to thrive."
Did You Know: How D.C. Turned Biden's Team into Millionaires
While Harris has more experience in criminal justice, as the former attorney general of California, than economics, here are some of the ways Harris' economic positions may have an impact on your bank account:
Make Your Money Work Better for You
Increasing Tax Rates for Some, Decreasing Them for Others
Both Biden and Harris campaigned on the promise that they would raise the top income tax rate only for the very highest earners, or the "1%," reversing Trump's tax cut for the wealthy, and committed to improving things for the middle class and lower-income folks. Harris stands by this. While these tax increases are unlikely to affect the average American, she also supports increasing tax credits that people can write off on their taxes, such as the earned income tax credit and making more Americans eligible for them, as well as resurrecting the LIFT ACT, (Livable Income for Families Today), which would allow a tax credit of up to $6,000 for households earning less than $100,000 per year. This legislation was introduced without much success in 2018 but may have a shot now with Democrats marginally in control of Congress.
Issuing Stimulus Checks
Harris has been loud and clear in her support of President Biden's "American Rescue Plan," a COVID-19 relief bill that has a price tag of nearly $2 trillion and will include additional stimulus checks of $1,400 to qualifying individuals and families. She called passing the bill "our highest priority" in an interview with NPR.
Looking Ahead: How Investors Need To Prepare Now for the First Year of the Biden Administration
Make Your Money Work Better for You
Shoring Up Rent Relief
When Harris was still just a California senator, in 2019, she introduced legislation called the Rent Relief Act, which would provide a refundable tax credit to renters who are paying more than 30% of their gross income on rent and utilities. Given the hardship many people are facing due to COVID-19, with pandemic eviction moratoriums soon to expire and with a slight advantage in the Senate, there's now a chance that a fresh version of this legislation could pass Congress.
Increasing the Minimum Wage
Harris has been quite vocal about her support for raising the federal minimum wage to $15, citing the average American's struggle to make a living, and to penalize companies that don't do their due diligence when it comes to workers' rights.
Read: How Much Is President Joe Biden Worth?
Acting as Congressional Tie-Breaker
As president of the Senate, at a time when the Senate is evenly divided with 50 Democrats and 50 Republicans, in the case of a tie, Harris will act as tie-breaker on any legislation, giving her the power to push through President Biden's policies, such as the most recent COVID-19 relief bill and any other economic legislation.
Make Your Money Work Better for You
In short, Harris as vice president may mean financial relief to those most in need, and a closure to tax loopholes for the wealthiest Americans.
More From GOBankingRates