Inside the Most Luxurious Private Jets and What They Cost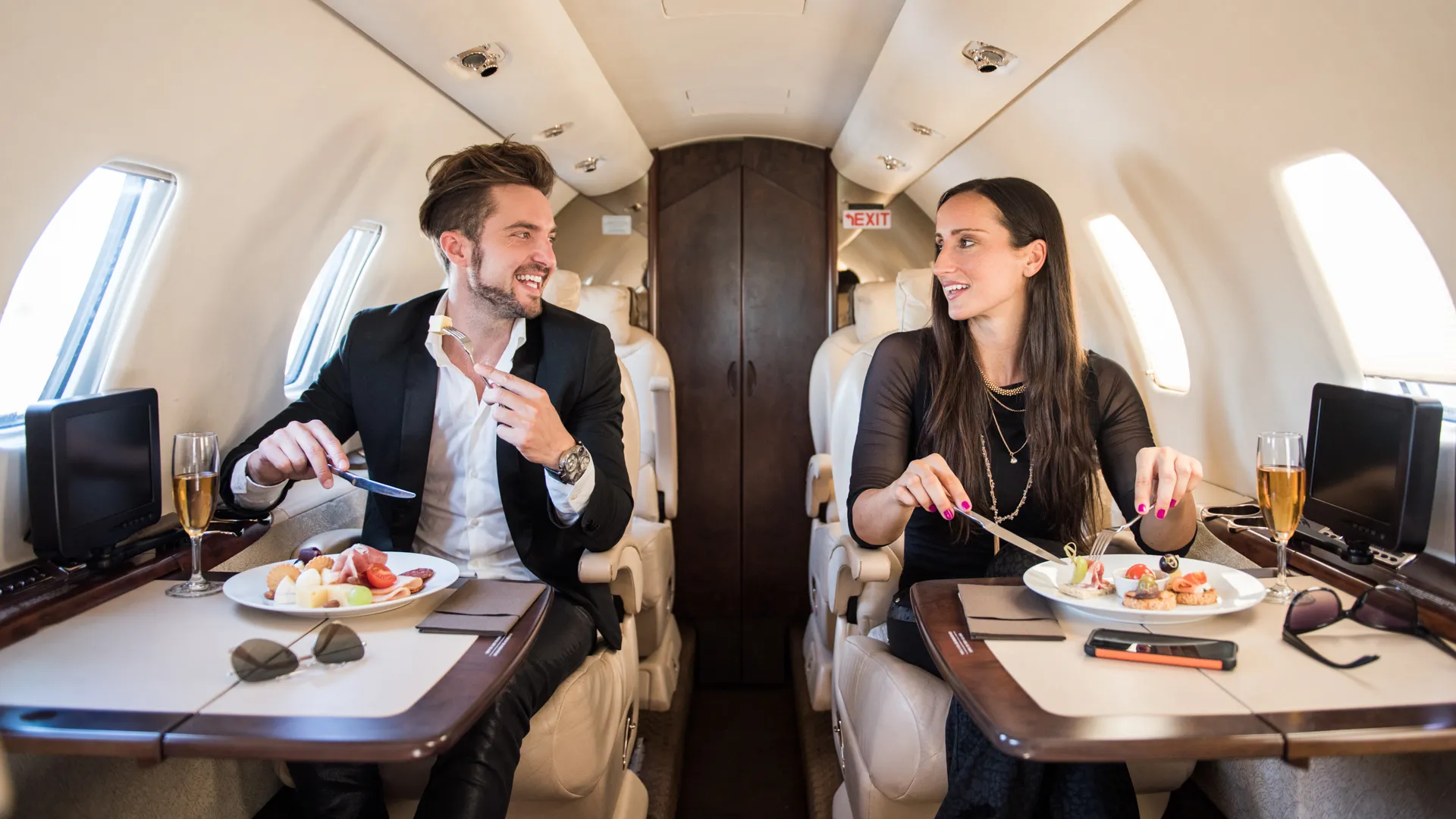 Who says the golden age of flying is over? Today's luxury private jets offer more grandeur — plus, they're a speedier and more convenient way to travel than what has been available at any other time in history.
With amenities like high-end suites, movie theaters and more, it's easy to see why those who can afford it would want to spend millions of dollars to buy, charter or just travel in these luxurious jets.
Click through to discover what it costs to fly like the rich.
Four Seasons Private Jet Boeing 757
Price to fly: $135,000
You don't have to be a millionaire to take a ride on the Four Seasons Private Jet, but deep pockets help. The luxury hotel company rolls out a variety of world adventures that include air travel on the company's posh Boeing 757 extended range.
The plane's unique design can navigate shorter runways in remote regions of the world, sweeping you away to exotic locales like Marrakech, the Maldives or the Serengeti.
Four Seasons Private Jet Interior
The dramatic silver and black exterior enfolds all the elegance you would expect from a Four Seasons experience on the inside. The luxurious leather seats were handcrafted in Italy, and the carpeting was woven by hand on traditional looms in Amsterdam.
You'll sleep in the best accommodations at each Four Seasons hotel on the itinerary, but if you want to nap on the flight, you can snuggle up in a Mongolian cashmere blanket.
Make Your Money Work Better for You
Four Seasons Private Jet In-Flight Perks
Stretch out with 78 inches of personal space in each seat, order a gourmet meal from the plane's private chef and enjoy the smooth ride provided by the Rolls-Royce engines.
Check out the view from spacious windows or stream entertainment on a personal iPad. An in-flight amenity kit includes Four Seasons slippers, a leather-bound journal, Bose noise-canceling headphones and other luxury products.
Airbus ACJ320neo
Price to buy: Approximately $95 million
It's little wonder that the ACJ320neo is one of Airbus' best-selling corporate jets. It has the capacity for intercontinental flying and an extra-wide body that's twice as wide as the typical luxury private jet. It's a great choice for tall travelers, too, with nearly 7.5 feet of headroom at the height of its domed interior, according to private jet comparison site PriJet.
Business Jet Traveler reported in 2018 that the ACJ320neo has a starting price of $95 million.
Airbus ACJ320neo Interior Features
The final price for this private jet depends on just how much customization you desire. Recent designs include a master suite and shower, flight seating with reclining fold-out beds for eight and a full-sized dining or conference space.
Bombardier Global 7500
Price to buy: $72.8 million
The wealthy world traveler seeking a luxurious and versatile experience should look no further than Bombardier's Global 7500 — previously named the Global 7000, according to a recent report from Aviation Week — as it has a range of 7,700 nautical miles. Standard features include four distinct living spaces and the largest galley in the industry.
Bombardier Global 7500 Interior
The Global 7500's standard interior configuration is still quite a luxury for the premier traveler, including a club suite with ergonomically adjustable seating, a conference/dining zone for six, an entertainment suite and a private suite. As a bonus, the ensuite lavatory in the rear features an optional shower, along with a wardrobe and direct access to the baggage compartment.
According to 2018 reports from Aviation Week and Robb Report, Bombardier sells this jet for $72.8 million.
Make Your Money Work Better for You
Sukhoi Business Jet
Price to buy: Over $50.5 million
According to the company website, the Sukhoi Business Jet is "reserved for high fliers" — and depending on the model selected, the jet is designed to transport as many as 38 passengers up to 4,000 nautical miles. The company's basic super jet model, the SSJ100, starts at $50.5 million, and corporate jet prices only go up from there. In 2013, Business Jet Traveler estimated prices to range from $50 to $55 million.
Sukhoi Business Jet
Divided into several customizable compartments, these planes include large conference areas, bars, private offices, bedrooms and roomy ensuite washroom with shower and wardrobe. Upscale fabric, rich wood and plush leather enhance comfort throughout.
Crystal AirCruises Boeing 777-200LR
Price to fly: Approximately $55,000 an hour
Forget about sharing space with 300 other people on a Boeing 777, one of the most luxurious private jets. The Crystal Skye, a Boeing 777-200LR owned and operated by Crystal Cruises, seats a maximum of 88 in elegant comfort. The 200LR has one of the world's largest ranges, meaning you can fly non-stop for 19 hours while enjoying a one-of-a-kind VIP party in the sky.
Crystal AirCruises Boeing 777-200LR Interior
Relax in Crystal Exclusive Class seats with individual power outlets and USB ports. When you want to snooze, seats convert to a lie-flat bed.
You won't be stuck in your seat during the flight, though. Visit the plane's social area, featuring lounge seating, a stand-up bar and a prestige restaurant.
CNBC reported in 2017 that flights can be chartered for $55,000 an hour — including access to a butler, a sommelier and other perks.
Make Your Money Work Better for You
Dassault Falcon 2000LXS
Price to fly: $34.7 million
There are more than 550 of Dassault's 2000 series flying the skies worldwide. The wide-body aircraft has plenty of room for luxurious comfort and can navigate challenging runways across the globe with ease. The 4,000-mile flight range makes it easy to fly across the country or the ocean at your pleasure — very similar to how the royal family flies.
Dassault Falcon 2000LXS Interior
On the luxurious Dassault Falcon 2000LXS, your handheld device gives you the power to control numerous cabin functions. Along with comfortable seating and 18 large windows, this jet has a galley that looks much like a home kitchen. Featuring 6 feet of headroom and a width of more than 7 feet, the interior boasts an open and airy ambiance.
In 2017, Robb Report stated that the plane was priced at $34.7 million.
Cessna Citation Sovereign+
Price to fly: $18 million
With a range of 3,200 nautical miles, a Cessna Citation Sovereign+ can take you for a weekend in the Caribbean, the Amazon or the Andes. The 63.6-foot jet only needs 3,530 feet of runway to land, making it ideal for travel to all parts of the world.
Cessna Citation Sovereign+ Interior
On its website, Cessna describes its Citation Sovereign+ as "an executive boardroom in the sky" — so you might have to spend money to make even more money doing business in the air.
Rich wood veneer, leather seating and lush textured fabrics give the plane a business-like look, while wireless cabin management makes this one of the best jets for getting things done.
In 2015, Business Jet Traveler reported the price Cessna Citation Sovereign+ price to be $18 million; in summer 2018, Flex Air Charters reported the same purchase price.
Make Your Money Work Better for You
Embraer Lineage 1000
Price to Buy: $53 million
According to a company representative, the Lineage 1000E is the largest and most expensive business jet Embraer offers. Five cabin zones loaded with luxurious amenities and various finish options make it one of the best executive jets for a home-away-from-home feel.
Embraer Lineage 1000 Interior
Step aboard into an entryway that boasts a curved divan and rich, wood veneer furnishings. When you're ready to rest, head for the jet's master suite and snooze in the queen-sized bed. Or, watch a movie on the 23-inch LCD display. You can also take a soothing rinse in the walk-in shower.
Business Jet Traveler states that a Lineage 1000E will set you back $53 million new, though last year, Forbes reported that for about $30 million more, Embraer offers luxe, custom Hollywood- and New York-themed interiors.
Bombardier Learjet 75
Price to buy: Over $13 million
Hailed as one of the most significant business jets of all time by Aviation Week and Business & Commercial Aviation, the Learjet has been the icon of private jets since the mid-80s.
The Learjet 75 falls into the light jet category but brings large jet features like a passenger wardrobe and extensive galley, as well as a range of just over 2,000 nautical miles.
Bombardier Learjet 75 — Interior
The Learjet 75 transports up to nine people in ultra-luxurious leather seats that swivel and recline, so you can converse or conduct business just as you would on the ground. Entertainment and connection is plug-and-play, with USB ports, high-speed internet and full control of the cabin via touch screens at every seat.
Make Your Money Work Better for You
Boeing BBJ Max 8
Price to fly: Approximately $100 million
Even though Boeing Business Jets have been flying the skies for years, the company's recent BBJ Max 8 rolls out the latest in luxury and technology, making it one of those things you'll probably never be able to afford. Thanks to lighter materials and seven auxiliary tanks, you can fly 6,500 nautical miles — farther than the distance from Los Angeles to Hong Kong.
A 2017 Aviation Week report estimates the costs to be about $100 million.
Deer Jet 787 Dream Jet
Price to fly: $70,000 per hour
Charter Deer Jet's 787 Dream Jet and take to the skies in unparalleled elegance. The plane accommodates up to 40 passengers and features a master bedroom, lounge and dining room, along with a guest cabin. The smooth-riding jet flies up to 17 hours nonstop, has a carbon fiber composition for fuel efficiency and boasts the latest technologies to counteract turbulence and noise.
You might forget you're on an airplane when you ride in the Deer Jet 787 Dream Jet. According to Condé Nast Traveler, the Dream Jet promises "seven-star service." As a bonus, the experience comes with an in-flight butler to attend to your every need in the skies.
Click through to read more about Las Vegas vacation secrets only insiders know.
More on travel:
The price to fly are estimates for the cost to buy, charter or ride in the private jet.
Priscilla Aguilera contributed to the reporting of this article.


BEFORE YOU GO
See Today's Best
Banking Offers