Your $20 Bill May Be Worth More Than You Think: How To Look Up the Serial Number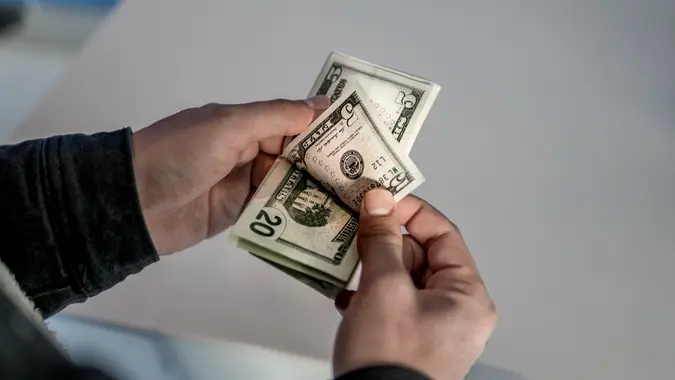 Alihan Usullu / Getty Images/iStockphoto
Have you ever found a $20 bill and wondered, "Is my bill's serial number worth anything?" To find the value, you'll need to do a little bit of research. Read on to learn more about serial numbers on money and how to look them up, so you can find out if your $20 bill is worth more than its face value. 
How Do You Know If Your $20 Bill Is Valuable?
The easiest way to find out if your $20 bill is valuable is to find the $20 bill serial number lookup value.
How Do You Look Up a Serial Number on a Bill?
One way to look up a serial number on a bill is to use an online tool, such as Fancy Serial Checker or Banknote Serial Checker.
On Banknote Serial Checker, you simply enter the $20 bill's serial number and other details, such as its denomination and series number, and you can find out if it's common or rare. The tool even provides a link to eBay where you can see bills similar to yours for sale. This is a convenient feature if you're trying to estimate your particular bill's value.
Make Your Money Work Better for You
If your bill appears to be worth more than face value from your research and you want to sell it, you could list it for sale on eBay. You could also hang on to it as part of your cash stash at home. 
An alternative to eBay is Heritage Auctions, where you can look up what different types of currency have sold for.
Other ways to look up serial numbers on money include reference books, a currency or coin dealer and currency forums.
What Is a Serial Number?
A serial number is a unique combination of 11 numbers and letters that appears twice in different places on the front of the bill. The first letter indicates the series year, also known as the year in which the Secretary of the Treasury approved a new design. The year listed could also be the year that the signature of a new secretary or treasurer was added to the design. Each bill or note of the same denomination has its own unique serial number.
Make Your Money Work Better for You
Through 1995, all Federal Reserve notes had serial numbers composed of the following:
One letter at the beginning. This indicates the series year.
Eight digits. 
One letter at the end. According to the Bureau of Engraving and Printing, this letter advances through the alphabet once all eight-character serial numbers have been printed for a specific Federal Reserve Bank within a series. When the series changes, the ending letter returns to "A" and repeats the cycle. 
An example would be A24687321B. However, only $1 and $2 notes still use this form of serial number.
Good To Know

In 1996, the serial numbers on Federal Reserve notes started beginning with two letters instead of one. The first letter corresponds to the series year. The second letter, ranging from A-L, indicates the issuing Federal Reserve Bank. The last letter in the serial number is anything but O, which is too close to zero or Z, which is used in test printings.
Series Year
The first letters in a serial number correspond to a year. Here's a breakdown:
A: 1996
B: 1999
C: 2001
D: 2003
E: 2004
F: 2003A
G: 2004A
H: 2006
I: 2006
J: 2009
K: 2006A
L: 2009A
M: 2013
N: 2017
P: 2017A
Q: 2021
Make Your Money Work Better for You
U.S. Federal Reserve Indicators
The location of the U.S. Federal Reserve indicator on each note or bill depends on its denomination.
For example, bills or notes in the following denominations — $5, $10, $20, $50 and $100 — have a letter and number indicator that's printed in a different place than the serial number, such as E5. The letter in the indicator, such as "E,"  is also the second letter of the serial number on the previously mentioned denominations. The number in the indicator, such as "5" is the corresponding number of the federal reserve bank. 
For $1 and $2 notes, each note has a seal printed on it with a letter in the middle and a number to the side, such as "E" and "5." This indicates one of the 12 Federal Reserve banks.
Here are the U.S. Federal Reserve indicators and their corresponding banks. 
A1: Boston
B2: New York
C3: Philadelphia
D4: Cleveland
E5: Richmond, Va.
F6: Atlanta
G7: Chicago
H8: St. Louis
I9: Minneapolis
J10: Kansas City, Mo.
K11: Dallas
L12: San Francisco
What Are Star Notes?
Some notes have a star in place of the ending letter. This occurs when an imperfect sheet is found during the manufacturing process and needs to be replaced with a star sheet. Star notes or bills have their own unique serial number with a star in place of the last letter. Star notes could prove to be more valuable than notes without stars.
Make Your Money Work Better for You
What Is a Fancy Serial Number?
According to Paper Money Guaranty, a third-party paper money grading service, fancy serial numbers are considered special serial numbers, such as repeaters and super pedigrees. Bills or notes with fancy serial numbers are considered to be more valuable. Here are the types of fancy serial numbers PMG recognizes:
Super pedigrees: When the serial number prefix is what makes the serial number super.
Combinations: When fancy serial numbers are combined together, such as radar, repeater and rotator. 
Rotator serial number: When the serial number doesn't change when read upside down. 
Solid serial number: The entire number is made up of the same number except for the prefix. 
Serial number 1-10: A serial number that is one of the first 10 notes printed. 
Repeater serial number: At least two digits repeat at least two times within the serial number.
Radar serial number: A serial number that reads the same forward and backward. 
81 million serial number: A serial number with a number 1-100 followed by six zeros.
Binary serial number: Serial numbers that only contain ones and zeroes. 
Ascending and descending ladder serial numbers: These serial numbers increase from low to high or high to low. 
A Quick Check of Your Bill's Serial Number Could Prove Valuable
Although most of your paper money probably won't be worth more than face value, there's a chance it might. And your bill doesn't have to be decades old either. There are bills of all denominations on eBay that were printed in 2017 that are listed for hundreds of dollars to over $1,000. It only takes a few minutes to check the $20 bill serial number lookup value. It's possible that just minutes of research could yield big bucks.
Make Your Money Work Better for You
Our in-house research team and on-site financial experts work together to create content that's accurate, impartial, and up to date. We fact-check every single statistic, quote and fact using trusted primary resources to make sure the information we provide is correct. You can learn more about GOBankingRates' processes and standards in our editorial policy.