Who Is the Highest Paid CEO in Your State?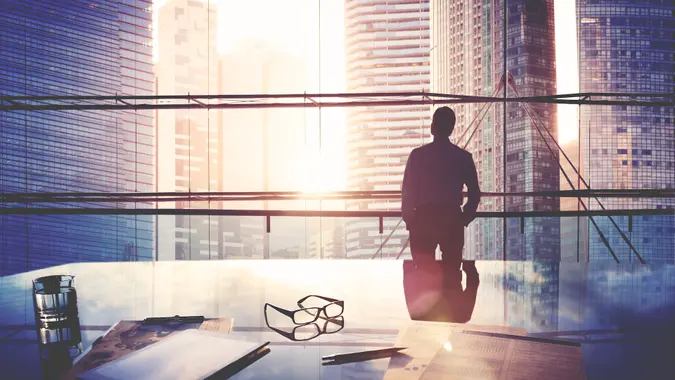 Rawpixel / Getty Images/iStockphoto
It's fun to fantasize about money and what you can do with it. But there's always someone living out that fantasy of being extremely wealthy, and that someone might be the CEO living a couple neighborhoods over from you.
Support Small: It's Not Too Late To Nominate Your Favorite Small Business To Be Featured on GOBankingRates — Extended to June 5 
Although their salaries can vary by industry and experience, a CEO's bank account is generally nothing to scoff at. GOBankingRates looked at the highest-paid active CEO in every state by using data from the American Federation of Labor and Congress of Industrial Organizations (AFL-CIO). Listed is the CEO's company along with their total pay, which factors in base salary, bonuses, value of stock awards and value of options awards, among other variables. 
Discover the richest CEO in your state. 
Alabama: Edward Aldag Jr.
Company: Medical Properties Trust, Inc.

CEO Pay: $17,253,436
Aldag Jr. is a founder and CEO since the company's inception in 2003. Medical Properties Trust is a real estate investment firm in the healthcare space.
Find Out: 4 Investing Lessons the Pandemic Has Taught Us 
Alaska: William Bishop
Company: Alaska Communications Systems Group, Inc.

CEO Pay: $959,821
Make Your Money Work Better for You
Bishop was named interim CEO of the Alaskan telecommunications  and IT company in 2019.
Learn More: These 47 Billionaires Got Richer During The Pandemic
Arizona: Richard C. Adkerson
Company: Freeport-McMoran
CEO Pay:

 

$15,742,249
Freeport-McMoran touts itself as the "world's premier publicly traded copper company." Adkerson has been named Best CEO in Metals and Mining by Institutional Investor magazine for eight years, rightfully earning his steep compensation. 
Check Out: 20 Billionaire American Dynasties and How They Made Their Money
Arkansas: C. Douglas McMillon
Company: Walmart Inc.
CEO Pay:

 

$22,105,350
Walmart is the nation's largest private employer. Its CEO, Doug McMillon, actually began his career there as a teen, when he was tasked with unloading trucks.
California: Sundar Pichai
Company: Alphabet Inc.

CEO Pay: $280,621,552
Sundar Pichai was named CEO of Alphabet Inc, in 2015, when Google reorganized their business structure, calling themselves Alphabet Inc., with Google as a subsidiary. The larger company expanded beyond Internet search and advertising into many tendrils of technology. 
Colorado: Gregory B. Maffei
Company: Liberty Media Corporation

CEO Pay: $44,045,070
Make Your Money Work Better for You
Gregory B. Maffei has served as CEO since 2007. Previously known as Liberty Interactive Corporation, this media conglomerate's subsidiaries include Formula 1, SiriusXM and the Atlanta Braves.
Connecticut: William Stone
Company: SS&C Technologies Holdings, Inc.

CEO Pay: $21,620,325
SS&C Technologies Holdings is "the world's largest hedge fund and private equity administrator, as well as the largest mutual fund transfer agency."  William Stone founded it in 1986 and has served as CEO since.
Delaware: Herva Hoppenot
Company: Incyte Corporation

CEO Pay: $29,037,879
The Incyte Corporation is a biopharmaceutical group that specializes in cancer treatment. Prior to joining Incyte, Hoppenot served as the President of Novartis Oncology.
Florida: William Brown
Company: L3Harris Technologies, Inc.

CEO Pay: $29,037,879
L3Harris Technologies is an aerospace and defense technologies company. William "Bill" Brown has served as Chairman and CEO since 2019.
Georgia: Thomas Fanning
Company: Southern Company

CEO Pay: $6,011,668
Make Your Money Work Better for You
Fanning assumed his role as CEO in 2010. Southern Company is one of America's largest gas and electric companies, which oversees around 200,000 miles of electric transmission and more than 80,000 miles of gas pipeline.
Hawaii: Robert Harrison
Company: First Hawaiian Bank

CEO Pay: $6,011,668
First Hawaiian Bank was named one of Forbes "Best Banks" 2021. Its CEO, Robert "Bob" Harrison, the company's CEO since 2012, responded to the honor in a press release saying, "This achievement is particularly satisfying as it follows an exciting year that culminated in our successful transition to becoming a fully independent bank."
Idaho: Daniel Walker
Company: The Pennant Group

CEO Pay: $18,278,564
The Pennant group spun off the original company, Ensign Group in 2019. The Pennant Group runs more than 50 home health agencies and and 60 hospice agencies and senior living communities.
Illinois: Donald Umpleby III
Company: Caterpillar Inc.

CEO Pay: $34,519,129
Founded in 1925, Caterpillar is one of the world's top manufacturer of construction and mining equipment, including diesel and natural gas engines, industrial gas turbines and diesel-electric locomotives.
Indiana: N.T. Linebarger
Company: Cummins

CEO Pay: $25,116,751
Cummins is an energy company that designs, manufactures, sells and services diesel and alternative fuel engines. Linebarger began working for the company while studying for his engineering degree at Stanford University.
Iowa: Daniel J. Houston
Company: Principal Financial Group

CEO Pay: $14,748,051
The financial investment group has $550.6 billion in assets under management that go toward supporting retirement plans and insurance policies. CEO Daniel Houston has been with the company for more than 30 years and received his bachelor's degree from Iowa State University.
Kansas: Thomas C. Gentile
Company: Spirit AeroSystems Holdings

CEO Pay: $11,072,149
Spirit AeroSystems conceptualizes and constructs aerostructures for both commercial and military use. Its products include the Boeing 737 and the Sikorsky CH-53K helicopter. 
Kentucky: Bruce D. Broussard
Company: Humana

CEO Pay: $16,726,455
Humana is a health insurance company that covers needs such as dental, vision and medical. Its beneficiaries also include military personnel. Bruce Broussard took on his current role as CEO in 2011.
Louisiana: Jeff Storey
Company: CenturyLink

CEO Pay: $17,235,108
CenturyLink, part of Lumen Technologies, is a telecommunications company whose customer base covers over 60 countries. The company claims to be the "second largest U.S. communications provider to global enterprise customers" on their website. Jeff Storey took over the position of CEO in May 2018. 
Learn About: The World's Best Tax Havens
Maine: Jay Mazelsky
Company: IDEXX Laboratories, Inc.

CEO Pay: $7,419,335
IDEXX Laboratories, Inc. is a leading company in veterinary diagnostics, software, and water microbiology testing. Jay Mazelsky has been CEO since 2019.
Maryland: Martine Rothblatt
Company: United Therapeutics Corporation

CEO Pay: $45,635,037
United Therapeutics Corp. is a biotechnology company, focusing on products and services to help people with chronic illness such as cardiovascular diseases and cancer. Its CEO Martine Rothblatt is also its Founder. 
Massachusetts: H. Lawrence Culp Jr.
Company: General Electric Company

CEO Pay: $24,553,788
General Electric Company is one of the best known global digital industrial companies. Its products and services span many areas, from power generation (oil and gas), medical imaging, aviation, transportation and more. H. Lawrence "Larry" Culp Jr. has been CEO since 2018.
Michigan: Mary T. Barra
Company: General Motors Company

CEO Pay: $21,630,867
General Motors is an automobile manufacturer whose brands include Buick, Cadillac and Chevrolet. GM's CEO, Mary Barra, has been leading the company since 2014, one of the few women to oversee a Fortune 500 company.
Minnesota: David Ossip
Company: Ceridian HCM Holding, Inc.

CEO Pay: $30, 180,957
Ceridian HCM Holding, Inc. is "a global human capital management software company" according to its website. The company went public in 2018.
Mississippi: Marshall Loeb
Company: EastGroup Properties, Inc.
CEO Pay: $4,733,252
EastGroup Properties, Inc. is a "self-administered equity real estate investment trust focused on the development, acquisition and operation of industrial properties in major Sunbelt markets throughout the United States," according to their website. Marshall Loeb has been CEO since 2016.
Missouri: Michael F. Neidorff
Company: Centene Corporation
CEO Pay: $

26,438,425
The Centene Corporation is a health insurance company. Its Centene Book Series aims to educate children, some who are under the care of Centene, about diseases.
Montana: Kevin Riley
Company: First Interstate BancSystem, Inc.

CEO Pay: $2,534,373
First Interstate BancSystem, Inc. is the parent company of First Interstate Bank, which offers offering a full range of banking and financial services throughout Idaho, Montana, Oregon, South Dakota, Washington, and Wyoming. Kevin Riley has served as CEO since 2015.
Nebraska: Lance M. Fritz
Company: Union Pacific Corporation

CEO Pay: $15,018,400
Union Pacific Corporation's primary company Union Pacific Railroad is one of the top railroad franchises in America. The company operates 8,600 locomotives that traverse over 32,100 miles through 23 states. CEO Lance Fritz assumed his role in February 2015. Before arriving at Union Pacific, he was employed by Fiskars Inc., Cooper Industries and General Electric.  
Nevada: Barry Cottle
Company: Scientific Games Corporation

CEO Pay: $18,574,231
Headquarter in Las Vegas, Nevada, Scientific Games Corporation creates gambling products and services to organizations that engage in  lottery, gambling, social and digital services. Barry Cottle has served as CEO since 2018.
New Hampshire: Robert Eberle
Company: Bottomline Technologies (DE), Inc.

CEO Pay: $8,373,383
Bottomline Technologies (DE), Inc. offers payment and invoice solutions to corporations, financial institutions, and banks. According to the company website, "The Company's solutions are used to streamline, automate, and manage processes involving payments, invoicing, global cash management, supply chain finance, and transactional documents." Robert "Bob" Eberle has been CEO since 2006.
New Jersey: Michael O'Sullivan
Company: Burlington Stores, Inc.

CEO Pay: $31,056,597
Burlington Stores, Inc., formerly known as Burlington Coat Factory, was founded in 1924 as a wholesaler of ladies coats and juniors suits that grew exponentially in its many decades selling clothing and coats. As of 2019, the coat company took in revenue of over $7.3 billion. CEO Michael O'Sullivan took over in 2019.
New Mexico: Patricia K. Collawn
Company: PNM Resources
CEO Pay:

 

$5,031,193
PNM Resources is a holding company that offers electricity-based services in New Mexico and Texas. Its two main utilities, PNM and TNMP, have approximately 2,580 megawatts of generation capacity between them, which is used to serve the residences and properties of more than 773,000 homes and businesses. CEO Patricia Collawn benefits from PNM Resources, as she resides in Albuquerque, N.M.
New York: James Dolan
Company: Madison Square Garden Sports Corp.

CEO Pay: $54,116,491
Madison Square Garden Sports Corp. is a sports corporation whose assets include major teams such as the New York Knicks (NBA) and the New York Rangers (NHL) among others. MSG Sports also runs two sports team performance centers – the MSG Training Center in  New York and the CLG Performance Center in Los Angeles. CEO James Dolan came on board in his role in 2015.
North Carolina: Bryan Moynihan
Company: Bank of America Corporation

CEO Pay: $26,039,213
Most people have heard of Bank of America, which is, according to its website, "one of the world's leading financial institutions." They offer a full range of banking, investing, asset management and other financial services to individuals and businesses. In addition to being CEO, Brian Boynihan serves on several key councils including the World Economic Forum International Business Council, the Bank Policy Institute, and the Federal Advisory Council of the Federal Reserve Board.
North Dakota: David L. Goodin
Company: MDU Resources Group
CEO Pay:

 

$6,144,355
MDU Resources Group began as a small electricity service that was used by only a few farming communities between Montana and North Dakota. Today, the Bismarck-based company serves 48 states by providing electric and natural gas utilities, natural gas pipelines and construction materials and services. See if you're getting the cheapest gas price in your state.
Ohio: W. Rodney McMullen
Company: The Kroger Co.

CEO Pay: $21,129,648
The Kroger Co., founded in 1883 by Barney Kroger in Cincinnati, Ohio, dubs itself "America's Grocer." Indeed, with an impressive 2,800 stores in 35 states, and annual sales of more than $121.1 billion, it's a fair descriptor. McMullen was elected Chairman and CEO in 2015.
Oklahoma: Chad Richison
Company:  Paycom Software, Inc.

CEO Pay: $21,129,648
Paycom Software, Inc. is an HR services and payroll software company based in Oklahoma for big and small businesses. CEO Chad Richison was considered the highest paid CEO in 2020, but only on paper in the form of stocks earned.  
Oregon: William Furman
Company:  The Greenbrier Companies, Inc.

CEO Pay: $7,851,446
The Greenbrier Companies, Inc., whose headquarters are in Lake Oswego, Oregon, is "a leading international supplier of equipment and services to the freight rail transportation markets," according to their website.Its CEO, William Furman, had planned to retire in 2020 but decided to hang on until 2022.
Pennsylvania: John Plant
Company:  Howmet Aerospace Inc.

CEO Pay: $51,712,578
Howmet Aerospace engineers metal products such as engines, fasteners, as well as wheels for the aerospace and defense industries and commercial transportation industries. John Plant is co-CEO with Tolga Oal.
Rhode Island: Scott C. Donnelly
Company: Textron
CEO Pay:

 

$18,921,598
Textron has its finger in multiple industry pies, including aviation, defense and finances. Some of its brands include Bell, Cessna, Beechcraft, E-Z-GO and Jacobsen. CEO Scott Donnelly joined the company from the aviation side. He previously served as president and CEO for General Electric Aviation, a subsidiary of General Electric that produces aircraft for commercial and military use.
South Carolina: R. Chad Prashad
Company: World Acceptance Corporation

CEO Pay: $18,921,598
World Acceptance Corporation is a small-loan consumer finance business in 15 states and Mexico, according to Reuters. R. Chad Prashad has served as CEO since June, 2018.
South Dakota: Bradley Hanson
Company: Meta Financial Group, Inc.

CEO Pay: $4,155,523
Meta Financial Group, Inc. is the holding company for the financial services company MetaBank. ("Meta"). Meta provides innovative financial solutions "to consumers and businesses in under-served niche markets, and believes in financial inclusion for all," According to their website.
Tennessee: Samuel Hazen
Company: HCA Healthcare, Inc.

CEO Pay: $26,788,251
HCA is a national healthcare provider, with over 180 hospitals and clinics and 2000+ "sits of care" across the country. Their CEO, Samuel Hazen, has been in the industry 38 years, and served as CEO since 2019.
Texas: Greg Garland
Company: Phillips 66

CEO Pay: $31,900,878
Phillips 66 is an energy manufacturing and logistics company. Their portfolio includes chemicals, refining, and marketing and specialities businesses. Additionally, they process, transport, store and market fuels and related products globally.
Utah: David Bywater
Company:  Vivint Solar, Inc.

CEO Pay: $8,988,301
Vivint Solar offers solar panel consulting, designing and installation. The company partnered with existing solar company SunRun in 2000 to bring solar to more households throughout Utah. Its CEO, David Bywater, was appointed in 2016.
Find Out: Where These 51 CEOS Went to College
Vermont: John W. Casella
Company: Casella Waste Systems
CEO Pay:

 

$2,721,590
Casella Wastes provides waste treatment and removal solutions for residencies, businesses and organizations. The company appears to be family-owned and run; two Casella brothers, John — the company's CEO — and Doug, sit on the board of directors.
Virginia: Christopher Nassetta
Company: Hilton Worldwide Holdings, Inc.
CEO Pay: $21,374,121
The hospitality company, Hilton Worldwide Holdings, Inc. owns more than 18 "world-class brands comprising more than 6400 properties and more than one million rooms" according to their website. Christopher Nassetta has been CEO since 2007.
Washington: Satya Nadella
Company: Microsoft Corporation

CEO Pay: $42,910,215
If you haven't heard of Microsoft, you've probably been living in the woods. The Microsoft  multinational technology company founded by Bill Gates, which brought us "Windows" is headquartered in Redmond, Washington. CEO Satya Nadella joined Microsoft in 1992 as an engineer and worked his way up to positions of greater importance until taking the reins as CEO in 2014.
West Virginia: Richard M. Adams
Company: United Bankshares
CEO Pay

: $4,376,246
United Bankshares is a bank holding company with dual headquarters in both Washington, D.C., and Charleston, W.V. Under Adams' guidance, United has acquired 31 other institutions and has grown into a company worth $19 billion.
Wisconsin: David Maura
Company: Spectrum Brands Holdings, Inc.

CEO Pay: $19,688,122
Spectrum Brands Holdings is a home-essentials company with "a mission to make living better at home," according to their website. They claim to focus on "innovative products and solutions to consumers for use in and around the home." CEO David Maura has been serving in his role since July 2018.
More From GOBankingRates
Sean Dennison contributed to the reporting for this article. 
Methodology: GoBankingRates used the AFL-CIO's Executive Paywartch data to find the highest-paid CEO in every state. Each CEO's name, the company they are a part of and their most recently reported (either FY2019 or 2020) annual pay are provided. Total CEO pay includes: Salary, Bonus, Value of Stock Awards, Value of Options Awards, Non-Equity Incentive Plan Compensation, Change in Pension Value and Deferred Compensation Earnings, and All Other Compensation figures. GOBankingRates only looked at active CEOs. If the highest-paid CEO in a state according to the AFL-CIO report has since parted with the company, the next highest-paid CEO was identified. No data was available for Wyoming. All data was collected on and up to date as of April 26, 2021. 
Last updated: Jun. 1, 2021
Make Your Money Work Better for You