Warren Buffett's Net Worth as the Oracle of Omaha Turns 89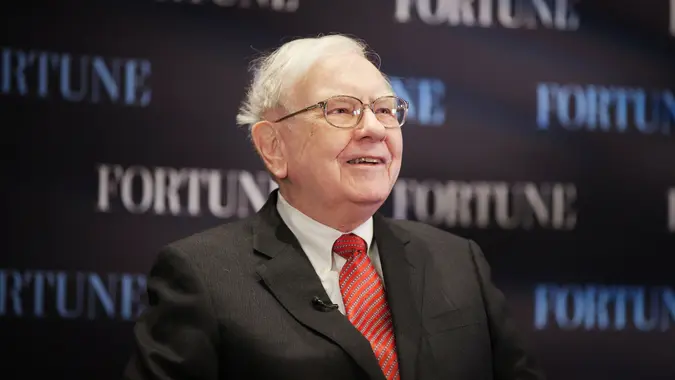 Nati Harnik/AP / Shutterstock.com
Warren Buffett, the CEO of Berkshire Hathaway, turns 89 on Aug. 30.
In July, Buffett donated about $3.6 billion in Berkshire Hathaway shares to charities.
Buffett is the fourth-richest person in the world.
Warren Buffett has had a lot of victories to celebrate over the years. On Aug. 30, he celebrates another milestone: his 89th birthday. Buffett has grown his company, Berkshire Hathaway, and made billions by investing in companies in established markets. He has built an empire making careful picks of blue chip stocks.
Buffett is the fourth-richest man in the world as of Aug. 26, according to Forbes, but he isn't holding on to all of his wealth. He has pledged to give away a vast majority of his fortune, and he continued to share his wealth in July by donating about $3.6 billion in Berkshire Hathaway shares to five charities, including the Bill & Melinda Gates Foundation.
Here's a look at the Oracle of Omaha's net worth and ventures — and how he has shared his fortune along the way.
Birthdate: Aug. 30, 1930
Net worth: $79.1 billion
Primary sources of income: Business, investments
Career highlights: Forbes' 16th most powerful person in 2018, philanthropy
Warren Buffett's Net Worth: $79.1 Billion
Buffett's net worth is $79.1 billion as of Aug. 26, 2019, according to Forbes. The centerpiece of Buffett's success comes from his work as the CEO of the conglomerate Berkshire Hathaway. But he didn't start off as the CEO — in fact, his relationship with Berkshire Hathaway started in 1962, when he bought shares of the company for just $7.50 each.
At the time, Berkshire Hathaway was a textile company that was bound to become extinct. After disagreeing with the company's management, he bought enough shares to be able to control the company, and from there, he built the foundation for today's Berkshire Hathaway. Under his direction, it's become a globally renowned holding company with class A shares trading at more than $300,000 each as of Aug. 26.
Make Your Money Work Better for You
Check Out: How Rich Was Warren Buffett at Your Age?
Warren Buffett's Company: Berkshire Hathaway
Berkshire Hathaway owns upward of 60 companies, including fast food chain Dairy Queen and insurer Geico. In the second quarter of 2019, Berkshire Hathaway increased its stakes in Amazon and Bank of America.
As of Aug. 26, Berkshire Hathaway's class B shares are valued at around $200, while its class A shares are valued at $300,899.
Warren Buffett's Investments
Berkshire Hathaway holds more than 249.5 million shares in Apple as of late June.  Buffett has not been shy about his interest in the technology company: In 2018, the investor told CNBC, "I'd love to own 100% of it. … We like very much the management and the way they think."
As a value investor, Buffett tends to invest his money in companies that seem undervalued compared to their fundamental value.
Here are some of Buffett's investments that have paid off:
American Express
Coca-Cola
Gillette
Wells Fargo
Don't Miss: 10 Companies You Would Never Guess Warren Buffett Loves
Investment Mistakes
Not even the Oracle of Omaha is infallible, and Buffett — who has endured his fair share of investment mistakes — has been known to reflect on them in his letters to shareholders. At least one investment mistake stands out, mainly because Buffett has repeatedly acknowledged how bad it was.
Dexter Shoe Co. possessed exactly the features Buffett sought in a company: It had solid management, a valuable brand and a competitive edge in the industry. So, in 1993, Buffett acquired Dexter at a cost of more than $430 million in Berkshire Hathaway stock.
Make Your Money Work Better for You
Despite this promising beginning, Buffett's investment in Dexter turned south as overseas competition prevented the company from taking off. By 2001, Dexter had gone nowhere, and Buffett pulled the plug, merging it with another Berkshire subsidiary.
Berkshire shareholders lost as much as $3.5 billion from the deal. Looking back on the investment, Buffett wrote in a 2015 letter to shareholders, "As a financial disaster, this one deserves a spot in the Guinness Book of World Records."
Related: Warren Buffett's 15 Biggest Money Mistakes — and What You Can Learn From Them
Warren Buffett's Philanthropy
Having learned from his father the importance of giving back to the community, Buffett regularly donates his wealth to charity and has committed to giving away more than 99% of his fortune. As of July 1, the total value of the billionaire philanthropist's donations to charities is at least about $34 billion, according to a press release from Berkshire Hathaway.
Buffett and fellow business magnate Bill Gates launched The Giving Pledge in 2010, asking billionaires to donate more than half of their wealth to charitable causes. This ongoing commitment has been taken up by more than 200 pledgers from 23 countries as of May 2019, including Mark Zuckerberg and Priscilla Chan, MacKenzie Bezos and Elon Musk.
Warren Buffett's Early Life
Buffett was born Aug. 30, 1930, in Omaha, Nebraska. His father was a U.S. congressman and his mother was "verbally abusive," The Washington Post reported. He showed an impressive knack for numbers at an early age: He bought his first stock when he was 11 years old, and when he was 13, he paid federal income tax for the first time. He was known for his early money-making schemes, which included having a pinball machine business and delivering newspapers.
Make Your Money Work Better for You
Keep reading to find out which four-letter word Buffett uses to define success.
More on Billionaires
Erika Giovanetti contributed to the reporting for this article.