Consumer Debt Creeps Up to $4.16 Trillion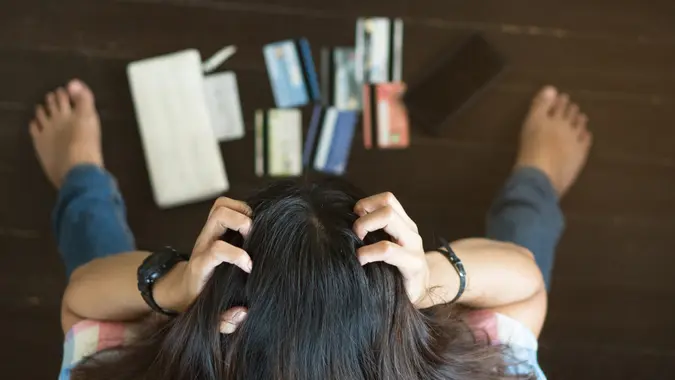 Pormezz / Shutterstock.com
This afternoon the Federal Reserve released a snapshot of consumer credit for October 2020. Overall, consumer credit increased at a seasonally adjusted annual rate of 2%. Revolving credit decreased by 6.75% and non-revolving credit, such as mortgages and personal loans, increased by 4.75%. In October, the Fed reported that number at $4.162 trillion, up from $4.157 trillion in September.
See Where You Rank: Average Credit Card Debt in Every State
Compare those numbers to the fourth quarter figures in 2019, where consumer debt totaled more than $4.180 trillion, and it seems like consumers may be more conservative with their spending amidst the pandemic. A dip to $4.137 trillion in total consumer debt in Q2 of 2020 may also indicate that at least some Americans used their tax refunds and government stimulus checks to pay down some of their existing debt.
Where That Cash Went: This is How Americans Spent Their Stimulus Money
The increase in non-revolving debt in October 2020 could indicate Americans tapping into their home equity to survive loss of income during the pandemic, or to pay down higher interest revolving debt. With interest rates on home loans still low and housing prices still high, a second mortgage or home equity line of credit can help many homeowners out of tight spots caused by the pandemic. As long as you make this move wisely, putting your credit cards on a hiatus once you've paid them off, a home equity loan can be a smart financial choice.
Get a Great Loan Deal: How We Got the Best HELOC Rates
Make Your Money Work for You
So, what does the October 2020 consumer debt report foretell in terms of the coming holiday season? Coming off the slowest Black Friday to Cyber Monday weekend in recent history, with fewer shoppers spending, on average, $50 less per person, it may show a reluctance to spend – even on credit.
But the National Retail Federation predicts overall 2020 holiday sales figures to surpass 2019 by 3.6% to 5.2%, according to a CNBC report. And that would be good news for economic recovery and businesses across the U.S. as we head into the new year.
More From GOBankingRates