How Much Is J.B. Pritzker Worth?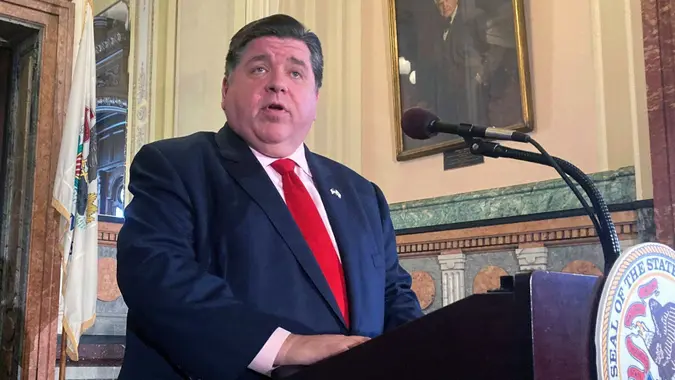 John O'Connor/AP/Shutterstock / John O'Connor/AP/Shutterstock
Jay Robert Pritzker, widely known as J.B. Pritzker, is the 43rd governor of Illinois. He and his family are one of the wealthiest families in the United States. His family founded the Hyatt Hotel chain and currently own a number of other high-profile companies.
Before becoming governor, Pritzker had a successful career as an investor and venture capitalist. He invested in job-creation projects and other companies while also establishing several nonprofits focused on philanthropy. Pritzker began his political career in 1998, when he ran for U.S. House of Representatives, gathering 20.5% of the vote but not succeeding in winning the seat. In 2008, he supported then-presidential candidate Hillary Clinton as her national co-chairman.
In 2017, Pritzker declared his candidacy for governor of Illinois, and largely self-funded his $171.5 million campaign. He ran on a platform focused on income inequality, education reform, and addressing the state's budget crisis. Pritzker was sworn in as governor of Illinois in January 2019. He was re-elected in 2022, winning nearly 55% of the vote.
Although Pritzker has yet to confirm his intent to run for the presidential seat in 2024, he is considered a strong candidate. However, he has recently been enlisted as a member of the "National Advisory Board" by President Joe Biden to work on behalf of the president during his expected 2024 re-election campaign. This board aims to create unity and prevent internal division within the Democratic party.
Birthdate: January 19, 1965.
Source of income: Investments under blind trusts. Gov. Pritzker does not take a salary.
Career highlight: Illinois governor, 2018 to present.
Make Your Money Work Better for You
How Much Is J.B. Pritzker Worth?
According to Forbes, J.B. Pritzker has an estimated net worth of $3.6 billion, placing him as the wealthiest governor in the United States. Pritzker's 2021 Statement of Economic Interest shows that he has a diversified portfolio of stocks, partnership interests, mutual funds, trusts, ETFs, and treasury bills. The specific amount of each holding is not required on the form, and Pritzker did not disclose this information.
Most of Pritzker's investments are placed in blind trusts.
2024 Campaign
At this time, J.B. Pritzker has not made any public announcements about running for the 2024 election. Pritzker is currently in his second term as governor of Illinois, and he may run for another term. It is unclear whether Pritzker will pursue a role in national politics or focus his efforts on the state level.
What Are Pritzker's Core Policies?
Pritzker has a long history of advocating for the middle class, education reform, and economic development. He is committed to modernizing Illinois' infrastructure and promoting job growth in the state.
Make Your Money Work Better for You
He has also championed expanding access to healthcare, increasing the minimum wage, and making childcare more affordable. Pritzker is a strong proponent of police and criminal justice reform, including ending cash bail and investing in community services.
How Pritzker's Fiscal Policy Could Impact You
Pritzker aims to implement a number of initiatives to create more jobs, improve the state's economy, and foster innovation. One example of this is his "Invest in Illinois" program, which provides tax breaks and incentives to businesses that create jobs in the state.
Overall, Pritzker's fiscal policies appear to be positively impacting people's finances in Illinois. The U.S. Bureau of Labor Statistics has shown that job growth has increased in the state since Pritzker took office.
J.B. Pritzker's Background
Born Jay Robert Pritzker, J.B. is part of the prominent Pritzker family. He is the son of Donald and Sue Pritzker, who are the owners of various real estate and hotel businesses, including the Hyatt Hotel chain.
He studied political science at Duke University and earned his Juris Doctor at the Northwestern University Pritzker School of Law. Prior to pursuing politics, Pritzker focused mainly on his business ventures. He founded a non-profit start-up incubator called 1871 and later co-founded Pritzker Group Private Capital with his brother, Tony.
Make Your Money Work Better for You
Take Our Poll: How Much Salary Would Buy You Happiness?
More: How Rich Is Congresswoman Ilhan Omar?
Along with his wife, M.K. Pritzker, he has a number of philanthropic ventures through their family foundation, the J.B. and M.K. Pritzker Family Foundation.
More From GOBankingRates