How Rich Is Kevin McCarthy as He Is Removed as House Speaker?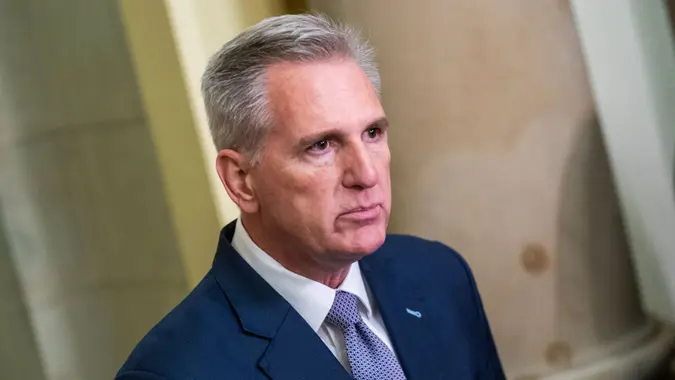 SHAWN THEW/EPA-EFE/Shutterstock / SHAWN THEW/EPA-EFE/Shutterstock
California Republican Kevin McCarthy was ousted as speaker of the House of Representatives on Tuesday, October 3. He is the first speaker to be removed in a no-confidence vote. Rep. Matt Gaetz, a Florida Republican, initiated the process earlier this week, telling Congress that McCarthy no longer represents the interest of the Republican caucus, according to CNBC.
How Rich Are Tucker Carlson, Rachel Maddow, Anderson Cooper and the Biggest Cable News Hosts?

McCarthy became speaker in January 2023, in a messy, 15-ballot vote after Democrat Nancy Pelosi stepped down from her role as speaker of the House at the end of 2022, leaving the House without a speaker at the start of the new year.
By some accounts, McCarthy is recognized as one of the wealthiest politicians in the U.S. The website CAKnowledge.com reported his net worth as $30 million. However, according to Celebrity Net Worth, McCarthy is only worth $300,000. Other sources, including the Los Angeles Times, have reported his net worth at a minimum of $81,000.
As a congressional representative before being voted in as speaker, McCarthy received an annual salary of $174,000. It is presumed he will remain in that role at least until the next election. His salary will drop from the $223,500 he collected as speaker of the House.
Born in Bakersfield, California, McCarthy graduated from California State University, Bakersfield, and went on to serve in the California State Assembly. He joined the U.S. House of Representatives in 2007 and has held the roles of party whip and minority and majority leader.
Make Your Money Work Better for You
Take Our Poll: Who Has Given You the Best Money Advice You Have Ever Received?

According to CAKnowledge.com, McCarthy owns several assets in the form of luxury cars, as well as California real estate. According to his biography on the House of Representatives website, he still lives in Bakersfield with his wife and their two children.
More From GOBankingRates