Mike Pence's Net Worth as He Announces Presidential Run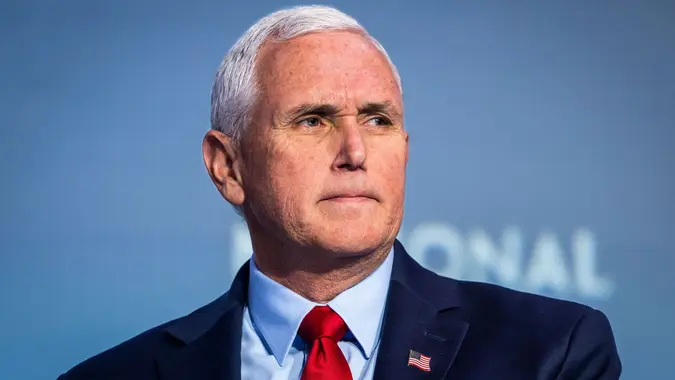 JIM LO SCALZO/EPA-EFE/Shutterstock / JIM LO SCALZO/EPA-EFE/Shutterstock
Former Vice President Mike Pence is poised to announce his run for presidential office on June 7 in Des Moines, Iowa, according to NPR. Quoting a source familiar with the campaign, NPR outlined that Pence will be making a tour through early voting states such as Iowa and New Hampshire — and announcing a Super PAC backing his bid for the presidency — in the coming days.
Pence joins at least nine other Republicans looking to overtake former President Donald Trump as the frontrunner in the nomination race. Florida Governor Ron DeSantis and former South Carolina Governor Nikki Haley are other prominent figures to have entered the nomination contest. How wealthy is the former VP?
Mike Pence's Estimated Net Worth: $4 Million
Pence earned a healthy $235,100 salary while serving as vice president, but ranks near the bottom of Trump's former cabinet members in terms of net worth. In fact, prior to becoming second-in-command to then-President Trump, the Pence's were near destitute, according to Celebrity Net Worth.
Mike Pence entered the realm of politics in 2000, becoming a state representative for Indiana at the age of 40. He managed to be elected to his post six times, believing in a platform of "limited government, fiscal responsibility, economic development, educational opportunity and the U.S. Constitution," according to his official White House biography.
Detailing his financial assets filed with the U.S. Office of Government Ethics in 2017, his sole source of income was his approximate $174,000 salary as governor of Indiana. Pence was previously the representative for Indiana's 2nd congressional district, from 2001 to 2002, and the representative for Indiana's 6th congressional district from 2003 to 2012.
Make Your Money Work Better for You
Take Our Poll: Who Has Given You the Best Money Advice You Have Ever Received?
Since leaving the vice presidential post, Pence's finances have improved significantly. In 2021, CNN reported that Pence had signed a two-book deal with Simon & Schuster that has been rumored to be worth between $3 million and $4 million, according to publishing insiders. Some of that advance went immediately toward a seven-bedroom, $1.93 million home in Carmel, Indiana, per Celebrity Net Worth.
Forbes, Celebrity Net Worth and other media outlets recently pegged Mike Pence's net worth at $1 million, but Celebrity Net Worth bumped it up to $4 million after the book deal news.
Investments and Pension
As Forbes noted in 2019, "Mike Pence doesn't have all that much to his name. He doesn't appear to own a home, and he hasn't saved much besides $65,000 in index funds, at most, and less than $15,000 in a bank account."
In 2004, Pence disclosed owning between $200,000 and $450,000 worth of shares of Indiana gas station and convenience store Kiel Bros. Oil Co., a company his father worked for and brother presided over. After market forces and mounting debt forced the company to go bankrupt the following year, Pence was in debt to the tune of $600,000, per Forbes.
However, the Pence family are also supported by favorable publicly-funded government pensions. Between his federal and state pensions, two Indiana-administered retirement accounts and probable funds held in a federal employee Thrift Savings Plan account, it is estimated that the Pence family, despite having outstanding debt on eight Parent PLUS student loans, will be raking in at least $85,000 per year for the rest of their lives.
Make Your Money Work Better for You
Personal Life
Born on Jun. 7, 1959, in Columbus, Indiana, Michael Richard Pence was one of six children born to Edward and Nancy Pence. He attended Hanover College, earning a bachelor's degree in history in 1981, then moving on to Indiana University School of Law and meeting his future wife, Karen. The two married in 1985 and have three children: Michael, Charlotte and Audrey.
Raised in the Roman Catholic Church, Pence converted to evangelicalism in college. He has described himself as "a Christian, a conservative and a Republican, in that order."
More From GOBankingRates