How Much Is Former Basketball Star Christian Laettner Worth?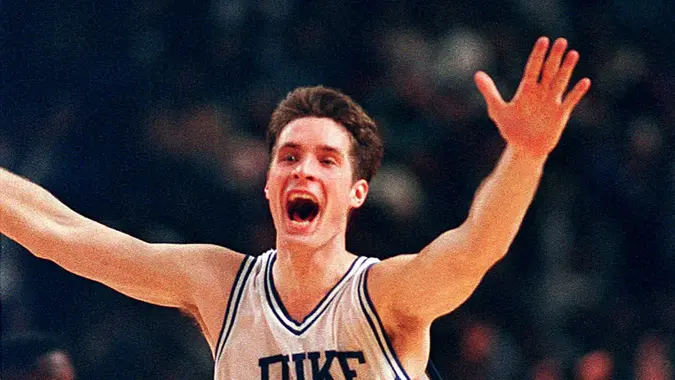 ©Amy Sancetta/AP/Shutterstock
To call Christian Laettner a lightning rod among basketball fans would be an understatement. To some, he was the star of the Duke dynasty of the early 1990s, the power forward with the Hollywood good looks who played in four consecutive Final Fours and took the Blue Devils to back-to-back titles in 1991 and 1992. Laettner hit one of the most famous shots in college basketball when he made a buzzer-beater to stun Kentucky in the 1992 East Regional final.
Needing Help: Colleges Asking for Donations To Cover Lost Money From Athletics
Christian Laettner Net Worth: $10 Million
Others felt Laettner was a pretty boy who played dirty (famously stepping on an opponent's chest during a game), voted the most hated college basketball player in history in one ESPN poll. The network also made a documentary about him called "I Hate Christian Laettner," and he was widely considered an afterthought on the 1992 Dream Team that won the Olympic men's basketball gold medal.
Make Your Money Work for You
After a 13-year NBA career, Laettner has been involved in business and coaching.
More From GOBankingRates
Last updated: March 19, 2021
Make Your Money Work for You