Where These Self-Made Billionaire NFL Owners Got Their Money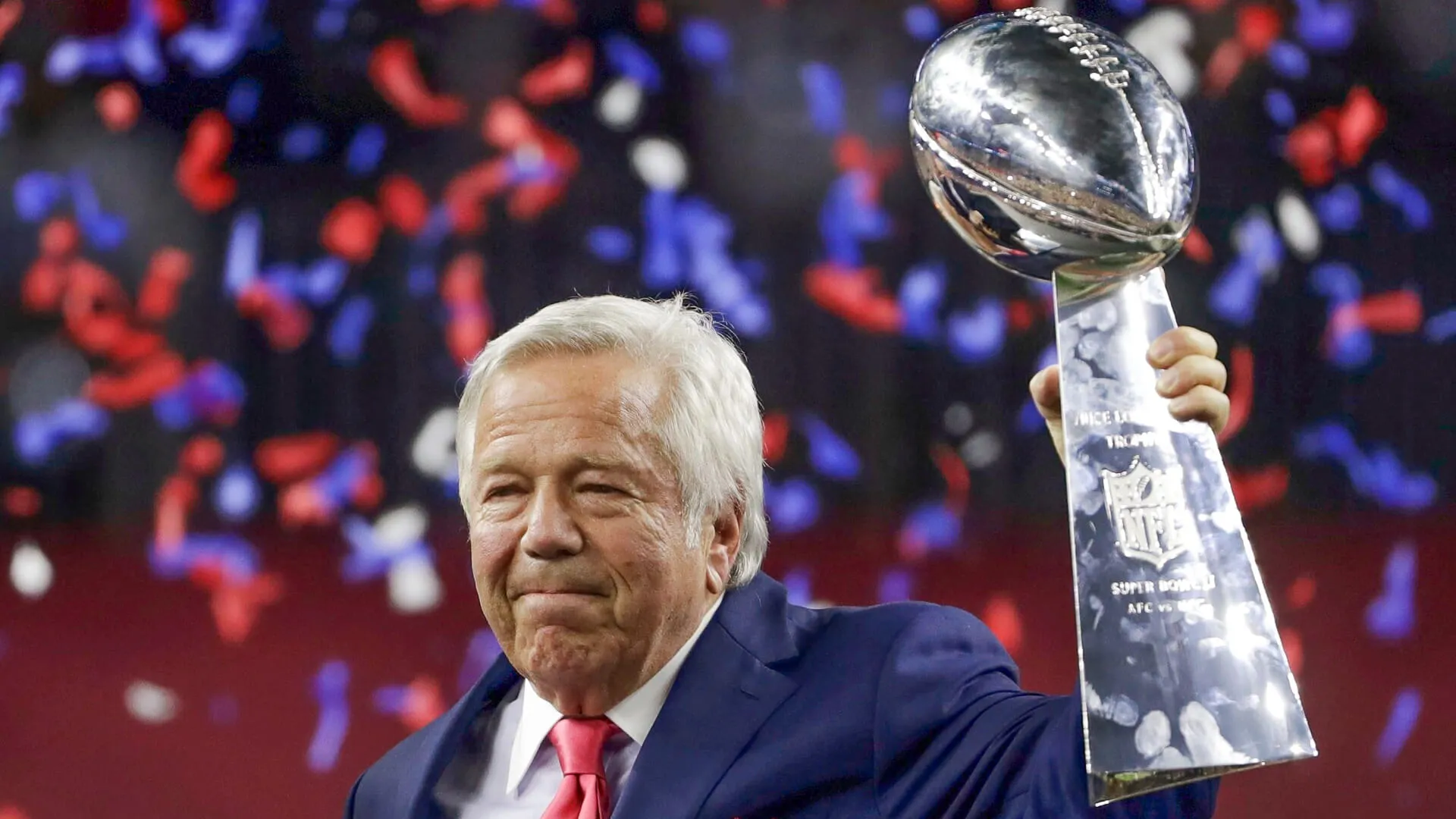 Bill Bidwill inherited the Arizona Cardinals from his super-wealthy parents. Virginia Halas McCaskey's father purchased the Chicago Bears for just $100 in 1920. Other people, however, earned their way into one of the world's most elite clubs — NFL team owners. From self-made real estate tycoons and hedge fund whizzes to engineers and oil wildcatters, here's a look at the titans who bought their way into NFL ownership.
Click through to learn what it takes to own an NFL team.
Atlanta Falcons Owner Arthur Blank
Net Worth: $4 billion
Owned team since: 2002
Since Arthur Blank is a self-made man, it's perfectly fitting that he made his fortune helping DIYers realize their own ambitions. Along with Bernie Marcus, Blank co-founded The Home Depot in 1979. Blank became an NFL owner when he bought the Atlanta Falcons for $545 million in 2002. The team is now worth $2.1 billion and in 2017, the Falcons moved into their brand-new $1.5 billion dollar digs, Mercedes-Benz Stadium, which was chosen to host the 2019 Super Bowl. The team was in dire straits before Blank came to town, and he turned the franchise around to the tune of a 2017 Super Bowl appearance.
Baltimore Ravens Owner Steve Bisciotti
Net Worth: $5 billion
Owned team since: 2004
Steve Bisciotti was raised in Baltimore by a single mother. He worked in the staffing industry for a spell after college before launching his own staffing firm, Allegis Group, with his cousin Jim Davis. Both men are now billionaires and Allegis is the largest private staffing firm on Earth, earning revenue of $11 billion a year. Today, the Ravens are now plagued by empty seats, unsold season ticket packages and some of the highest ticket prices in the league despite being one of the NFL's smaller markets. They last claimed a Super Bowl title in 2012.
Make Your Money Work for You
Buffalo Bills Owners Terry and Kim Pegula
Net Worth: $4.6 billion
Owned team since: 2014
The Buffalo Bills are one of just three NFL teams not ranked among the world's 50 most valuable sports franchises, a fact that can be traced to the team's bleak performance — before making the playoffs last season they had the longest active postseason drought of all major teams. Plus, they've never won a Super Bowl. 
Terry Pegula and his wife, Kim, whose net worth is unknown, own not only the Bills but also the NHL's Buffalo Sabres. Terry Pegula started his career in the energy business with a $7,500 loan in 1983. He went on to build a fracking empire, most of which he sold for $4.7 billion in 2010. He became an NFL owner when he outbid the likes of Jon Bon Jovi and Donald Trump and put down $1.4 billion for the franchise in 2014.
Carolina Panthers Owner David Tepper
Net Worth: $12 billion
Owned team since: 2018
When hedge fund icon David Tepper paid $2.275 billion for the Carolina Panthers in May 2018, the transaction represented a league record. Tepper landed the opportunity to become an NFL team owner only after former owner Jerry Richardson was driven out in an ugly scandal that included inappropriate racial language and sexual behavior. Widely heralded as one of the greatest hedge fund managers of his generation, Tepper is a master at making rich people richer. His Miami-based Appaloosa Management now manages about $17 billion in assets.
Cleveland Browns Owner Jimmy Haslam
Net Worth: $4 billion
Owned team since: 2012
Jimmy Haslam bought his way into the NFL, but he was born into a lucrative family business. He joined the board of his father's Pilot Flying J truck stop company as a 20-year-old college student back when the business did about $50 million a year in sales. Today it's worth about $19.6 billion. Haslam bought the majority share of the Browns for $990 million but his share has now increased in value to $1.6 billion. Despite his profits, the Browns have had a ghastly run in the Haslam era, racking up a total of 20 wins and 76 losses over six seasons. This makes the Browns the cheapest NFL team to see play live.
Make Your Money Work for You
Dallas Cowboys Owner Jerry Jones
Net Worth: $5.6 billion
Owned team since: 1989
One of the most famed owners in football, Jerry Jones traces his football roots to 1964 and his days as co-captain of the University of Arkansas squad, a national championship team. He made his money in the oil business, but the biggest success of Jones' career was undoubtedly his $150 million purchase of the Dallas Cowboys in 1989. With five Super Bowl wins in team history, the Cowboys are worth $4.8 billion, making for the most valuable franchise in the NFL — and in the world. Jones is known for revolutionizing the business of NFL team ownership.
Denver Broncos Owner Pat Bowlen
Net Worth: $1 billion
Owned team since: 1984
The Denver Broncos enjoy one of the country's biggest markets and most loyal fan bases. Although ticket prices are high, the waiting list for season tickets is 73,000 Broncos fans long thanks to the team's legendary sellout streak that has endured for nearly half a century and 400 games. Former real estate, oil and gas magnate Pat Bowlen purchased a majority share for $78 million and went on to become the first owner in franchise history to win 300 games in his first 30 seasons. Under his stewardship, the team has won three Super Bowls, 13 division titles and seven AFC Championships while racking up more Super Bowl appearances than losing seasons.
Houston Texans Owner Robert McNair
Net Worth: $4 billion
Owned team since: 1999
Robert McNair came up with the $700 million needed to buy the 32nd and most recent franchise to enter the NFL through the sale of his power generator company during the boom years of the late 1990s. His company was called Cogen, and it was purchased for $1.5 billion by the now-infamous Enron before the energy firm was revealed to be a criminal enterprise. Under McNair's stewardship, the Houston Texans have lost 146 games to the 110 that they've won. During those years, the Texans have emerged victorious from just three playoff games.
Jacksonville Jaguars Owner Shahid Khan
Net Worth: $7.5 billion

Owned team since: 2012
Shahid Khan is the owner of the Jacksonville Jaguars, but his prized possession just might be his 300-foot superyacht, which took six years to build. Khan made his money by developing a one-piece truck bumper that became a wild success. After buying out his employer to gain control of the Flex-N-Gate auto parts supplier in 1980, Khan built the company into a powerhouse with 62 plants and more than 24,000 employees across the globe. After six seasons in the Khan era, the Jags are heavily lopsided with 27 wins and 69 losses.
Make Your Money Work for You
Los Angeles Chargers Owner Alexander Spanos
Net Worth: $2.4 billion
Owned team since: 1984
The heirs of Alexander Spanos have benefited handsomely from the elder's business decisions. Spanos founded his self-named real estate company in 1960 and built it into one of the biggest apartment developers in the United States. He handed that business off to his two sons in 2005. In 1984, he bought an ownership stake in the Chargers. His grandchildren are now in charge of running that team. In 34 years of Spanos leadership, the Chargers are lopsided the wrong way, with 258 wins and 285 losses.
Los Angeles Rams Owner Stanley Kroenke
Net Worth: $7.7 billion
Owned team since: 2010
Before he was a sports mogul, Stanley Kroenke was a titan of real estate. If that weren't enough, he married into money — his wife is Walmart heiress Ann Walton Kroenke. Kroenke owns huge swaths of North America, including about 2 million acres of ranches across both the U.S. and Canada. He also owns about 30 million square feet of real estate, much of which is retail space conveniently located near Walmart stores. The other teams in his sports empire portfolio include the NHL Colorado Avalanche, the MLS Colorado Rapids, the NBA Denver Nuggets and Arsenal, the English Premier League team.
Miami Dolphins Owner Stephen Ross
Net Worth: $7.7 billion
Owned team since: 2008
Stephen Ross is a global real estate magnate who has his hands in tens of billions of dollars worth of development deals all over the world. But the project of his career is also the biggest project in United States history. His company, Related Companies, is behind the massive, $25 billion Hudson Yards super deal, which will be finished in 2024 and transform a major part of Manhattan. The Miami Dolphins under Ross' stewardship have been underwhelming, with 65 wins and 79 losses and just one trip to the playoffs — a wildcard game that resulted in a loss.
Minnesota Vikings Owner Zygi Wilf
Net Worth: $1.3 billion
Owned team since: 2005
Zygi Wilf is the principal owner of the Vikings, although his family members own stakes in the team and play secondary executive roles. The Wilfs made their fortune in real estate, with their Garden Home company and its subsidiaries now boasting a place among the largest real estate builders on Earth in terms of both commercial and residential projects. The Vikings have won more than they lost in the Zygi Wilf era, by a margin of 108-99.
In terms of revenue, the Vikings are in the middle — they're the 16th-richest team in the NFL.
Make Your Money Work for You
New England Patriots Owner Robert Kraft
Net Worth: $6.2 billion
Owned team since: 1994
The Patriots are probably the greatest modern dynasty in football. Of their 10 Super Bowl appearances, nine have been under the ownership of Robert Kraft, who made his money through a paper conglomerate that contains the Rand-Whitney Group. Kraft bought the Pats for $172 million in 1994 and watched the team grow into a $3.7 billion juggernaut that can boast five championships in 15 years. Thanks to their on-field performance, it now costs the most out of all NFL teams to see the Patriots play live.
New York Jets Owners Robert Wood Johnson IV and Christopher Wold Johnson
Net Worth: $6.3 billion (combined Johnson family)
Owned team since: 2001
Few American companies are more iconic, more enduring and more successful than Johnson & Johnson. Members of the Johnson family are intensely private and little is known about their complete finances, although the family is conservatively estimated to be worth more than $6 billion. Robert Wood "Woody" Johnson IV bought the Jets in 2001 and has earned himself little favor among fans in New York ever since — the team hasn't won a championship during his tenure. When President Donald Trump named Woody ambassador the United Kingdom in 2017, fans got their wish when the owner stepped aside — only to name his brother, Christopher Wold Johnson, as the new owner.  
Philadelphia Eagles Owner Jeffrey Lurie
Net Worth: $2 billion
Owned team since: 1994
When Jeffrey Lurie got divorced in 2012, he had to surrender a partial stake of the Philadelphia Eagles to his ex-wife. Lurie, however, retained ownership of 80 percent of the team, and that percentage represents the lion's share of his wealth. In 1983, Lurie took an executive position at his grandfather's company,  General Cinema Corporation, but he didn't make quite enough to become an NFL owner. In 1994, Lurie secured a loan to come up with the $185 million needed to buy the Birds. The move paid off, as the team is now worth $2.5 billion and holds the title of reigning Super Bowl champions.
Seattle Seahawks Owner Paul Allen
Net Worth: $20 billion
Owned team since: 1997
If you've ever used a computer, you've probably contributed to Paul Allen's wealth in one way or another. In 1975, Allen and his high school buddy Bill Gates founded Microsoft. A two-time cancer survivor and global philanthropist, Allen $194 million — just a sliver of his fortune — to buy the Seattle Seahawks in 1997. Since then, the team have been an undeniable success, racking up a regular-season record of 186-149 with 13 postseason victories, including three trips to the Super Bowl, one of which they won. Allen also owns the NBA's Portland Trail Blazers and a stake in the MLS's Seattle Sounders.
Make Your Money Work for You
Washington Redskins Owner Dan Snyder
Net Worth: $2.3 billion
Owned team since: 1999
Dan Snyder is one of the many wealthy and elite power brokers who also happens to be a college dropout. Soon after leaving college, Snyder formed a marketing business. It was so successful that Snyder took the company public in 1996 and then sold it for $2.5 billion. In 1999, Snyder paid $800 million for the Redskins, a team whose name has stirred controversy and stoked calls for a change, which Snyder has flatly refused to do. The team has had a losing record under Snyder's stewardship and has only made it past the wild card game twice in the playoffs.
More on Sports and Net Worth