How Much Is David Beckham Worth?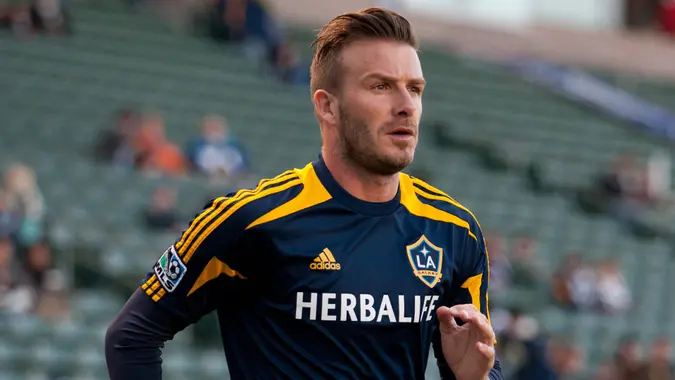 Photo Works / Shutterstock.com
David Beckham is one of the most famous soccer players of all time and also one of the richest. He's worth $450 million, according to Celebrity Net Worth. While he's retired now, he is still making money on his numerous sponsorships and modeling gigs.
Read More: The 15 NFL Players Who Make the Most Money From Endorsements
David Beckham's Net Worth: $450 Million
After his long run with Manchester United, Beckham joined the LA Galaxy. During his six years on the team, he earned an estimated $255 million between his salary, endorsements, revenue sharing, licensing and appearances. When he was finished in Los Angeles, he went to play for Paris Saint-Germain, where he earned $50 million.
Net worth: $450 million
Date of birth: May 2, 1975
Primary sources of wealth: Playing soccer and modeling
Career highlights: Played for Manchester United for nine seasons, won the Premier League title six times and was the captain of the England national football team for six years
See the List: The Richest Athletes in the World
David Beckham's Sponsorships
Since Beckham is such a powerhouse on the field, it should come as no surprise that he also rocks a number of sponsorships. He's represented Gillette, Adidas, Calvin Klein, Pepsi and more. He famously became the face of Giorgio Armani in 2007 for a £20 million, three-year deal.
Make Your Money Work for You
Read More: Biggest Sports Contracts Ever
David Beckham's Real Estate
Beckham has owned a number of properties over the years, including the infamous "Beckingham Palace," which he purchased with his wife for $3.3 million in 1999. They ended up giving the home a $4 million makeover. When Beckham moved to Los Angeles, he also bought a Beverly Hills mansion for $18.7 million. In 2018, he sold this home for $33 million. Other homes the couple owns include a $4 million house in southern France, a $41 million mansion in West London and an $8 million converted barn in Great Tew.
Still Making Big Money: LeBron James and More of the Richest Athletes Younger Than 40
David Beckham's Investments
Because Beckham loves soccer so much, he decided to buy an MLS expansion team for $25 million in 2014. He is also financing the stadium for the team, which cost his business group $250 million. Most recently, he's secured a £180 million sponsorship deal with the Qatar Foundation for the team.
More From GOBankingRates
Make Your Money Work for You
Make Your Money Work for You