How Rich Are Christian Pulisic, Megan Rapinoe and These Big-Name US Soccer Stars?

9 min Read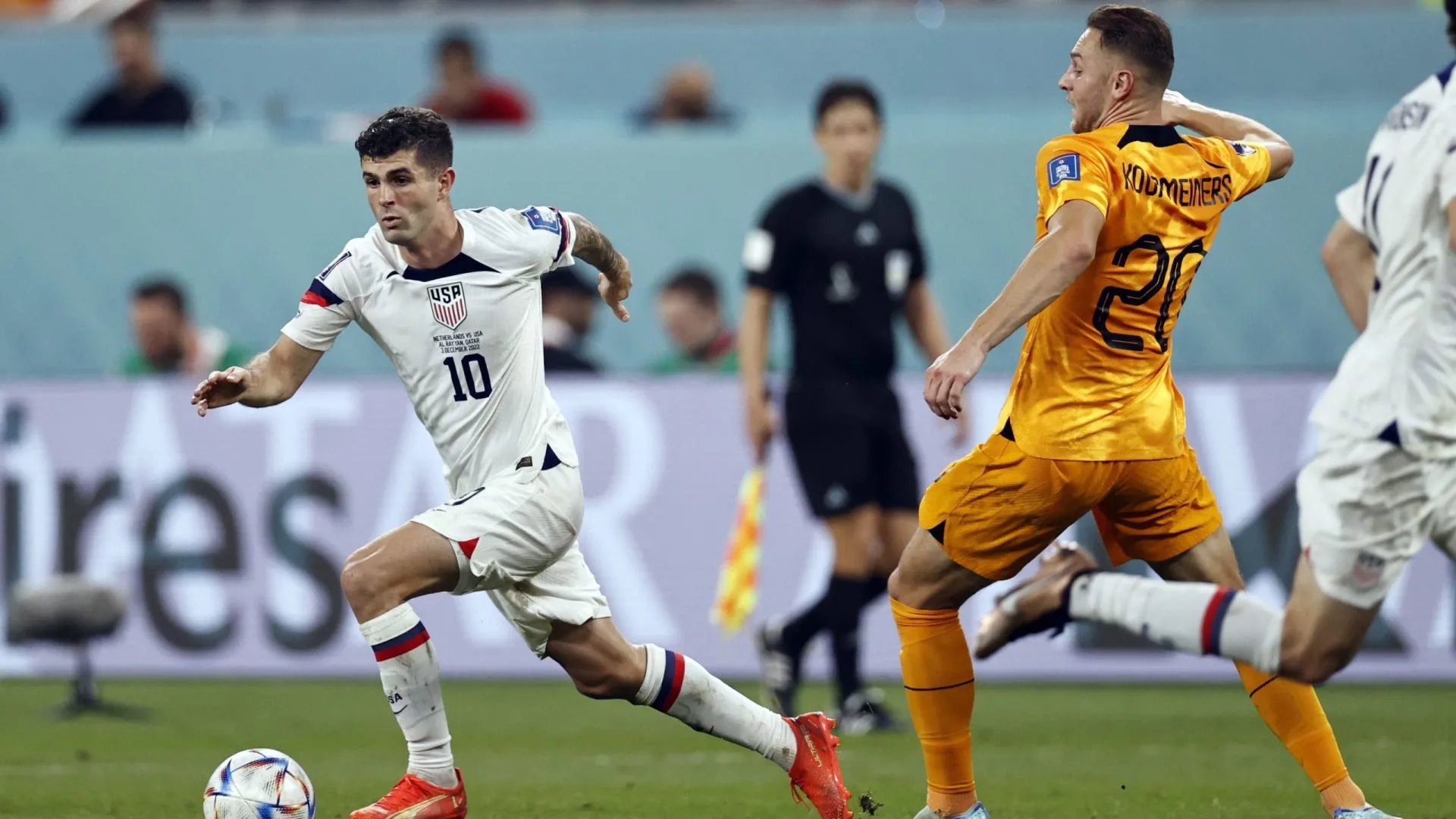 Interest in soccer in the United States peaks in World Cup years, and it is reaching a crescendo as the multinational tournament heads toward the final. The United States men's national team, which didn't qualify for the Cup competition in 2018, was eliminated in the knockout stage by the Netherlands. The U.S. men's team now has reached the knockout round in seven of its 11 World Cup appearances and three of the past four.
Also: How Rich Is Former President Donald Trump?
Read: 5 Things You Must Do When Your Savings Reach $50,000
The World Cup winner will be determined Dec. 18 in the final, to be played at Lusail Iconic Stadium in Lusail, Qatar.
The American men put on a gutsy performance in their four games in the World Cup, with fans meeting a new generation of U.S. soccer players. The young team was led by Christian Pulisic, a Pennsylvania native who plays professionally for Chelsea of the English Premier League.
U.S. coach Gregg Berhalter said the World Cup experience was invaluable for his young squad.
"We have a very young group of players. They're at the beginning of their careers and they're going to catch up," Berhalter said. "When you look at the way we wanted to play, and did play, it should be positive. The guys should feel they gained confidence about the fact that they can play with anyone in the world the way we want to play.
"That's the important thing. And now it's about how do we keep that up and take it to another level where you can win a knockout game in the World Cup."
Here's a look at the net worths of America's biggest soccer stars.
Make Your Money Work for You
Carli Lloyd
Carli Lloyd, now 40, was part of the nucleus of the national team's old guard. And although she retired in the fall of 2021, there was no slowing down the famous workhorse while she played. She ended her long career on the national team with 134 goals, trailing only Abby Wambach and Mia Hamm in the category.
Lloyd represented the United States in four summer Olympics, helping the team to two gold and one bronze medal, and won two World Cup championships. She also played in the National Women's Soccer League, ending her career as a member of NJ/NY Gotham FC. Forbes reported that Lloyd was more popular than ever as an endorser, speaker, merchandiser and more in 2021, earning $4 million off the field.
Take Our Poll: Do You Think People Should Invest In Crypto?
Hope Solo
Goalkeeper Hope Solo held down the net for the U.S. women's national teaml Team from 2000-16, earning two Olympic gold medals, a World Cup championship and every major U.S. goaltending record along the way. Aside from establishing herself as one of the greatest goalies of all time, Solo and her crew represented the bridge between the original World Cup national squad of 1990s fame and the women who are representing the U.S. today.
On March 31, 2022, she was arrested in North Carolina and charged with impaired driving, resisting arrest and misdemeanor child abuse. Her 2-year-old twins were in the car with her. Solo, 41, entered a guilty plea to reduced charges and was sentenced to 24 months of probation. She also paid court costs, a $2,500 fine, attended a treatment program and was stripped of her driver's license for a year.
Alex Morgan
In 2011, Alex Morgan was the youngest player on the World Cup roster when she scored two clutch goals, one in the semis and one in the finals. The decade that followed would enshrine Morgan as one of history's greatest scorers.
She is a two-time World Cup champion, winner of gold and bronze Olympic medals, and scorer of 115 goals in 190 appearances with the national team. One of the most marketable female athletes in the world across all sports, she signed a deal to become the first woman on the cover of the EA FIFA video game series in 2015, according to Adweek. Now 33, Morgan plays for the San Diego Wave of the NWSL in her native Southern California.
Make Your Money Work for You
Cobi Jones
National Soccer Hall of Fame member Cobi Jones spent 12 years with the L.A. Galaxy. The U.S. national team's cap king with 164 appearances, Jones is a three-time World Cup player and a former Olympian. He served as an assistant coach for the Galaxy after he retired in 2010 and found success as an analyst and a broadcaster. He was the most famous among a core group of players who returned to the U.S. from playing overseas to join Major League Soccer when it made its debut.
Jones also made the list of one of the 25 greatest players in league history. Now 52, Jones is working with the LA2028 Olympic Committee in preparation for the Summer Olympics in Los Angeles in 2028. 
Abby Wambach
A two-time Olympic gold medalist and World Cup champion, Abby Wambach, 42, is also a bestselling author, advocate and activist. Although her record was surpassed by Canadian star Christine Sinclair in 2020, Wambach's 184 goals were the most scored by any man or woman in the history of international soccer when she retired in 2015.
One night in 2013, she tied the record of 158 goals set by the great Mia Hamm a soccer generation before. Then she broke the record with another goal, then broke her own record with another goal during the same game with a performance for the ages.
Megan Rapinoe
Even though Megan Rapinoe is closer to the end of her soccer career than to the beginning of it, she is the reigning rock star of the American soccer world — the player people in the U.S. know even if they don't know anything else about soccer. 
Rapinoe, 37, was a hero of the World Cup in 2019, scoring her 50th international goal during the finals. A high-profile activist and vocal social justice advocate, Rapinoe is consummately marketable. She was one of a handful of athletes Visa agreed to continue sponsoring when it became the first big brand to extend its contract for the 2020 Olympics after the games were delayed to 2021, according to Soccerex. Nike and Samsung are among the other big brands to sign her to big deals, NBC News reported. The two-time World Cup champion played in 2022 for the OL Reign of the NWSL and was one of the original members of the franchise, which dates back to 2013. Now a free agent, she hinted that she would like to return to the Reign in 2023, Just Women's Sports reported.
Make Your Money Work for You
Michael Bradley
Few men who have played for the U.S. national team can claim to have more experience than Michael Bradley, who was drafted into MLS in 2004. By 2019, he was earning $6.5 million a year on a contract with Toronto FC, which had paid him $39 million over six years — but his deal expired that year, according to CBC Sports. He then signed a new deal to keep him in Toronto, albeit for a pay cut that slashed his salary to $1.53 million a year.
Bradley played in a career-high 34 games with Toronto in 2022, tallying three goals and five assists.
Landon Donovan
All credible articles about the greatest American men's soccer players must include Landon Donovan at or near the top. A star in Europe and at home with the L.A. Galaxy, Donovan has a tally of records that is too long to recite, including most goals and most assists by a U.S. men's national team member, and his five goals in World Cup matches are the most by any American player. In December 2020, as part of Major League Soccer's 25th season celebration, Donovan was named one of the 25 greatest players in league history, and his six MLS Cup titles are a record.
He dominated on the field both in the U.S. and internationally throughout the 21st century, and after his retirement, he found off-field success as an analyst, broadcaster, and a franchise leader and owner in several organizations. Currently, the 40-year-old is the manager and executive vice president of soccer operations of the San Diego Loyal of the USL Championship.
Clint Dempsey
Those who don't rank Landon Donovan as the greatest American soccer player of all time usually give the honor to Clint Dempsey, also a member of the MLS' top 25. The New England Revolution and Seattle Sounders star's 57 national team goals are tied for the record with the 57 put up by none other than Landon Donovan — but Dempsey did it in 16 fewer contests. In 2012, the English club Tottenham signed Dempsey for about $9.5 million — $22.2 million over three years — making him the highest-paid American soccer player in history at the time.
Make Your Money Work for You
Mia Hamm
Before Solo and Wambach, before Rapinoe, Morgan and Lloyd, there was Mia Hamm, the superstar who embodied the glory of U.S. women's soccer and set the mold for the modern rock star celebrities of women's soccer. After joining the women's national team at the age of 15, Hamm was part of the U.S. team in the very first World Cup in 1991 and would go on to compete in three more. A three-time Olympian, Hamm won two gold medals and a silver.
Today, Hamm, 50, lives in Southern California with her husband, retired baseball star Nomar Garciaparra, and their three children. She and her husband are co-owners of the MLS' Los Angeles Football Club.
Christian Pulisic
Christian Pulisic scored the winning goal against Iran to send the United States into the knockout stage, and at age 24, he undoubtedly has many more big games in his future.
While he plays professionally in Europe, he is becoming a legend in the U.S. Pulisic has made 56 appearances with the U.S. men's national team and already has 22 goals and 12 assists. His goal total is good for seventh all time on the U.S. men's team scoring list. And he's a three-time winner (2017, 2019 and 2021) of U.S. Soccer's Male Player of the Year award.
Chelsea paid German side Borussia Dortmund a record $73 million for Pulisic in January 2019.
More From GOBankingRates
George Malone and Jami Farkas contributed to the reporting for this article.
All net worth information comes from Celebrity Net Worth and is accurate as of Dec. 6, 2022.
About the Author