Major Moments in Sports Endorsement Deals in 2021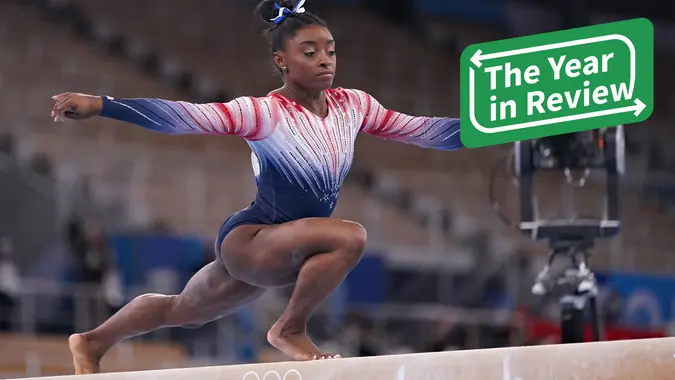 ©Richard Ellis/UPI/Shutterstock
The year 2021 has been one of upheaval in so many ways, from the COVID-19 pandemic to a new president, from Tom Brady winning another Super Bowl to Simone Biles' shocking withdrawal from the Olympics.
Read More: How Rich Are Lebron James, Steph Curry and Other NBA Stars?Take a Look: Most Successful Athlete From Every Decade
Change came to the world of sports endorsements as well, with major celebrities switching brands and college athletes gaining newfound freedom to sign.
As we wrap up 2021, GOBankingRates is taking a look back at some of the top moments in the year's sports endorsement deals.
Jan. 18: Los Angeles Lakers star LeBron James leaves Coca-Cola after 17 years to sign with PepsiCo. He will market Mountain Dew's new "Rise Energy" drink. The value of LeBron's deal with Pepsi has not been reported, but he makes $50 million in endorsements each year, CBSSports.com reported. (That doesn't count James' lifetime deal with Nike, which is expected to pay him $1 billion over the lifetime of the contract.)
Read More: How Much Is US Olympian Simone Biles Worth
Make Your Money Work for You
April 23: Simone Biles, the greatest gymnast of all time, leaves Nike for Athleta, the sports apparel arm of Gap.
June 29: Tampa Bay Buccaneers quarterback Tom Brady signs an endorsement deal with Subway, joining other celebrity endorsers such as Stephen Curry, Serena Williams and Charles Barkley. In an ironic twist, Brady has reportedly never been inside a Subway, and he won't be holding any of the sandwich chain's products in the ads. Brady, whose net worth is $250 million, according to Celebrity Net Worth, made about $14 million in endorsements in 2019, Yahoo reported.
July 1: The NCAA's change to allow college athletes to profit off their name, image and likeness (NIL) officially goes into effect.
Read More: LeBron James, Michael Phelps and 12 Other Olympic Medalists Who Have Made Huge Money From Endorsement Deals
July 2: Alabama freshman quarterback Bryce Young signs an NIL deal worth "ungodly numbers," according to his coach, Nick Saban. It's believed to be just shy of $1 million.
July 2: Fresno State basketball players Haley and Hanna Cavender, better known for their TikTok videos — sign NIL deals with Boost Mobile and Six Star Pro Nutrition. Financial details aren't disclosed, but previous projections have said the two could make up to $3 million annually, based on a projection of 80 cents per follower. (The two have about 4 million followers on TikTok and Instagram, per Sports Illustrated.)
Make Your Money Work for You
July 3: Hercy Miller, Master P's son, signs a four-year, $2 million deal with Web Apps America before even setting foot on campus to play for the Tennessee State University men's basketball team.
Read More: Athletes Earnings Most of Their Cash From Endorsements
Sept. 9: UCLA basketball reserve Jaylen Clark becomes the first college athlete to release his own cryptocurrency.
Sept. 16: LSU gymnast Olivia Dunne, who has approximately 5.7 million followers on TikTok, signs an endorsement deal with Vuori activewear. It's believed to be worth in the "mid six figures," per Businessofcollegesports.com.
Sept. 20: Tampa Bay Buccaneers tight end Rob Gronkowski signs an endorsement deal with USAA, becoming the first non-military person to appear in a USAA ad. Gronk reportedly makes $8 million per year in endorsements, and he famously said he saves all his money from his NFL contracts and lives only off endorsement money.
Nov. 30: Gatorade signs its first college athlete, and it's a groundbreaking signing. The sports energy drink inked a deal with Connecticut women's basketball star Paige Bueckers, with the Wall Street Journal reporting it could be worth $1 million.
Make Your Money Work for You
More From GOBankingRates
Make Your Money Work for You