How Much Is Peyton Manning Worth?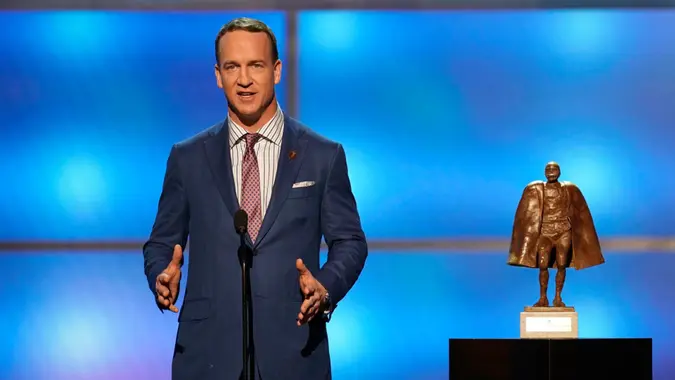 Paul Abell/Invision/AP/Shutterstock / Paul Abell/Invision/AP/Shutterstock
Peyton Manning's illustrious football career spanned from 1998 to 2016. During that time, he cemented his position as one of the top quarterbacks of all time. He also earned some big bucks, accumulating a net worth of $250 million, according to Celebrity Net Worth.
Net worth: $250 million
Date of birth: March 24, 1976
Primary sources of wealth: Playing football and celebrity endorsements
Career highlights: Winning two Super Bowls, being a 13-time Pro-Bowl selection and winning five NFL MVP awards
Who's Worth More: Tom Brady or Peyton Manning, Phil Mickelson or Tiger Woods?
Peyton Manning's Net Worth: $250 Million
With nearly two decades of NFL salaries, Manning made most of his income playing football. His highest NFL salary was $18 million, though he made over $40 million some years thanks to his various endorsements. Even now that he's retired, he still earns over $10 million a year from his endorsement deals alone.
Peyton Manning's Career Highlights
Manning joined the NFL in 1998 when he was drafted by the Indianapolis Colts. In 2006, he got his first Super Bowl victory against the Chicago Bears; he made it to the Super Bowl once again in 2009, but unfortunately, his team lost to the New Orleans Saints. Setbacks kept coming Manning's way, as he had a neck injury that forced him to sit out the entire 2011 season and resulted in a trade to the Broncos football team. But Manning got back into action the next year with Denver, and in 2016, he won his final Super Bowl.
Make Your Money Work for You
Peyton Manning's Endorsements
Peyton Manning was ranked as the highest earner from licensing deals with the NFL in 2019 — even though he had been retired since 2016. He reportedly earned $3.35 million just from marketing and royalties from video games, apparel and trading cards in 2019.
However, that total does not account for Manning's personal endorsements. He's partnered up with ESPN, Sony, Reebok, DirecTV and more, and these deals earn him $25 million a year.
Peyton Manning's Philanthropy
Manning has given back much of his earnings through various philanthropic acts, including donating 30,000 pounds of supplies during Hurricane Katrina. He also founded the Peyback Foundation to help support disadvantaged kids. So far, the charity has provided more than $15 million in grants to children in need.
More From GOBankingRates
Make Your Money Work for You