Here's How Much the Average Wedding Costs

Get a beautiful wedding for less than the average wedding cost with these tips.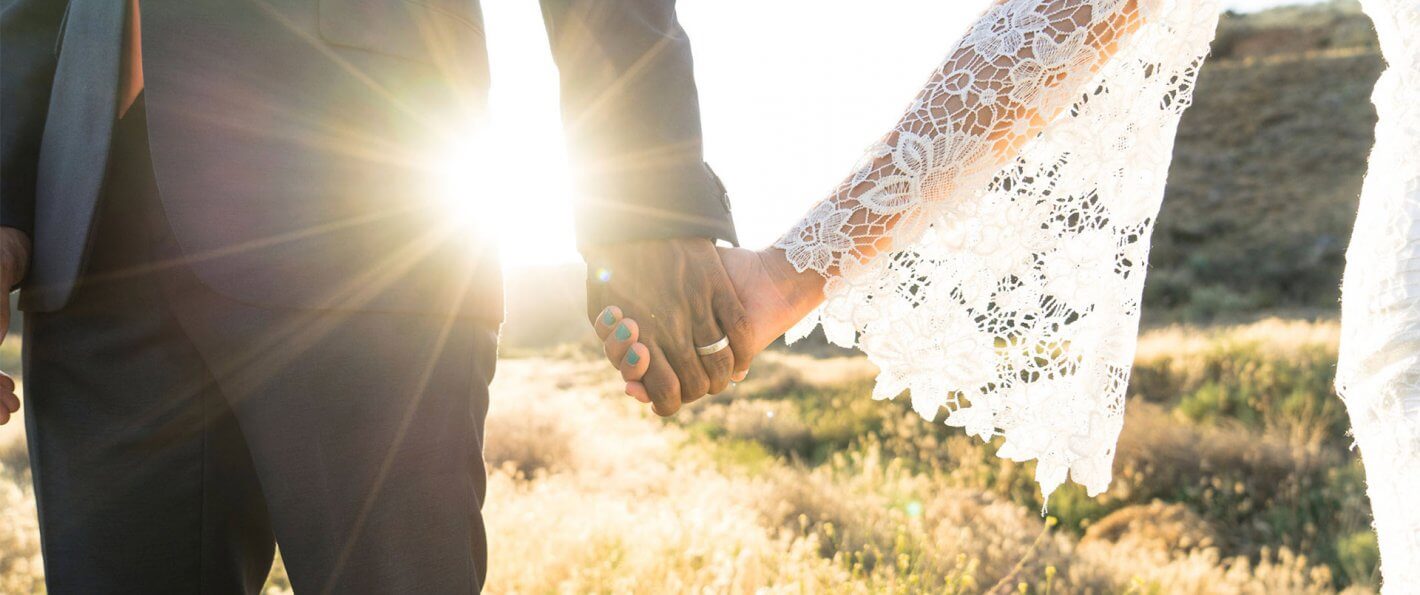 Your wedding day creates memories that last a lifetime. Unfortunately, those memories often come at a high price — and that price is on the rise. The average wedding cost has increased significantly in recent years, making it more difficult for couples to save enough money to pay for their dream weddings or other goals like buying a house.
To see if you can avoid spending too much on your wedding day without sacrificing what's important to you, here's a breakdown of the average cost of a wedding and what exactly goes into that amount. But don't call a wedding planner just yet — before you start writing checks to vendors, make time to have an open and honest conversation with your partner about money.
Average Wedding Cost: $35,329
If you and your significant other announced your engagement and are now preparing to tally the overall cost of your wedding, you might be shocked by the fact that the average cost of a wedding in the U.S. is equal to that of a brand-new car or a hefty down payment on a house.
According to a recent study conducted by The Knot, the average wedding cost was $35,329 in 2016, up from $32,641 in 2015 and $29,858 in 2013 — a $5,471 increase over three years. These costs, although high, don't include honeymoon expenses, which could add several thousand dollars to the final price tag. Despite the higher cost for weddings, however, couples are inviting fewer guests. In 2016, the average wedding had 141 guests, down from 149 in 2009.
The truth is, a wedding doesn't need to cost anywhere near $35,329 — a couple can cut wedding costs and still celebrate their nuptials in style. Here's how.
See: Should You Get a Wedding Loan?
Costs of a Typical Wedding
With the average cost of a wedding estimated in the tens of thousands, here's a look at typical costs couples incur, according to The Knot.
Wedding Costs Breakdown

Item

Cost

Wedding invitations
$462
Photographer
$2,783
Wedding dress
$1,564
Groom's attire
$280
Flowers and decor
$2,534
Venue
$16,107
DJ
$1,245
Catering
$71 per person
Favors
$268
Wedding cake
$582
Source: The Knot 2016 Real Weddings Study
Other items mentioned in the list but that are not vital to a wedding include a videographer, rental car or limo, hair and makeup services, bridal shower, bachelor party, rehearsal dinner and ceremony musicians.Some people prefer to hire a professional wedding planner to handle the details of the event. When you factor in that wedding planner cost, your total will go up by another $2,037 on average.
A typical wedding encompasses a broad range of costs, depending on your preferences. Just sticking to the low end of expenditures, however, can get you a nice wedding that includes a lot of the major elements that are most important to you. And that's what it comes down to when you're budgeting: What is most important to you on your wedding day? Cut what is less important to you and stick to the few things that you'll want to remember forever, whether that's the music, the photos or the food.
Cheapest and Most Expensive Places to Get Married
The cost for each element of a wedding varies significantly depending on factors like location, the time of year you're getting married and how far in advance you plan. Here's a look at the most expensive cities and the cheapest states to get married in the U.S.
Top 5 Most Expensive Places to Get Married

City

Average Cost

New York – Manhattan
$78,464
New York – Long Island
$67,831
New Jersey – North/Central
$62,606
Chicago
$60,035
Cape Cod, Mass.
$58,608
Source: The Knot 2016 Real Weddings Study
Top 5 Cheapest Places to Get Married

State

Average Cost

Utah
$20,337
Montana
$20,749
West Texas
$21,688
Oregon
$21,854
Idaho
$22,018
Source: The Knot 2016 Real Weddings Study
Don't Miss: Creative Ways to Say 'I Love You' Without Spending a Dime
How to Create a Wedding Budget for a Low-Cost Wedding
The first step in preparing for your wedding is actually setting up a wedding budget based on the number of people you plan to invite and the money you and your partner can save. The wedding budget should list must-haves along with a separate section for nice-to-have options — components that can be easily eliminated if they don't fit within your budget.
Next, call around to price everything from venues for the reception to the cake and flowers. By acquiring estimates, you can quickly determine what's not necessary for your wedding. If you find some costs are too high, but you don't want to eliminate certain pieces of the puzzle, consider the following suggestions to cut down on wedding costs while still having your dream wedding.
Send Out Electronic Wedding Invitations
Save some cash with eco-friendly save-the-date notices and invitations. You can choose from a variety of designs and styles to find something that suits your taste. Beyond the classic Evite, sites like Greenvelope, Paperless Post and Punchbowl offer a great selection of electronic invitations — many of which are free. You can also design your own invitation using Photoshop and email a PDF copy to your guests. With an artistic touch, your invitations can look just as elegant and personal as a traditional print invitation.
Get Married on Thursday, Friday or Sunday
Saturday is the most popular day of the week for weddings, so venues charge a premium for that day. Hold your event on a weekday or a Sunday and you could snag your top-choice venue for much less money.
Have a Wedding in the Park
Many city parks allow people to have private gatherings at low costs — or sometimes for free — but scope out the area first to make sure it's spacious and suitable for well-dressed guests. You can go big on this idea while you stick to a small budget by considering national parks like the National Estuarine Research Reserves on the coasts.
Many parks allow you to have your wedding on-site for a small fee. For a special event in a natural setting, these reserves offer an unusual, low-cost option — and one that's beautiful to boot, according to certified financial planner Rebecca Schreiber of Pure Financial Education. If you choose to have your wedding at a state or national park, a historical garden, or a museum, you might be able to deduct your venue fee as a donation on your taxes, so save your receipts consult a tax professional at tax time.
Host the Reception at a Community Center
Many churches are accustomed to holding large parties for dining functions. If you chose a church for your ceremony, you might be able to use its event hall afterward to lower your costs. Community centers can also be a budget-friendly option. You won't have to skimp on style, depending on how you decorate and set up the venue, and you might be able to have the ceremony there, too.
Shop Discount Wedding Gowns
If borrowing a gown is not an option, you can take other routes to beat the average wedding dress cost. Many wedding shops offer annual sales on gowns that can drop the cost to as low as $100. Shop early and find a gown that you love and is within your price range. If having a designer gown is a priority for you, check out options like Rent the Runway, which, for reasonable prices, rents out dresses that would normally cost thousands of dollars.
Have Friends Take Photos
Instead of hiring a professional, cut the cost of a wedding photographer or videographer by asking talented friends to take pictures and record video of the wedding and reception. If you happen to be friends with a professional photographer, ask if he has a friends-and-family discount — be careful not to strain your friendship by asking or expecting them to do something for you for free when it's what they do for a living.
Rent a Sound System
Rather than hire a traditional wedding DJ, rent or find a quality sound system and hook up an iPod to play hours of great music. Putting your playlist together with your fiance, bridesmaids, groomsmen, or friends and family can be a great experience and memory to cherish.
Eliminate the Wedding Party
Although most wedding party members have to pay for their own outfits, many brides and grooms still chip in for accessories and gifts. To cut costs — and headaches — associated with bridesmaids, groomsmen, and ushers, eliminate the wedding rehearsal dinner or skip having a wedding party altogether.
Find Out: Is It More Expensive to Be a Bridesmaid or a Groomsman?

Buy Low-Cost Invites, Table Decor and More
Consider purchasing table arrangements and other decorations from budget stores. If electronic invitations aren't your style or if sending handwritten thank-you notes after the wedding is important to you, you can look for invitations or cards at the same kinds of stores. Ask friends and family if they have items that you could borrow — and make sure to label and return them — such as strings of lights or vases for centerpieces.
Dodge the Sit-Down Dinner
"The number-one tip for saving on your wedding is not serving a sit-down meal," said Sara Margulis, founder and CEO of Honeyfund. Save a large portion of your food budget by reaching out to close family and friends and requesting they bring food — home-cooked or store-bought — to your affair in lieu of buying wedding gifts. Doing this is an especially great option if you are close friends with a talented chef or baker. Another option is to put a fun, casual twist on the usual wedding fare by hiring a favorite food truck to serve your party.
Ask a Friend to Officiate
Rather than hire someone to officiate your wedding, consider asking your own church pastor, who will likely be happy to take the job for free or for a small fee. You can thank him with a nice gift. You could also ask a friend to be ordained for your wedding and to officiate as a wedding gift to you.
Trim Your Wedding Flowers Cost
Consider cutting your wedding flowers cost by only placing flowers in key areas where photos will be taken. If your wedding party will carry flowers, consider putting those bouquets on double duty as centerpieces during the reception.
Be Prepared to Negotiate
For every vendor you work with, brace yourself for negotiation. "Get ready to haggle," said money-saving expert Andrea Woroch. "Don't let your vendors know that they are your top choice, and ask if they can offer you a better rate or add value with free extras to make their offer a better value."
For her own wedding, she said, "My live band gave me $100 off the dinner music hour simply because I asked. The venue coordinator was able to throw in a free champagne toast, and the hotel manager cut me a break on the cost of the hotel nights."
Even in high-cost cities like New York or Los Angeles, it's likely that you know people who have found ways to have a fantastic, low-cost wedding with absolutely no regrets. Margulis shared that she once attended a wedding that cost less than $1,500. "A public space for the ceremony, a small guest list, and Mexican catering truck made it happen," she said.
Another option to consider is taking a vacation alone as husband and wife and having the wedding and honeymoon in one trip. Plan your wedding during an off-peak season to save more. And if you want a really low-cost wedding, you can opt for a courthouse or home wedding with a few friends and family.
Related: Honeymoon Destinations That Won't Break the Bank
How Much Should Your Wedding Cost?
So, how much does a wedding cost? Regardless of actual figures and averages, you're in charge of how much you spend. Spend any amount you want for your wedding as long as you can afford it; it's your big day, and it should be as intimate or lavish as you desire.
If you want to lower the cost of marrying the love of your life — or simply aren't interested in the frills of an extravagant wedding — you can still have a beautiful event within a modest wedding budget.
Laira Martin and Ruth Sarreal contributed to the reporting for this article.