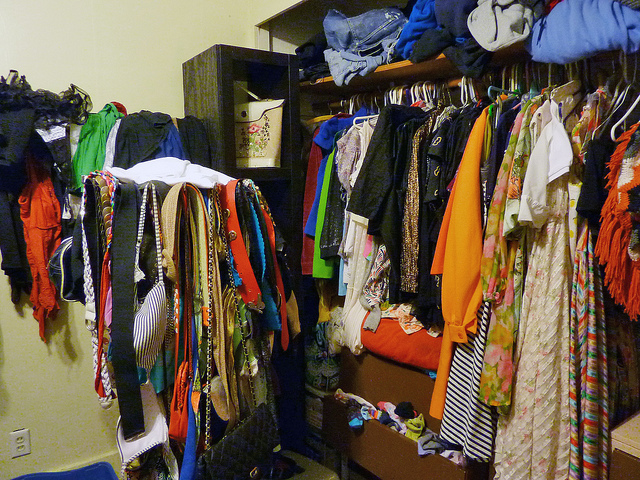 As seasons change, so do the staples in your closet. The heavy wool coat you frequently grabbed during colder months will likely get pushed back into the depths of your closet, never to be seen again, even when the winter turns around once more. And as the months and years progress, your closet gradually becomes a black hole for one-time trends and gifted clothing long forgotten.
Instead of drowning in your unused and unwanted clothing and accessories, you can turn your belongings into a cash cow for your savings account. Booking every Saturday of the month to hold a six-hour-long yard sale isn't the best use of your time, but a new crop of companies has made it much easier to sell pre-owned designer clothes in less time.
Where to Sell Used Clothes Online
Consignment stores are a common alternative to yard sales when it comes to selling used clothes. The Association of Resale Professionals reports that the U.S. resale industry generates approximately $13 billion in revenue annually, with stores like Buffalo Exchange and Crossroads Trading Co. bringing in $64.4 million in 2010 and $20 million in 2012, respectively.
While brick-and-mortar shops are preferred by those who enjoy face-to-face interaction, some can be highly selective causing you to haul back your declined goods into your closet. However, the world of consignment has made its way onto the internet, offering you the same type of service in the comfort of your own home making the selling process even more painless.
Here are a few designer resale online shops that have grown their users into an bustling marketplace for your items.
#1. Threadflip
Threadflip is an online marketplace for selling and buying high-end brands; some pre-owned designer clothes and accessory brands that are often seen on their website include Vera Wang, Free People, Chanel and Louis Vuitton. Uploading items to sell on Threadflip is possible online or via their mobile application. There is no charge to use their listing service, but a 20 percent commission will apply for every item "swapped" (i.e. sold). Also, the minimum price point that the site permits is $10.
T Magazine shares, "Threadflip features an intuitive interface that's designed to make converting closet clutter into cash a cinch."
They live up to T Magazine's claim by launching a White Glove Concierge service, which allows you to send your goods to Threadflip in a pre-paid bag. Once they receive the package, they'll photograph, list and sell your items for you. With this option, sellers receive 60 percent of the sale price.
#2. SnobSwap
SnobSwap is an interest hybrid of straight designer resale online and the power of negotiation typically seen in a yard sale environment. Sellers can either choose to sell their pre-owned designer clothes, swap it with another user's item of equal price, or negotiate a transaction of both a swap and additional cash in exchange for a high-value item.
While any variation of the swap option doesn't necessarily bring in new cash into your savings account, it does allow you to spruce up your closet with spending your existing savings funds. It's a great compromise if you need to grow your savings and also update your wardrobe. In terms of fees, the service is free to use, save for a 10 percent sellers fee based on the selling price, or cash portion of a swap-cash offer.
#3. PoshMark
Unlike the Crossroads Trading Co. in Los Feliz, Calif. that told me they cannot accept vintage items, PoshMark is an e-commerce website that accepts anything from vintage to pre-owned designer clothing. Their iPhone app makes posting an item for sale simple, and the company handles all credit card fees, shipping costs and customer service for the item. All you need to do is upload a picture of your garment and once it sells, PoshMark mails you a shipping label. Then, package the item, place the shipping label on the package and send off.
Once the buyer has confirmed receipt, funds are added to your PoshMark account, minus 20 percent of the sale (this is PoshMark's commission charge). There is also no charge to claim your earnings.
#4. ThredUP
ThredUP first started as a place to sell used clothes online for girls and boys; more recently, they've opened up their market to women's clothing. The site currently is offering a free "Clean Out" bag (typically a $4.95 charge) for you to send them clothing for inspection. The items they select will be posted on their website and shown to users nationwide.
However, those who want their rejected items returned will have to opt into the site's Return Assurance program, which will return any unwanted items back to you for a $9.99 fee. Keep in mind that if all items are accepted or all items are rejected, ThredUP will not return your bag of items (it will also not charge your account the $9.99 service fee).
#5. Stella+Jack
Exclusively a children's clothing resale website, Stella+Jack offer a great platform to sell the heaps of baby clothes your young tot has outgrown. You can sell used clothing through Stella+Jack, whose selling process mirrors a traditional consignment shop.
The retailer assesses and selects the items they feel will sell the best on their website, and provides free pick up of your items for the initial review. Items that do not get selected for sale are donated to the charity Wellspring-Family Services, and sellers receive a store discount for their interest in working with Stella+Jack.
The store will photograph and post your item for you, and when an item sells, sellers can choose between a 30 percent cash from the sale, or 50 percent store credit.
Tips on Selling Pre-Owned Designer Clothes
Increasing your chances of selling pre-owned designer clothes online is more within your control than you might think. High-end and designer brands will be more appealing to both stores and buyers, and will likely result in a higher payout, but how you present your items goes a long way when you sell used clothes online. A few details to consider include:
Checking for damage or stains. Don't waste your time trying to resell a piece of clothing that is heavily worn or stained; they won't accept it.
Iron out wrinkles. If you found a silk blouse wadded up in the corner of your closet floor, take the time to launder it and iron out any unintentional creases. The newer it looks, the more appeal it has.
Place garments on hangers. Refrain from laying clothes on the floor or on your bed when taking pictures of them; it looks sloppy and doesn't give potential buyers a true sense of how the garment hangs. Always photograph pre-owned designer clothing on hangers for the best presentation.
Photograph with good lighting. Pictures are certainly worth a thousand words, especially when it comes to selling online. Make sure you use soft, natural lighting for your images to avoid hot spots that can distract from the item.
Take more than one picture. Shopping online can be difficult for some buyers, so if you can, upload as many pictures as possible of the clothing from different angles (e.g. front, back, sides). Photos give buyers confidence that they're buying a quality item.
Instead of letting your unwanted wardrobe go to waste and outgrow the season, consider putting designer clothes on sale via one of the marketplaces highlighted above. After all, an extra $100 into your savings account is better than no savings at all.
(Photo: Lara604)