More Baby Boomers Are Retiring Homeless — Could It Happen to You?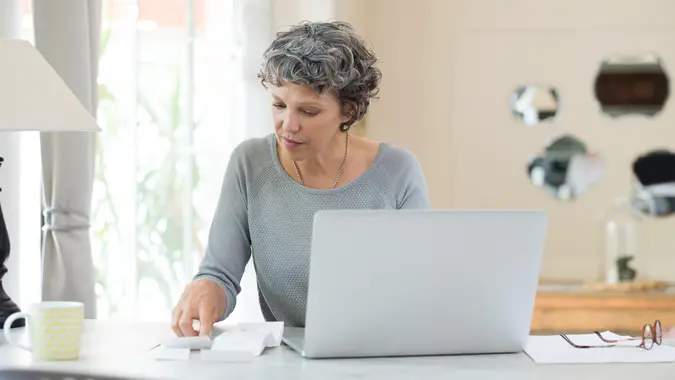 Ridofranz / Getty Images/iStockphoto
Homelessness is on the rise among adults ages 50 and older, a group that now makes up half of the homeless population. What's more, a report by the National Low Income Housing Coalition reveals that about 50% are becoming homeless for the first time.
See: 3 Ways To Recession-Proof Your Retirement
Homelessness is a complicated issue, and many factors contribute to baby boomers retiring to the streets. But many, if not most, of the first-time homeless have one thing in common: They have no safety net to fall back on when a financial emergency strikes.
Baby Boomers Aren't Saving Enough for Retirement
Nearly 40% of baby boomers — people born between 1946 and 1965 — are approaching retirement with no retirement savings, The Hill reported in May. And boomers who are saving often aren't saving enough. Almost 70% of boomers surveyed by Retirement Living said they weren't sure they had enough saved to last through retirement.
So why aren't baby boomers saving enough — or, in some cases, at all? For many, it's not a lack of opportunity. Just 52% of non-government workers participate in an employer-provided retirement plan even though 69% have access to one, according to U.S. Bureau of Labor Statistics data.
One contributing factor is boomers' failure to account for increasing life expectancy and the medical care that goes along with it.
In addition, boomers may have unrealistic expectations about their retirement finances. For example, many believe Social Security will cover all or most of their expenses in retirement. In fact, it replaces just 40% of pre-retirement income, on average, yet about 20% of retired boomers rely solely on Social Security and other government programs for retirement income.
Are You Retirement Ready?
Emotions also come into play, the Boeing Employees' Credit Union noted. The Great Recession is fresh in many boomers' minds, leading them to avoid investing for fear of losing their savings.
Why Baby Boomers Are Retiring Homeless
Individuals with "late-onset" homelessness tend to have lived in poverty throughout their adult lives despite long work histories, albeit in low-paying jobs. In a study published on its website, the American Society on Aging noted that survey participants who became homeless after age 50 had suffered a setback such as job loss, illness, divorce or death of a spouse, partner or parent. "With little savings, facing difficulty finding work as an older adult, and having little ability to compete in an unforgiving housing market, they faced homelessness for the first time," the ASA noted.
Several factors seem to have left these individuals vulnerable to financial crisis:
Shortage of affordable rental housing
Competitive job markets
Financial disadvantages stemming from recessions in the '70s and '80s, not to mention the Great Recession and its effects on homeownership
Health challenges
How To Avoid Retiring Homeless, No Matter What Your Income
How much retirement savings you need depends on when you plan to retire and your expectations around the type of lifestyle you'll lead. Ideally, boomers who want to retire at the full retirement age of 67 while maintaining their current lifestyle will have 10 times their final salary saved, according to Fidelity. A more frugal retirement might require just eight times your current salary. Going full-throttle, with high spending on travel and other luxuries, could require 12 times your final salary.
Are You Retirement Ready?
But what if that's not even in the ballpark of what you can save? You still have options for shoring up your finances and working within your means to safeguard your retirement.
Take Stock of How Much You Have and How Much You'll Need in Retirement
According to a report from the Transamerica Center for Retirement Studies, 44% of workers surveyed guesstimated their retirement needs. Just 10% of baby boomers used a retirement calculator. Accurate estimates will help you set goals and come up with contingency plans to deal with shortfalls. To start, create a My Social Security account to view your benefit estimates.
Talk to Your Partner
That same Transamerica study found that while 68% of boomers surveyed were "familiar" with their spouse's or partner's savings, very few were "very familiar" with it. It's important to be on the same page so you can work together to make the best use of your resources.
Save What You Can
Any little bit you can sock away will supplement your Social Security and might keep your head above water in the event of a financial emergency. Start with emergency savings, then move up to an individual retirement account or your employer's 401(k) — especially if your employer matches contributions.
In either case, you contribute before-tax earnings, which grow tax-free until you withdraw them in retirement. In addition, you can earn a Saver's Credit tax credit of up to 50% of the amount you save, depending on your adjusted gross income.
The IRS limits how much you can contribute to an IRA and 401(k) each year, but investors ages 50 and up get a special perk — the ability to make catch-up contributions of $1,000 to an IRA or $7,500 to a 401(k).
Are You Retirement Ready?
Avoid Debt
Boomers should diligently pay down debt and avoid using credit cards unless they can pay off the balance each month. Also avoid shouldering debt for your grown and almost-grown children. They have time to recover from financial setbacks. You don't.
Work at Least Until Age 70
Each month you work past your full retirement age earns you delayed-retirement credits that can increase your Social Security benefits by up to 30%. You reach the maximum benefit at age 70. In the meantime, your income won't reduce your Social Security benefit as long as you've reached full retirement age. Someone retiring in 2023 can earn up to $56,520 in the months before reaching FRA without having their benefit reduced. Beginning the month you reach full retirement age, there's no limit.
In addition to increasing your Social Security benefit, the extra working years will replace any lower-earning and $0-earning years in your work history used for your benefit calculation.
Downsize Your Home
If you own, you might consider downsizing to a smaller, less-expensive home and saving the sale proceeds in a retirement account. If you own the home outright, you have another option — a home-equity conversion mortgage, or reverse mortgage, that pays you cash against the equity in your home. The primary benefit of an HECM is that you don't have to repay it for as long as you live in your home. The HUD Exchange website offers a list of HECM counselors who can answer your questions about this kind of loan.
Are You Retirement Ready?
Preparing for Retirement
The best time to create a retirement strategy is years before you retire, but no matter how close you are, it's never too late to come up with a plan. Creating a retirement budget that accounts for realistic income and expenses is a good first step. Emergency savings is a vital part of that budget. From there, delaying retirement while you pay off debt and reduce other expenses will give your bottom line a nice boost and leave you better prepared for the next phase of your life.
Our in-house research team and on-site financial experts work together to create content that's accurate, impartial, and up to date. We fact-check every single statistic, quote and fact using trusted primary resources to make sure the information we provide is correct. You can learn more about GOBankingRates' processes and standards in our editorial policy.