The No. 1 Challenge in Retirement Has Nothing To Do With Money — But You Can Still Prepare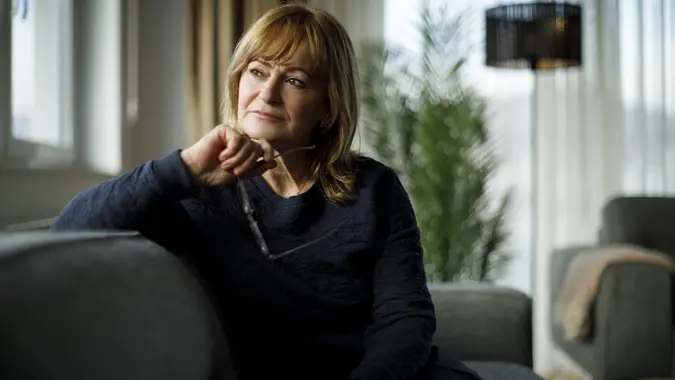 damircudic / iStock.com
Saving for retirement — and living on a fixed income during it — can be a significant feat. However, according to classic research, the No. 1 challenge people face in retirement has nothing to do with money. A 1938 study from Harvard, which asked the evergreen question, "What makes us happy in life?" found that the biggest challenge people faced in retirement was the inability to replace the social connections they'd had during their working lives.
According to CNBC, when asked what he missed about being a doctor for nearly 50 years, one study participant replied: "Absolutely nothing about the work itself. I miss the people and the friendships."
Other study participants expressed similar sentiments. For instance, Leo DeMarco, a retired schoolteacher, said: "I get spiritual sustenance from talking shop. It's wonderful to help someone acquire skills. Teaching young people was what started my whole process of exploring."
Social engagement, spiritual fulfillment and the sense of meaningfulness and belonging — these are all things that money famously cannot buy. But like one's financial health in retirement, they are things that can be prepared for ahead of time.
How To Optimize Your Retirement for Social Fulfillment (as Well as Financial Prosperity)
One shouldn't think of retirement simply as a financial phase of life, but should instead approach it holistically. This is a time during which all elements of your existence matter. You are still you. You're not just a box of assets and accounts to be checked off. Here's a glimpse at how to prepare both for the financial and social aspects of retirement.
Are You Retirement Ready?
1. Cultivate Relationships with Coworkers Outside of Work
If you're used to getting lunch a couple times a month with coworkers or heading to happy hour once a week, you should start to think about ways to develop friendships with beloved colleagues that don't rely on the office as a hub. Perhaps you can have longtime pals from work over for a potluck dinner or board game night once a month. It's wise to get these activities going before you hang your hat up, so that the momentum is already in place before you retire.
2. Start Budgeting
Once you're in retirement, you'll likely be living on a fixed income, and that could come as a shock if you're not prepared. Get in the habit ahead of time by making a budget and sticking to it. Chances are, you've already been doing this, but if not, you can get started by listing all your expenses and determining needs versus wants.
3. Volunteer
Time can be both a blessing and a curse. In retirement, it all depends on how you fill it. One great way to honor the hours is to volunteer. To get started volunteering, decide which causes you care about or what types of people/communities you feel could best benefit from your help. From there, create a volunteer resume and research volunteer opportunities in your area.
4. Navigate Medicare
If you're not already familiar with Medicare, now is the time to get well versed in it. It can be a bit complex to navigate at first, so you'll want to get this done sooner than later.
5. Get To Know Yourself
What do you like to do? What are your interests? Hobbies? Passions? After so many years as a dedicated worker, it can be hard to peel back from your job and really suss out who you are, apart from your identity in your career. Take some time to do activities that will help you get to know yourself such as journaling and art therapy. This way, when you're thrust into retirement, you will know what you want to do with your time.
Are You Retirement Ready?
6. Meet with A Financial Advisor
Meeting with a financial advisor is an important step for retirees. This can help you get insight into the market right now and create a customized plan. It will also help give you peace of mind, which goes hand in hand with happiness.
More From GOBankingRates