Social Security Cuts: 4 Updates Retirees Should Know for September 2023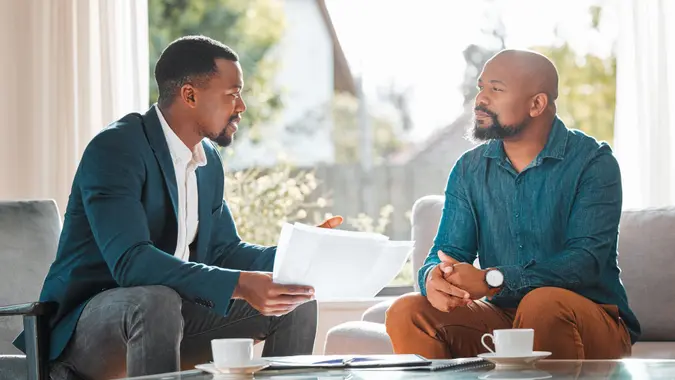 PeopleImages / Getty Images/iStockphoto
Social Security has been much in the news lately, with presidential candidates proposing cuts to the program and some experts warning of massive benefit cuts even if lawmakers stand pat.
Much of the attention continues to focus on the looming depletion of Social Security's Old Age and Survivors Insurance (OASI) Trust Fund. The OASI fund is expected to run out of money in about a decade, leaving Social Security solely dependent on payroll taxes for funding. Those taxes currently fund about 77% of benefits.
Here's a look at four Social Security updates retirees should know for September 2023.
1. Funding Shortfall Could Cost You $17,400
The coming OASI fund depletion might seem like an abstract concept to many Social Security beneficiaries because it's still about a decade away. But the nonprofit Committee for a Responsible Federal Budget (CRFB) recently put the impact in stark, concrete terms when it estimated that some retirees could face a cut of more than $17,000 a year when the OASI runs out of money.
Are You Retirement Ready?
The estimate was included in an Aug. 8 report. In that report, the CRFB wrote that when the OASI fund becomes insolvent — likely by 2033 — a typical newly retired dual-income couple would face an immediate cut of $17,400 a year. For a typical single-income couple, the projected cut would be $13,100.
2. GOP Candidates Eye Cuts
This week's Republican presidential candidate debate in Milwaukee was notable mostly for the absence of former President Donald Trump, the GOP frontrunner.
However, 2024 candidate and former New Jersey Gov. Chris Christie made headlines before the debate when he said Social Security will be "bankrupt" in 11 years and accused some of his fellow candidates of being "liars and cowards" for not tackling funding problems head-on. He also said it's time to start thinking about cutting the program.
Trump publicly opposes cutting Social Security benefits — a policy mostly shared by fellow Republican candidates Tim Scott, Vivek Ramaswamy, Doug Burgum and Asa Hutchinson.
Ron DeSantis and Nikki Haley have both floated the idea of raising the full retirement age for younger workers, which would essentially cut benefits by delaying the time seniors can access their full benefits. Former Vice President Mike Pence has proposed privatizing Social Security.
Are You Retirement Ready?
3. The Latest COLA Estimate (Could Hurricanes Play a Part?)
With the inflation rate running at about 3% right now, Social Security experts predict that the 2024 cost-of-living adjustment will also be around 3%. The most recent estimate from The Senior Citizens League is 3%, based on July inflation data.
For Social Security recipients, this means they can expect a much lower increase in their monthly payment in 2024 than they received this year, with a COLA of 8.7%. As previously reported by GOBankingRates, a COLA of 3% would raise the average monthly benefit in 2024 by about $53.60 from current levels — well down from this year's average increase of $146 a month.
There is a wild card that could increase the 2024 COLA, however: the impact this year's hurricane season will have on gasoline prices. Severe storms often disrupt oil and gas production and distribution, which sends gas prices higher — and those prices make up a key part of the inflation index used to calculate the Social Security COLA. If hurricane season is more severe than normal — as the Oceanic and Atmospheric Administration predicts — the impact on gas prices could lead to a COLA of more than 3% in 2024.
Are You Retirement Ready?
The exact COLA for 2024 won't be known until Oct. 12. That's when the September inflation numbers come out. The Social Security Administration bases its annual COLA calculation on the percentage increase in the Consumer Price Index for Urban Wage Earners and Clerical Workers (CPI-W) in the third quarter compared with the prior year.
4. What Your Check Might Look Like
The average Social Security benefit doesn't change much from month to month, or even year to year. But it doesn't remain stagnant, either. The average benefit for retired workers as of July 2023 is $1,838.58 a month, according to the Social Security Administration. The monthly average for spouses of retired workers is $891.32.
More From GOBankingRates