Younger Boomers' Salaries Maxed Out When They Were 45 — Here's How It Affects Their Social Security Checks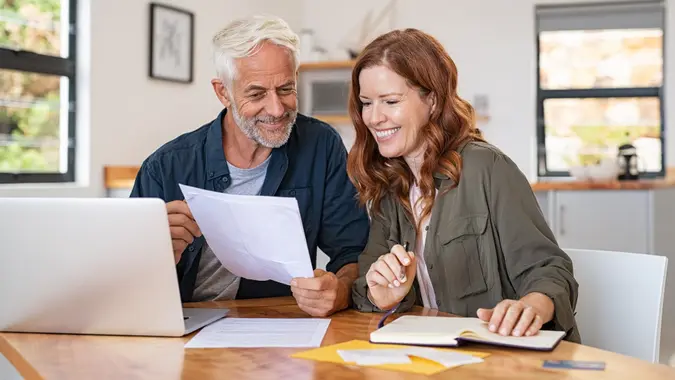 Ridofranz / iStock.com
Although all baby boomers tend to be lumped together no matter when they were born (from 1946 to 1964), there has always been a big difference in the experiences of older and younger boomers. Those differences extend to the working world. Many younger boomers worked during periods of stagnant wages, which could have a big impact on their Social Security retirement benefits.
A new report from the U.S. Bureau of Labor Statistics found that inflation-adjusted earnings of younger boomers — those born between 1957 and 1964 — increased most rapidly while they were young. Hourly earnings grew by an average of 6.55% a year from ages 18 to 24, then slowed to 3.3% from ages 25 to 34 and 1.8% from ages 35 to 44. Between ages 45 and 56, inflation-adjusted earnings were essentially 0%.
From a practical standpoint, this means that the real earnings of most younger boomers peaked when they were 45 — nearly two decades before they qualified for Social Security benefits.
As Bloomberg reported, the study "is the most extensive of its kind" and involved researchers following nearly 10,000 U.S. workers to track their labor market experiences. Participants were as young as 14 when they were first interviewed in 1979 and between ages 55 and 64 when they were last interviewed a few years ago.
Among the other key findings:
Younger boomers held an average of 12.7 jobs from ages 18 to 56.
Men spent a larger percentage of weeks employed (83%) than women (72%). Women also spent twice as much time out of the labor force (24% of weeks) as men (12% of weeks).
Are You Retirement Ready?
The combination of early peak earnings years, numerous job switches and time spent unemployed all have an impact on Social Security benefits. To understand why, you need to know how the Social Security Administration calculates benefits.
You need at least 10 years of work, or 40 credits, to qualify for retirement benefits, according to the SSA. After that, your benefits are based on your highest 35 years of earnings. If you don't have 35 years of earnings by the time you apply for retirement benefits, your benefit amount will be lower than it would be if you worked the full 35 years. Years without work count as zeroes in the benefit calculation.
Because young boomers reached their highest inflation-adjusted earnings years at age 45 — often after only a couple decades of full-time work — they spent the next couple of decades essentially earning the same income. Ideally, their income would have kept moving higher during the latter stages of their careers to maximize their Social Security benefits based on the 35-year calculation.
If younger boomers saw no significant increase in wages after age 45, then a good portion of their highest 35 years of earnings remained stagnant.
Beyond that, young boomers who spent significant stretches unemployed or bouncing between jobs with no earnings growth will also feel a negative impact on Social Security benefits. This is especially true for women, who spent twice as much time out of the workforce than men. Any zero-earning years lower your Social Security benefits.
Given these dynamics, it's perhaps not surprising that nearly half of boomers expect to work past age 70 – including the youngest boomers, who will reach full retirement age in 2031.
Are You Retirement Ready?
More From GOBankingRates