American Express Cash Magnet Card Review 2023: Rewards Without the Annual Fee
GOBankingRates Score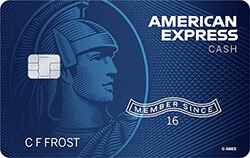 Quick Take:
For those who want a straightforward version of the
American Express
credit card experience, Cash Magnet may be a solid choice. The card offers 1.5% cash-back rewards on all purchases, has a $0 annual fee and comes with a solid, 15-month introductory annual percentage rate.
Rewards
Pay It, Plan It
Introductory Offer
Fees
How did we calculate this?
Pros
Straightforward 1.5% cash back on all purchases
Pay It, Plan It® features
$0 annual fee
Introductory APR and welcome offer with a minimum $2,000 of purchases
Cons
Good credit required
Rewards rate not as good as some competitors
2.7% foreign transaction fee applies
Overview of the American Express Cash Magnet® Card
The American Express, Member FDIC, credit card business started with a single card in 1958 and a gold card offered to qualified business customers in 1966. Since then, the company has developed a sizable array of consumer, personal and business cards, including the Cash Magnet in 2018.
The Cash Magnet card was developed as part of American Express's rewards family and includes buy now, pay later financing, which offers short-term, no-interest financing of purchases. For customers who appreciate low cost and simplicity, the card combines a good rewards schedule with no annual fee and the perks standard to any American Express account.
Watch Those Late Payments
As with any credit card, it's important to stay on top of the billing and payments. The smart option is for the user to set an automatic monthly draft from their bank account for at least the minimum due — and ahead of the due date in case any processing issues crop up.
At the first late payment or returned check, American Express will kick the interest rate up for at least six months. The company may reset the interest rate downward after the six-month review.
Best Features of the American Express® Cash Magnet Card
Take an in-depth look at some of the top features you can benefit from with this credit card.
Rewards
The American Express® Cash Magnet card has a straightforward rewards program offering 1.5% cash back on all purchases. There are no limits on categories and no cap on the amount eligible for rewards. Cash Magnet rewards balances can be redeemed for statement credits; no minimum redemption amount applies.
What Does Pay It, Plan It Mean?
American Express has joined the buy now, pay later trend in consumer finance with the Pay It, Plan It® feature, now available on the Cash Magnet and other American Express® cards. It offers customers a convenient way to pay for smaller purchases via a short-term installment plan lasting a few weeks or months.
The American Express version begins with Pay It®, designed for purchases under $100. The buyer makes small payments throughout a single month to settle the outstanding balance without paying any interest. 
Plan It® is for purchases greater than $100. The plan sets up regular payments over several billing cycles. A fixed monthly fee is charged, but no interest. New customers can set up a plan with no fees for up to 15 months from the opening of the account.
For both Pay It and Plan It, the payments and plans are set up through the American Express app. 
Welcome Offer
Most credit cards have introductory offers, and American Express usually matches the best of them. The Cash Magnet card offers cash back of $200 after $2,000 of purchases are made in the first six months. The welcome offer bonus can be redeemed as a statement credit.
The introductory APR of 0% is available for 15 months from the date the account is opened. Afterward, the APR will be .
Fees
The Cash Magnet account carries standard credit card account fees, including up to a $40 fee for late payments or returned checks. The cash advance fee is set at $10 or 5% of the advance amount, whichever is greater.
As with all American Express cards, there's no over-limit fee and no interest charged if the balance is paid off by the end of the statement period. Combined with the rewards program and no annual fee, this policy makes the account a net gainer for customers who manage the monthly payoff.
Other Benefits
The advantages of being an American Express® Card Member go beyond the perks mentioned above.
Travel Benefits
American Express cards are never short on the little extras that offer convenience and security for travelers. The Cash Magnet is no exception.
Foremost is the Global Assist Hotline, available 24/7 to help with travel emergencies. This could be locating legal assistance or medical treatment, a loan of emergency funds or help with lost luggage. Having a source of help available on the road allows customers to avoid stress over travel problems and enjoy the experience. The Cash Magnet card also offers damage and loss insurance on car rentals paid for through the account. 
For anyone booking a family vacation with the card, the Destination Family feature offers benefits such as early check-in, free kids' meals, discounts on travel packages and complimentary breakfasts. Participating providers include Royal Caribbean International, Regent Seven Seas Cruises and high-end family resorts in Mexico, the Caribbean and Central America.
Even with the travel benefits, the foreign transaction fee of 2.7% means a surcharge on everything purchased abroad, which may turn some cardholders to low- or no-fee alternatives.
American Express Experiences
The American Express Experiences program gives Card Members access to presales on show tickets as well as events exclusive to members. Examples might include hit Broadway shows, pro basketball games, a harvest-season tour of Napa Valley wineries and VIP center court packages at Wimbledon.
Purchase and Fraud Protection
American Express offers purchase protection, which reimburses Card Members up to 90 days from the date of purchase for lost or stolen items — keep in mind, though, that some items are excluded from this benefit, and there are limits on the amount you can be reimbursed for.
With fraud protection, members have no liability for unauthorized purchases.
ShopRunner
Online shopping has conquered the retail world, and American Express is on it. With the ShopRunner program, available with Cash Magnet and other American Express cards, free two-day shipping is available on all purchases from participating retailers. Several businesses take part, including big department stores such as Saks, Bergdorf Goodman, Neiman Marcus and Bloomingdale's.
American Express Cash Magnet vs. Competitor Cards
Here's how the Cash Magnet card stands up against some common rivals. 
Cash Magnet vs.
Citi Double Cash matches Cash Magnet's no annual fee but offers a higher 2% cash-back rate on all purchases, which are paid to the cardholder at 1% on purchase and 1% on payment. Through ThankYou points, the rewards can also be linked to other Citi® credit accounts.   
The introductory APR of 0% is good for 18 months but is limited to balance transfers. After the introductory period, that APR goes to , which is the same starting rate as Cash Magnet's rate. The Double Cash card also carries a slightly higher foreign transaction fee of 3%.
Cash Magnet vs.  
Chase Freedom Unlimited is a close competitor to Cash Magnet, offering an identical 1.5% cash-back rate on all purchases. But the Chase card bumps that rate to 5% on any travel booked through the company's Ultimate Rewards program and also offers 3% on drugstore purchases and dining at restaurants.
It's also easier to qualify for the bonus on the Chase Freedom card. You only have to spend $500 in purchases within the first three months to receive the $200 bonus. You can earn 5% cash back on grocery purchases for the first year, up to $12,000 in purchases — excluding Target and Walmart purchases.
Cash Magnet vs.
The Bank of America Unlimited Cash Rewards card runs neck-and-neck with the Cash Magnet, with both offering a 1.5% cash-back rate on all purchases and no annual fee. The introductory APR on Unlimited Cash Rewards is 0% on purchases and balance transfers for the first 18 billing cycles, while the bonus cash back amounts to $200 after $1,000 in purchases in the first 90 days.
Bank of America's range of APR offers a similar interest to the Cash Magnet card. 
The decider between these two may be Bank of America's Preferred Rewards program, available to cardholders with a minimum checking, savings or investment account with Bank of America or Merrill. Preferred Rewards members can earn 25% to 75% more cash back on every purchase.
Who It's Best For
When handled carefully, credit cards can provide convenience and savings in the form of discounts and rewards on purchases. But not everyone is keen on tracking rewards categories or worrying about when and how they might be available. 
The American Express® Cash Magnet card will suit anyone with solid credit looking for a no-fee card, a simple rewards structure and a good introductory APR period as a sweetener.
Good To Know

With the Send and Split feature, American Express customers can link their credit cards to PayPal or Venmo accounts for sending money or splitting a purchase amount with a third party.
Final Take
The Cash Magnet card carries a standard range of American Express benefits and will suit customers who want to keep a simple, flat-rate rewards program. No annual fee, no interest for the first 15 months — followed by APR — and a $200 welcome offer bonus for new Card Members who spend $2,000 or more in the first six months of membership make the Cash Magnet an attractive option.
However, if you're to planning to use this card outside of the United States, you'll want to look for another option to avoid the American Express® Cash Magnet's 2.7% foreign transaction fee.
FAQ
Here are the answers to some of the most frequently asked questions regarding the American Express Cash Magnet Card.
Can I get prequalified for the American Express Cash Magnet Card?

If you are not already an American Express cardholder, you can check to see if you are prequalified for any American Express card offers, including the American Express Cash Magnet Card here.

Does American Express send special card offers for the American Express Cash Magnet Card through the mail?

Yes. If you receive a special invitation, you can validate it here.

What is the American Express Cash Magnet's credit limit?

American Express does not disclose this until you are approved for the card. Your personal credit limit will vary depending on your creditworthiness.
Cynthia Measom contributed to the reporting for this article.
Rates are subject to change; unless otherwise noted, rates are updated periodically. All other information on accounts is accurate as of Jan. 6, 2023.
All information about the American Express® Cash Magnet card has been collected independently by GOBankingRates. The American Express® Cash Magnet card is not available through GOBankingRates.
The information related to the Chase Freedom Unlimited card was collected by GOBankingRates and has not been reviewed or provided by the issuer of this card. Product details may vary. Please see the issuer's website for current information. GOBankingRates does not receive commission for this product.
Editorial Note: This content is not provided by any entity covered in this article. Any opinions, analyses, reviews, ratings or recommendations expressed in this article are those of the author alone and have not been reviewed, approved or otherwise endorsed by any entity named in this article.