Flight Delayed or Cancelled? Here's When and How To Ask For Compensation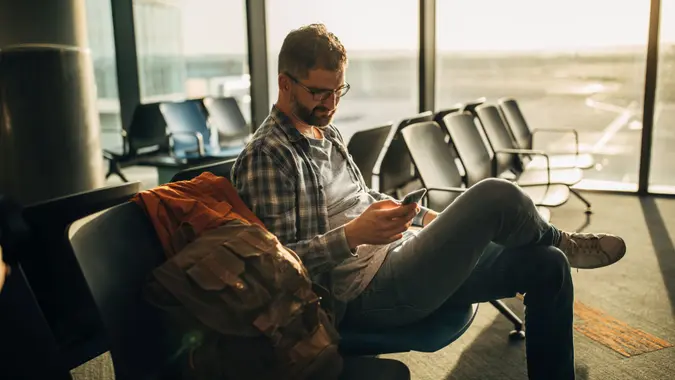 South_agency / Getty Images/iStockphoto
According to the live flight status and tracking website FlightAware, between Dec. 21-24, U.S. airlines cancelled more than 12,000 flights. A whopping 21,000 journeys were delayed and nearly 6,000 cancelled on Dec. 26, Today reported. Even after the holidays ended, flight delays and cancellations continue with increasing frequency. With delays and cancellations becoming normalized rather than being a rare exception, travellers are duty-bound to know when — and how — to seek compensation for a significant delay or cancelled flight.
See: States Whose Economies Are Failing vs. States Whose Economies Are Thriving
Read: How To Get Free Gift Cards From Your Everyday Purchases
Find: 10 Things To Stop Buying in 2023
According to U.S. Department of Transportation (DOT) regulations, "A consumer is entitled to a refund if the airline cancelled a flight, regardless of the reason and the consumer chooses not to travel."
However, there are no federal laws requiring compensation. The limited refund policy above is simply a DOT rule, and one that should ideally be abided by the airlines. On the DOT's Aviation Consumer Protection site, the agency makes it plain that in the United States, airlines are not required to compensate passengers when flights are delayed or cancelled.
If you cancel your trip as a result of an unexpected called off flight, airlines are obligated to provide a refund — even on non-refundable tickets — for your unused reserved flight, plus any costs associated with your ticket (i.e.: bag fees or seat assignment), per DOT. Most carriers will rebook passengers on the next convenient flight for free in the event of a cancellation.
"But if that itinerary doesn't work for you, by law you are entitled to a full refund," CNBC global markets correspondent Seema Mody told Today. However, each airline follows its own policies. Mody gave the example of JetBlue — JetBlue offers travellers a $50 credit for a flight cancelled within four hours of the departure time and a $100 credit if cancelled after the scheduled departure time.
Each airline has its own policies about what it will do for delayed passengers, too. Compensation is required by U.S. law only when certain passengers are "bumped" from a flight that is oversold. Such compensation can be significant, potentially 200%-400% of the cost of a one-way ticket, according to Mody.
No Firm Definition of a Significant Delay Can Cause Confusion
For flight delays, confusion arises because DOT has not defined the parameters constituting "significant delays." Length of the flight delay, the length of the flight and particular passenger circumstances are factored in by DOT to determine whether a refund is applicable on a case by case basis. 
With little reparation available from DOT or the airlines, recourse could come by paying for your flight with an advantageous credit card. According to the travel experts at Upgraded Points, "Rewards cards are a powerful resource to ensure you're compensated fairly for problems that occur both within and outside of the airline's control."
Upgraded Points recommended Chase's Sapphire Preferred Card, which might get you a reimbursement for the non-refundable portion of your trip if it is cancelled for a covered reason. Other cards that provide trip delay insurance are the American Express Platinum and Business Platinum Cards, Delta SkyMiles Reserve and Delta SkyMiles Reserve Business cards by American Express — and finally, the Capital One Venture X Rewards card.

If your credit card offers travel protections of this sort, be sure to file a claim as soon as an eligible event takes place.
Take Our Poll: How Do You Think the Economy Will Perform in 2023?
More: Free In-Flight Wi-Fi for Travelers: This Airline Hooks It Up (If You Sign Up)
Whether or not compensation is available to you in the event of a flight delay or cancellation, one thing you should do is act immediately.
"The minute your flight is delayed, get in that line to talk to a flight agent, and at the same time, take out your phone and call the airline," Mody recommended. "The phone agent can be even more helpful than the person at the airport."
More From GOBankingRates