That $99 Airfare Might Cost You $339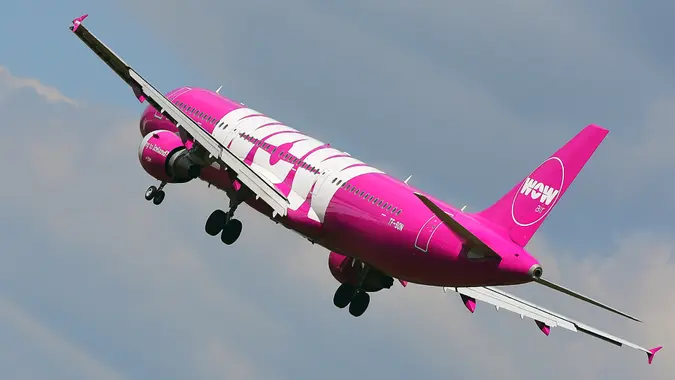 Vytautas Kielaitis / Shutterstock.com
The low fares are as eye-catching as the company's fleet of purple airplanes — WOW Air appeals to both the wallets and wanderlust of travelers. But exactly what do you get for your money on the 7-year-old airline that currently serves 37 destinations across Europe, North America and Asia? With airfares projected to rise this summer due to surging oil and gas prices, it's worth investigating. 
Click to see 22 countries with the most — and least — expensive flights.
GOBankingRates researched one of WOW Air's frequently advertised $99 fares — a nonstop flight from New York City to Reykjavik, Iceland. Here's what you should know about traveling on this budget airline.
Before you buy, make sure the fare — and its stipulations — works with your budget and travel plans.
Be Flexible
Turns out, the $99 fare was for a flight on a Monday at 12:40 a.m. in October, which is a month past when most tours and trips to Iceland's best-known attractions close for the season. Assuming you would like to return to the U.S. after your trip, a $99 return fare doesn't exist. In the month of October, the cheapest return flight was two days post-arrival and $139.99.
Make Your Money Work for You
But if you don't mind missing the Northern Lights or other attractions, October might work for you.
Beware of Not-So-Hidden Baggage Fees
Unless you're a minimalist visiting on a quick jaunt, a baggage fee is unavoidable. The $99 fare covers a personal item, like a briefcase, which is different from a carry-on item, according to WOW.
To bring your carry-on bag, prepare to spend $39.99 — but only if you pay in advance. If you choose to pay for your carry-on at the airport counter, you'll need to fork over a $10 premium. A checked bag will also set you back $49.99 at the pre-pay rate and $69.99 at the airport.
In other words, paying for your carry-on and checked bag at the cheapest pre-pay rates will nearly double the cost of your one-way, $99 ticket. Remember, you'll have to pay the same baggage fees on your return trip as well.
Bring Your Own Fun and Food
Come prepared with your own entertainment to avoid boredom during the six hours and five minutes you'll be in flight: WOW doesn't offer in-flight Wi-Fi or an in-flight entertainment system. For passengers flying North American routes, iPads are available to rent but are subject to availability.
Make Your Money Work for You
You'll likely get hungry during the six-hour stretch, but don't expect food to be included. Travelers on a budget or with an aversion to airplane food can opt to bring their own.  

If you're keeping track, you'll see the $99 one-way fare quickly spiked to $339.96 with a return flight, taxes, fees and carry-on baggage costs. Although the price is still relatively low, it's a bait-and-switch deal.
Click to keep reading about insider secrets to get a free flight.
More on Travel:
We make money easy. Get weekly email updates, including expert advice to help you Live Richer™.