6 Basic Bills You Should Always Negotiate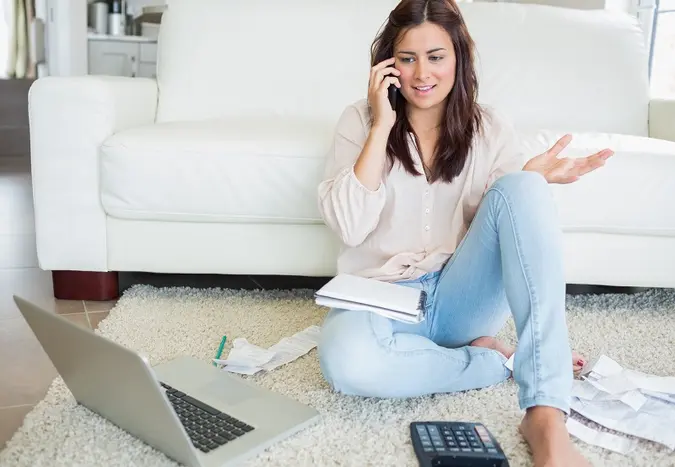 Does the thought of haggling over your monthly bills make you break out in a cold sweat? Chances are you're not alone because most people don't like trying to talk their way into a lower price. But if you can get over your fear of negotiating, you'll see the payoff in your pocketbook — especially when it comes to bills that you pay regularly.
Take a Look Back: 2022 Year in ReviewRead: 5 Things You Must Do When Your Savings Reach $50,000
Find out how to negotiate bills down to a more affordable cost.
1. Medical Bills
A pricey medical procedure can be a big blow to your budget, especially if you're uninsuuired, your insurance policy has a high deductible or your insurer denies your claim. But you shouldn't assume that you're on the hook for the full amount you're being asked to pay. Once you've explored other options, such as uninsured-patient discounts and financial assistance for low-income patients, contact your care provider to negotiate a lower price. In an interview with CNBC, Jenifer Bosco, an attorney at the National Consumer Law Center, suggested requesting the Medicare rate[x].
Another option is to use free online source HealthCareBluebook.com to look up the reasonable amount you should expect to pay for a medical procedure, test or service in your area. Or visit FairHealthConsumer.org and use the consumer cost look-up tool to get cost estimates of medical and dental services in your area. This information can help you determine whether you're being charged more than the estimated cost, giving you a starting point for negotiations.
Offering to pay in full with cash might be another good way to get a discount.
Related: 10 Things You Should Never Put on a Credit Card
2. Wireless Phone Bill
Before you sign up with a new wireless provider, research what what other wireless providers are offering, then use that information to negotiate a lower price with your preferred provider. Sales reps often have flexibility to offer you a better package to keep you from going to a competitor.
Make Your Money Work for You
Make sure you research at least three competitors' prices and have their websites open when you make your call so you can quickly reference their rates.
To negotiate a lower rate with your existing provider, Billshark, a bill negotiating service[x], recommends asking your carrier what it's offering to new customers and asking for the same deal to keep your business. You'll have the best chance for success by speaking with a supervisor with the authority to make decisions.
You might also negotiate a discount by putting your account on autopay, Billshark noted. 
3. Cable or Satellite TV Bill
You likely got a special promotional rate when you signed up for cable or satellite TV service. But when that promotional period ends after a year or so, the cable company is banking on you not noticing that your rate has jumped. That doesn't mean you're locked into paying a bigger bill, however. Set a reminder for a few weeks before your rate is scheduled to go up and then contact the provider to negotiate a discount.
Bill Kurland, co-founder of the bill negotiating service BillFixers, told Consumer Reports that with a looming recession, cable companies might be pushing to retain customers. He suggested calling rather than communicating via a chat tool, and threatening to reduce your service if the company is unwilling to lower your bill. Kurland said it's best to call on a weekday because you're more likely to get a rep with access to the best discount codes. But avoid the impulse to take the first deal they offer. If you decline, the rep might upgrade the offer. 
There's one more time when you're likely to be able to negotiate a discount — after a service outage. Your cable company might be willing to knock some money off your next bill. 
Make Your Money Work for You
Read: 4 Tips to Cut Your Monthly Phone and Cable Bills in Half
4. Internet Service Bill
Before you try to negotiate your internet bill, it's a good idea to know exactly what you're paying for right now and understand the options available to you. Getting the best deal might require that you go beyond just reducing your monthly bill. Citing a conversation with an AT&T spokesperson, CNET noted that your current plan might not be your best option even with a lower price. Perhaps you have more devices and simultaneous users than when you first signed up and need more bandwidth — or have more data than you need and can save by downgrading[x]. 
Once you've determined what your needs are, look at all the ways your ISP might provide value. In addition to asking for any discounts you qualify for, see if you can bundle mobile service or get the provider to throw in Wi-Fi hotspots or subscriptions to streaming services you currently pay for separately.
5. Rent
The cost of cable, phone and other services might be just a drop in the bucket compared with how much you're paying each month for housing. Like those services, though, you can sometimes negotiate your rent.
Of course, whether you can negotiate and now much depends on your local market. If there's a housing shortage, property owners have little incentive to bargain with you. However, you'll probably have better luck with a private owner than with a corporate rental property manager, according to U.S. News[x I'm a realtor/property manager, context not in reference is from my own experience].
Make Your Money Work for You
Strategies that could entice a property owner to lower rent include paying your entire lease up front — thereby eliminating the risk that you'll default on your payments. Offering to sign a two-year lease can also work in your favor. A longer lease means the property owner won't have to risk losing income to a vacancy between tenants, nor will they have to prepare the property for a new tenant after just one year.
In cases where a rental property needs cosmetic work such as a deep clean, new paint or a yard cleanup, the property owner might let you do the work yourself in exchange for a rent reduction. 
If you're currently renting a property in an area where market values have declined, you might be able to make a case with the property owner to reduce your rent when your lease renews. Use a site such as Rentometer.com to find out if a rent is reasonable for your area or whether you're being overcharged and can perhaps negotiate a better deal. The longer you've rented from the owner, the better chance you'll have of getting a reduction — as long as you've always paid on time and have taken good care of the property.
6. School Tuition Bills
Private school tuition rates are rarely set in stone. When comparing schools, ask whether the rates can be adjusted — especially if you'll have more than one child attending and/or the school is struggling to meet its enrollment goals[x]. Having supported the school by being an active member of the school community will work in your favor, according to Parents. 
If the school isn't willing to budge on its tuition, and financial aid and scholarships aren't available to you, you might be able to negotiate a discount for paying up front instead of over time.
Bonus Tip
If you're uncomfortable negotiating on your own, you can hire any of several bill negotiation companies to do it for you. Several such services, including Rocket Money, Billfixers[x], Billshark and Billcutterz, charge a percentage of your savings[x]. 
Make Your Money Work for You
More From GOBankingRates