11 Best Bill Payment Services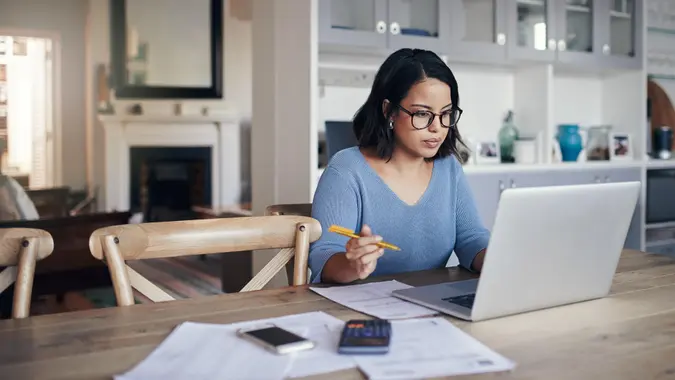 mapodile / Getty Images
Using a bill payment service can help you streamline your finances, making bill paying easy and automatic. Plus, with all your expenses listed on one website, it makes it easy to keep track of your money and stick to your budget every month.
See: How To Save $200 on Your Grocery Bill Every Month
11 Best Bill Payment Services
If you're looking for a bill payment service to use, here are 11 top options to consider:
Doxo
Prism
Papaya
Finovera
Quicken Bill Pay
MyCheckFree
Paytrust
SilverBills
Everyday Money Management
Plumb Bill Pay
BillTrim
1. Doxo
Cost: Free, $5.99 per month for doxoPlus
Doxo is an industry leader in online bill payment services, helping more than 8 million people pay their bills on time and avoid late fees. It's free to pay bills when you use a linked bank account. Doxo supports more than 120,000 billers, including top companies like Verizon, State Farm and Con Edison.
Upgrade to the premium service, doxoPlus, for real-time credit monitoring, identity protection, and protection from late fees or overdraft charges.
2. Prism
The top-rated Prism app, with 4.6 stars in the App Store, is a free bill pay app available for iPhone and Android users. Prism links billing accounts and paychecks; sends due date reminders; and allows you to view your income, expenses and account balances at a glance.
3. Papaya
Papaya is a free app for Android or iOS users that makes it easy to pay bills through your phone. Just take a photo of the bill, confirm the payment method, and then track the status of the payment. Papaya does not have as many features as some of the other services, but it is simple to use and can even be used to pay bills from companies that only accept paper checks, such as some property management firms.
Make Your Money Work for You
4. Finovera
Finovera is an online bill payment platform and app that powers many top banks and fintech companies' online bill payment services. It is available as an app to consumers. It stores up to 12 months of statements for linked accounts and sends reminders when bills are due to help you avoid late fees or overdrafts. If a bill is unusually high, you will also receive an alert. Pay all your bills from one account and easily track your spending through the app.
5. Quicken Bill Pay
Quicken bookkeeping software for homes and businesses provides a bill-paying service as part of its premium packages. The Quicken Starter and Deluxe packages do not include Bill Pay as part of the services, but you can upgrade for $9.95 a month. Quicken Premier offers a better value, with Bill Pay and other services available for $4.19 a month, a 40% savings off the regular $6.99 price.
Use Quicken Bill Manager to track and pay all your bills online. A trusted name in personal finance, if you are already using Quicken to manage your household budget, upgrading to the Bill Pay service is practically a no-brainer.
6. MyCheckFree
MyCheckFree uses the tagline of "Your Personal Online Payment Center." The choices for billers are not as vast as with other options, including Doxo or Prism. But if you are looking for a browser-based, completely free bill payment service, MyCheckFree is one to consider.
7. Paytrust
Cost: $9.95 per month, first month free
Paytrust has robust features that set it apart from other bill payment services. You'll pay $9.95 per month for up to 25 transactions, and an additional fee of 65 cents for each additional bill. You can pay bills from multiple accounts, choose partial payments, and automatically save and organize all your bills online with the service. Paytrust also alerts you if a bill has not arrived when it should have.
Make Your Money Work for You
8. SilverBills
Cost: Starting at $99 per month
Many bill payment services are tailored toward older adults who are no longer able to manage their own money. SilverBills is one such service. It's not just online bill payments. You receive a dedicated account manager who analyzes and pays monthly or one-time bills. The service can even send checks to individuals. There is an online portal, but a computer or mobile device isn't needed to use the service.
9. Everyday Money Management
Like SilverBills, Everyday Money Management is designed for seniors who need assistance managing their bills, mail, files and more. For those seeking personalized service, Everyday Money Management offers in-home consultations and services in Maryland, Virginia and Washington, D.C. (the DMV region), as well as in the Berkshires region of Massachusetts, Connecticut and New York. Older adults all over the U.S. can take advantage of Everyday Money Management online or by phone.
10. Plumb Bill Pay
Plumb is a bill payment and record-keeping service designed for high-net-worth individuals and families. The Plumb Bill Pay app gives you complete visibility into your income and expenses and allows you to approve bills with a click. Prices vary because services are customized based on your unique needs.
11. BillTrim
Cost: $99 for a lifetime membership
BillTrim is different from the other services on this list because the company negotiates your bills for you so that you will pay less overall. BillTrim offers this service two times a year. If the app notices a bill has increased, it will negotiate a lower rate before autopay goes through. The app also provides Smart Autopay through your linked bank account so you can avoid late fees or missed payments.
Another Option: Your Bank or Credit Union
Most banks and credit unions today offer online bill pay for free or as part of your account's monthly fee.  For instance, Bank of America, Wells Fargo and Ally Bank all have top-rated online bill payment services that allow you to schedule or automate payments. When you choose a new bank, consider if its online bill payment service includes the features you need. If not, you might be better off with one of the bill payment platforms listed above.
Bottom Line
Using a bill pay service can reduce late payments and help you budget your expenses more easily. Whether you are looking for a free online bill pay app or you're willing to pay more for personalized service with an account manager, you can find a bill payment service to meet your needs.
FAQ
Is there an app that can pay my bills?

Apps like Doxo and Prism can pay your bills automatically from your bank account. Many bill pay services can help you avoid late fees or overdraft charges. Simplifying your bill payments is one step toward tracking expenses, saving money and working toward financial freedom.

Where can I pay all my bills in one place?

You can use an online bill manager, like Quicken, or a bill pay service like Doxo to manage, pay and track all your bills in one place. The examples listed above are some of the best free and paid bill pay services.
Information is accurate as of July 31, 2023.