How To Negotiate Your Rent Effectively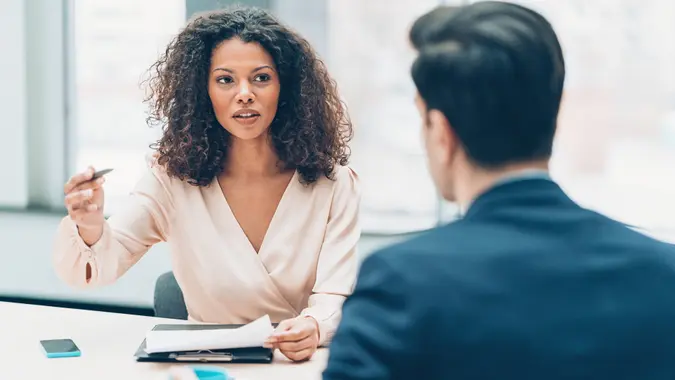 pixelfit / Getty Images
It's no secret that the housing market continues to be a difficult one, and renters have not been spared. 
Indeed, a recent Bank of America report found that renters' spending appears to have been weakened by rent inflation, and they have been "tightening their belts more than homeowners," as higher inflation and interest rates have impacted homeowners and renters differently.
And the data speaks for itself: according to the Consumer Price Index (CPI) released Aug. 10, the index for shelter was the largest contributor — accounting for a whopping 90% of the overall inflation increase in July — up 7.7% over the last year. Meanwhile, the index for rent was even higher — up 8% over the last year.
In addition, a new GOBankingRates survey found that 21% of Americans pay $500 or less in rent, while 13% pay between $1,001 and $1,250, and 2% pay more than a whopping $4,000. Meanwhile, the national rent average stood at $1,371 as of August, according to the survey — a massive 24.75% increase since 2018.
Can You Lower Your Rent?
Against this backdrop, every dollar counts, and experts noted that there are ways for renters to try to negotiate their rent — helpful advice in this environment. 
"Negotiating rent effectively is becoming increasingly important in today's high-priced housing market," said Sipho Simela, CEO and founder of Matrix Rental Solutions. "Many renters do not realize the potential for negotiation, and it can make a substantial difference in monthly expenses."
Make Your Money Work for You
While rent concessions are not always possible, there are a few things that can make all the difference, he added.
Here are some of the ways Simela and other experts outlined.
Research the Market
Simela recommended prospective renters start by researching the local rental market.
"Understand the average rental rates in your area and compare them to your current rent. This data can be crucial when making your case for a rent reduction," he said.
Timing Matters
Timing can also play a role in negotiations, he said.
"We are just getting out of a peak period — May-August — where most people are trying to secure leases ahead of school. If you have flexibility on timing, consider negotiating during periods of lower demand in the rental market," he explained.
Leverage Competitive Offers
Another way to negotiate your rent is if you find similar rental properties at lower rates.
Use this as leverage during negotiations, said Simela. "Landlords may be willing to match or beat a competitor's offer to retain a good tenant," he added.
Make Your Money Work for You
Rhett Wiseman, real estate investor and CEO of Section 8 Coaching, echoed the sentiment, saying that one of the best ways to negotiate rent with a landlord is to show them their competition in the area. "You want to pit multiple options up against each other and see who can bring the rent down enough to get a tenant," said Wiseman.
Wiseman added that renters should remember that holding costs for landlords are at an all-time high. In turn, this creates an environment where landlords who own properties and have vacant units are spending a lot of money every month in just simple holding costs.
"Insurance costs are at a record high, as are HOA fees and mortgages, and investors/landlords with adjustable-rate mortgages are getting killed," he said, adding that in turn, they are looking to fill their units as fast as possible.
Negotiate Other Terms
If the landlord is unwilling to lower the rent, explore other aspects of the lease that could be negotiable.
"This might include requesting maintenance or repair improvements or asking for certain utilities to be included in the rent," he said.
Make Your Money Work for You
Simela also noted that when you do reach an agreement, make sure all negotiated changes are documented in writing.
"This includes any rent reductions, lease term adjustments or changes to the lease agreement," he said.
Begin the Conversation Early and Build a Relationship
Renters should begin the conversation with their landlord as soon as possible if they wish to negotiate and should state their counter-offer during their first interactions with the landlord, said Stacy Brown, director of technical training at Real Property Management, a Neighborly company.
"If the lease is coming up for renewal, generally, they will receive notice from the landlord at least 60 days in advance of the lease expiration. This is a good time to discuss the new arrangement being sought," said Brown.
Setting a time to meet with the landlord in person is a good idea to ensure thoughts and ideas are exchanged without the chance of misunderstandings of tone or meaning that can occur in email or text communication, she added.
According to Brown, it's also worth taking into consideration what landlords look for when negotiating.
Make Your Money Work for You
"They are typically more open to rent negotiations if a current resident is reliable, such as if they pay their rent timely and keep the home or unit in good condition," she said. "The other thing that landlords will consider is whether the resident reports maintenance issues [in a timely manner] or concerns with the property, such as an increasing water bill when there are no known causes or a slow drain."
GOBankingRates surveyed 1,091 Americans aged 18 and older from across the country between Aug. 14 and Aug. 16, 2023, asking twenty different questions: (1) Have you had trouble paying your utility (gas, electric, heat, internet, etc.) bills in the last 6-12 months?; (2) Which of the following bills/expenses has been the hardest to keep up with over the past year?; (3) Have you bought a car/truck in the last 6-12 months?; (4) Have you ever been on food stamps?; (5) Have you or would you use artificial intelligence (AI) to earn a passive income?; (6) Where do you shop for the best deals on groceries?; (7) What is your current annual income?; (8) How much were you able to contribute to your savings this year?; (9) How much have your savings/investments decreased over the past year?; (10) Next year's (2024) Social Security Cost of Living Adjustment (COLA) will be 3% instead of the 8.7% it saw in 2023. Will this affect you?; (11) What assets do you have in your retirement portfolio? (select all that apply); (12) How much money do you currently have saved for retirement?; (13) How much personal savings do you currently have?; (14) What's the first step you would take if you were starting a small business?; (15) If given the choice between your current job and starting your own business, which would you choose?; (16) If you have any plans to start a small business, what is the timeline?; (17) How much do you currently spend on rent?; (18) How much do you currently pay monthly on your mortgage?; (19) How much has your housing (rent, mortgage, etc.) gone up over the past year?; and (20) How long do you believe it will take you to save, in order to buy a house?. GOBankingRates used PureSpectrum's survey platform to conduct the poll.
More From GOBankingRates