All of the Ways You Save Money With an Electric Vehicle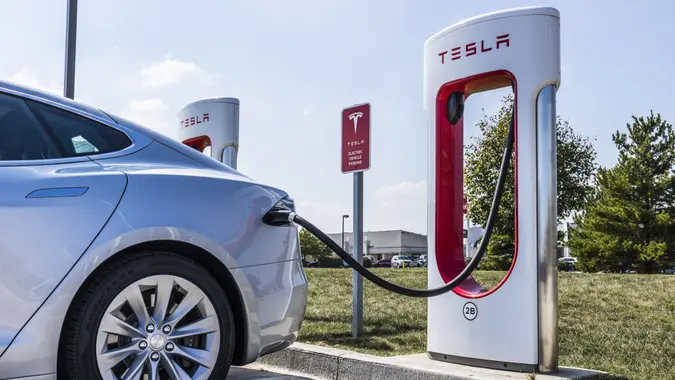 Jonathan Weiss / Shutterstock.com
Zipping around in a whisper-quiet electric-powered car, emitting nothing from your tailpipe (you don't even have one), and only stopping to fuel at home while you sleep — there are plenty of reasons to enjoy the EV life these days. Your city might even give you special access to the HOV lane. 
Find Out: How To Stay Safe When Using Mobile Banking Apps
Discover: 3 Ways Smart People Save Money When Filing Their Taxes
Do You Have a Tax Question? Ask a Tax Pro
Saving money might not be the primary motivation that comes to mind to go electric. But the new Clean Vehicle Credit (part of the Inflation Reduction Act) has refueled the cost savings of owning an EV, and that's only the beginning. Read on for all the pockets of EV ownership where you can find spare change.   
Make Your Money Work for You
Federal Tax Credits
Thanks to the federal Inflation Reduction Act, a new round of tax credit incentives up to $7,500 will be available on EVs in 2023 — though not all EVs will qualify. The law says the vehicle must be manufactured in North America, and additional requirements around battery component manufacturing, which are still being determined, will go into effect in March. To get ahead of the further limitations, it may be best to purchase an EV early in the year. 
Take Our Poll: Are You In Favor of More Inflation Relief in 2023?
Other exclusions include MSRP price caps, depending on the type of vehicle — $55,000 for cars and $80,000 for trucks, vans and SUVs. Buyers in upper-income brackets — $300,000 for married couples or $150,000 for individuals — won't qualify for the credits either. 
You can check the IRS's current list of qualified manufacturers here. 
For the first time, used EVs now also qualify for tax credits — up to $4,000 on qualified vehicles. Leased vehicles also apply, but the credit is given to the dealership, who may or may not pass the savings on to the buyer — a bit of knowledge that might come in handy if you're negotiating a lease price.
Make Your Money Work for You
On top of the federal tax credits, many states also offer additional credits and rebates, often between $2,000 and $4,000, that can knock even more off the sticker price. Some local utilities have their own incentives too, so be sure to check with your local provider.
Charging Stations
In order to avoid the hassle and higher fees of public charging stations, it's well worth it to invest in a home charging station. What you pay for the unit can vary quite a bit, depending on factors like the voltage and how fast you want to be able to charge. 
A Level 1 charger, which can be found on Amazon for less than $200, can plug into a normal 120V outlet, but charges at a rate of only 2 to 5 mph. Level 2 chargers, which charge at a faster rate of 10 to 50 mph, require a 240V outlet. They typically cost between $300 and $1,000 and should be installed by an electrician, which can add another $300 to $1,000 to your costs.
Make Your Money Work for You
Fear not, though — there are plenty of ways to lower the price tag of a Level 2 charger. The federal tax credit for EV chargers that recently expired was renewed by the Inflation Reduction Act for the next 10 years, offering taxpayers up to $1,000 off their hardware and installation. You can combine these savings with other rebates offered by states, local utilities and vehicle manufacturers that could knock another few hundred dollars off your price.
Electricity vs. Gas
There's nothing like the liberated feeling of driving by a gas station and not caring what the price sign says. Even if you pay more to drive an EV off the dealer's lot than you would spend on a traditional car, you'll likely recoup your cost in fuel savings. With so many new models arriving on the market within the next couple of years, from budget-friendly Kias to DeLorean's first new vehicle in 40 years, there's something to fit every car buyer's price range.
How much you'll save depends on various factors, including where you live, your utility's electricity rates and ever-fluctuating gasoline prices. But EV drivers generally pay about half as much in fuel costs as drivers of similar gas vehicles, according to the U.S. Department of Energy. Based on national averages, EV drivers pay $1.22 to travel the same distance as a conventional car goes on a gallon of gasoline, which typically costs anywhere from $1.50 to more than $5. 
EV charging prices are a lot more predictable, too. While gas prices can swing wildly and are vulnerable to seasonal changes, geopolitics and other market fluctuations, electricity prices are pretty stable by comparison. That makes it easier to plan and budget your commuting and travel costs longer term. 
You can compare the fuel costs of driving different cars side-by-side at fueleconomy.gov. 
Charging at Night  
Some local utilities also offer rebates or lower rates to incentivize EV owners to charge during off-peak hours, when demand on the grid is lower.
In Oregon, for example, in addition to a $2,500 state-sponsored EV purchase rebate, residents may be eligible for a $500 rebate on a Level 2 charging station, plus a reduction from 22 cents per kWh (kilowatt hour) for peak energy hours to just 4 cents per kWh for off-peak usage. New York residents can receive up to $1,000 annually from the Con Edison utility for charging off-peak and installing a device that helps you monitor your charging and driving data.
You can see what your state offers here.
Maintenance 
Forget about all of those oil changes. EVs don't have oil and transmission fluid, and fewer moving parts in general, so your regular maintenance schedule typically only requires a tire rotation, systems inspections and the periodic replacement of cabin filters, brakes and tires. (Though brakes can last longer on newer EV models, thanks to regenerative braking technology).
According to one study by Consumer Reports, maintaining an EV compared to a traditional car over the life of the vehicle costs about half as much. 
More From GOBankingRates
Make Your Money Work for You