5 Anticipated New Cars Worth Saving For in 2024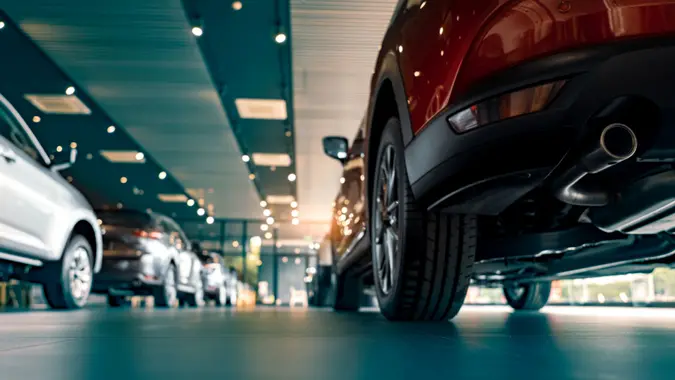 Fahroni / Getty Images/iStockphoto
If you're in the market for a new vehicle and you have $60,000-$80,000 to spend, it's morally wrong not to wait until 2025 for Chevy's first-ever Corvette SUV — unless you absolutely need new wheels in 2024.
If that's the case, don't worry. The coming year promises plenty of exciting and head-turning cars worth saving for, too. Some of the following models are the first of their kind. Others defy convention or represent radical departures from tradition. 
Either way, all are worth every penny of their projected MSRPs.
Before you blow your savings on a ride that's just OK, consider these innovative and unusual upcoming models, which will define their segments for years to come.
Dodge Charger EV
Projected starting MSRP: At least $50,000
Industry publications expect Dodge to deliver the first-ever electric Charger in mid-2024. What's less certain is if the faithful will accept a battery-powered version of the car that you probably assumed would be the industry's last ICE holdout.
Dodge appears determined to smash the notion of "electric muscle car" as an oxymoron. No other automaker has accomplished such a feat, including Mustang, whose Mach-E couldn't be mistaken for anything but a crossover SUV.
According to Car and Driver, the entry-level Charger 340 will get 455 horsepower and the midrange 440 will generate 590. They're both powered by 400 volts. If that's not enough to convince the most skeptical hardcore enthusiasts, the 800-volt Banshee might be.
Make Your Money Work for You
Dodge has kept the Banshee's horsepower specs secret but promises it will beat the gas-powered Hellcat everywhere it counts — and thanks to a 126-decibel amplifying chamber "exhaust," you won't have to live without its trademark growl.
Volkswagen ID. Buzz
Projected starting MSRP: $58,000
The VW ID. Buzz is an homage to an icon, but the electrified return of the microbus is much more than just rock-n-roll nostalgia. Measuring 16.25 feet long and roughly 6.5 feet high and wide, the old-school yet all-new ID. Buzz holds seven people in three rows.
The reimagined 1960s hippie hauler is already a hit in Europe and will come to America for model year 2025, but it's set to arrive in mid-2024. Bright colors and two-toned patterns allude to throwback Haight-Ashbury aesthetics, but contemporary tech keeps modern drivers comfy and connected.
Available all-electric powertrains include a single-motor rear-wheel-drive with 282 horsepower and a 330-horsepower dual-motor all-wheel-drive option.
Nissan Z Nismo
Projected starting MSRP: $60,000
OK, bad news first. There is no option for a manual transmission in the all-new Nissan Z Nismo, a track-ready powerhouse that just begs for a stick.
That aside, there's not much to gripe about.
Outclassing and outpowering every current Z, the 2024 Nismo — due out later this fall — has a twin-turbo 3.0-liter V6 that drums up 420 horsepower. On the outside, the aerodynamic design is even sleeker than that of the standard Z, taking its cues from the legendary GT500 race car. Although you'll be tempted to reach for a gear shifter that isn't there, its nine-speed automatic comes with NISMO-only clutch packs that double your downshift speed.
Make Your Money Work for You
Mercedes-AMG C63
Projected starting MSRP: $95,000
When you think of the Mercedes-AMG, a 2-liter four-cylinder engine should not come to mind. After all, the high-performance version of the C-Class is powered by no less than a twin-turbo 4-liter V-8 that generates either 469 or 503 horses.
But the German automaker isn't bringing some garden variety V-4 to the radical reboot of 2024. Mercedes is cutting the AMG's eight cylinders in half by adding an electric motor to the turbocharged four-cylinder 2.0. The result is a plug-in hybrid that gets a staggering 671 horsepower.
The nameplate achieved this by bringing its in-house speed demons into the planning room. According to Car and Driver, the C63's electrically powered turbocharger system comes from the Mercedes-AMG's Formula 1 race car.
Aston Martin DB12
Projected starting MSRP: $248,086
If you've been saving toward a $250,000 machine that strikes a flawless balance of beauty and brawn, the 2024 Aston Martin DB12 could be in your driveway before the new year. The sleek coupe's stunning, low-slung aesthetics belie its raw power. Although the industry was surprised by the lack of a V-12, its 4.0-liter V-8 — which makes 671 horsepower — is enough to push it past 200 mph, the first 60 of which come in 3.3 seconds.
While the rear seats are too cramped for adult-sized humans to enjoy, the interior is a work of premium-material art that delivers all the luxury and comfort that even the most discerning motorist could demand from a grand-touring sports car. Creamy soft, hand-stitched leather adorns just about every exposed surface from the dash to the seats inside of what Aston Martin is billing as "the world's first super tourer."
Make Your Money Work for You
More From GOBankingRates