The Coolest Sports Car From the Year You Were Born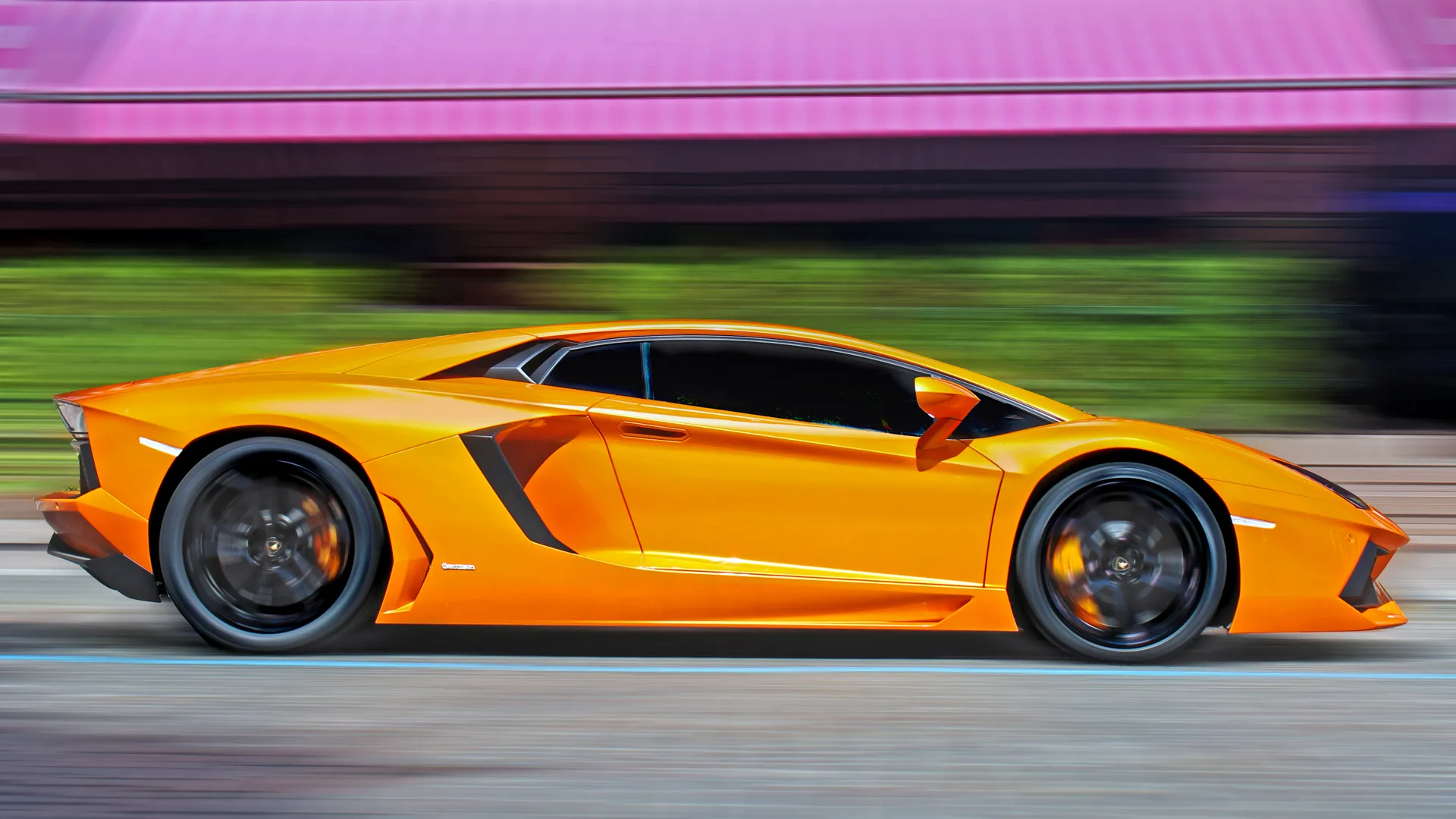 Make Your Money Work for You
1953: Chevrolet Corvette
Chevrolet produced the first-ever Corvette in 1953 with a distinctive style that inspired future generations of the iconic sports car. Only 300 Corvettes were produced its first model year, all with a Polo White exterior and memorable red interior.
Learn More: The Best and the Worst Time of the Year to Buy a New Car
1954: Mercedes-Benz 330 SL
1955: Mercedes-Benz 300 SL 'Gullwing'
The Mercedes-Benz 300 SL wins the "cool" award for the second year in a row thanks to the "Gullwing" style that debuted in 1955. Edmunds named this car "the greatest Mercedes ever and the greatest sports car of the 1950s."
Get It Back: What To Do If Your Car Is Repossessed
1956: Aston Martin DBR1
The DBR1 is arguably the most important Aston Martin ever produced — and it also holds the record for the most expensive British car ever sold at auction. The classic race car, which took home an overall victory at the Nurburgring in 1959, was sold for $22.5 million at a 2017 auction.
1957: Lotus Seven
The Lotus Seven was produced from 1957 to 1973 and was created to be a "no-frills" sports car. People could buy the car fully built or as a DIY kit to assemble yourself. According to Lotus, the small-but-mighty sports car "delivered exceptional performance at a relatively low cost."
1958: Austin-Healey Sprite
The Austin-Healey Sprite debuted at the 1958 Monaco Grand Prix, and according to Automobile magazine, "it set a standard for small, minimalist, affordable sports cars." The car featured cutting-edge technology for the time, including rack-and-pinion steering and a 12-volt Lucas "Prince of Darkness" electrical system.
Make Your Money Work for You
1959: Datsun Sports S211
Nissan produced a series of roadsters in the late 1950s through early 1970s under its Datsun Sports line. The 1959 S211 was the first Datsun Sports model in production, and only 20 were built.
1960: Aston Martin DB4 GT Zagato
The Aston Martin DB4 GT Zagato was in production from 1960 to 1963. Melding both beauty and power, the DB4 GT Zagato was able to reach a top speed of 153 mph and accelerate from zero to 60 mph in 6.1 seconds — impressive stats for a car of that time.
1961: Jaguar E-Type Series 1
Even though Ferrari and Jaguar are racing rivals, Enzo Ferrari reportedly called the Jaguar E-Type "the most beautiful car ever made."
1962: Ferrari 250 GTO
Only 39 Ferrari 250 GTOs were made during its three years in production, which is why it's so coveted, CNBC reported. In 2018, a 1962 Ferrari 250 GTO became the most expensive car ever sold at auction, at $48.4 million, Forbes reported.
1963: Shelby Cobra Mk II 289
The Shelby Cobra gets its name from Carroll Shelby, a Texas chicken farmer who wanted to create a race car with a British body and an American V-8 engine, according to CNBC. The first Shelby Cobra — the Mk I 260 — was produced in 1962, and the Mk II 289 followed a year later.
1964: Porsche 911 2.0
The first Porsche 911 went into production in 1964, featuring a new 2.0-liter flat-six engine capable of delivering 130 horsepower. Although it's evolved over the years, it remains beloved among exotic car enthusiasts and is still in production today.
Did You Know? These 20 Cars Cost the Most To Maintain
1965: Jaguar XJ13
Only one Jaguar XJ13 was ever produced, according to Popular Mechanics. The sleek-looking prototype is a good mix of Jaguar's more prevalent D-Type and E-Type.
1966: Lamborghini Miura
Lamborghini's Miura first went into production in 1966, setting itself apart from other sports cars with its V-12 engine and mid-engine design. It also offered the highest top speed of any contemporary road car at 170 mph, CNBC reported.
Make Your Money Work for You
1967: Chevrolet Camaro SS350
The Camaro was Chevrolet's answer to the Ford Mustang. The SS 350 was the performance model of what Car and Driver called, at the time, "every man's cute little car." Since its introduction in 1967, the Camaro has become one of the most raced — if not the most raced — American cars of all time, according to Edmunds.
1968: Chevrolet Corvette 'Stingray'
The third generation in the Corvette line, the L88 — also known as the "Stingray" — was in production for the model years 1968 through 1982. The sports car was powered by a 7.0-liter engine that produced 460 horsepower, and it's "one the sleekest and highest performance cars ever produced by GM," according to Unlimited Revs.
1969: Nissan Fairlady Z
The Nissan Z-Car line continues to have a reputation for power and performance at a relatively affordable price, and it all began with the 1969 production of the Fairlady Z. Over the next nine years, the Japanese model and its U.S.-sold equivalent, the Datsun 240Z, sold 520,000 cars — a record for a single model.
1970: Alfa Romeo Montreal
The Alfa Romeo Montreal was never sold in its namesake city — or in America, for that matter. A production version of the luxury sports car was introduced in 1970 at the Geneva car show, and the car went on sale in Europe in the latter half of 1971. Only 3,917 units were ever produced, according to MotorTrend.
1971: Ferrari 365 GTS/4 Daytona Spyder
The Spyder was engineered by Ferrari, designed by Pininfarina and created by Scaglietti, a combination that makes it one of the most sought-after sports cars ever made, according to Money Inc. It had a 4.4-liter V-12 engine that could reach a top speed of 170 mph.
1972: Aston Martin V8 Saloon
The Aston Martin V8 replaced the DBSV8 when the company was sold in 1972. The car featured twin headlights and a separate grille, creating what would become the trademark Aston Martin look.
Make Your Money Work for You
1973: Porsche 911 Carrera RS 2.7
1974: Lamborghini Countach LP 400
Lamborghini produced the Countach from 1974 to 1990. The original model came equipped with an impressive 370-horsepower V-12 engine.
1975: Ferrari 308 GTB
Ferrari's 308 GTB was the long-awaited replacement for the Dino 246 GT. Debuting at the 1975 Paris Salon, the car had a distinctive wedge profile and was fitted with a completely fiberglass body.
1976: Ferrari 512 BB
Unique features of this classic '70s Ferrari include its flat-12 engine layout and signature five-spoke wheels.
1977: Porsche 928
The Porsche 928 was originally designed to be a replacement for the 911, but Porsche decided to sell the two cars at the same time instead, Road & Track reported. Although the 911 remains in production, the 928 was dropped from Porsche's lineup.
1978: BMW M1
The BMW M1 was the first BMW M model car — and it's one of the rarest, according to Popular Mechanics. The car was designed for racing with its mid-engine layout.
1979: Mazda RX-7
The first model year for Mazda's RX-7 was 1979. The car brought rotary engine technology to the masses. The simple, Japanese-made two-seater stood out for its affordability, handling and steering. Motor Trend declared it more fun to drive than many of its contemporaries.
1980: Audi Quattro
Audi was the first car manufacturer to offer high-speed, lightweight four-wheel drive for large series vehicles when it debuted the Quattro in 1980. That technology has become a staple of Audi vehicles, and the manufacturer has dubbed it "Quattro technology" in honor of the first car to incorporate it.
1981: DeLorean DMC-12
If you've seen "Back to the Future," you're no doubt familiar with the famous gull-winged DeLorean DMC-12, which was produced in January 1981 and remained in production for just over a year. Only 9,000 DeLoreans were ever produced and the cars are now seen as collectors' items, according to Time.
Make Your Money Work for You
1982: Porsche 944
Porsche created the 944 as a replacement for the 924. The 944 featured a new, larger 2.5-liter engine and a wider body. It also had a five-speed manual transmission located at the rear of its transaxle, which gave it a nearly even weight distribution.
1983: Toyota Corolla Levin
This sports model was a fifth-generation Corolla. It was particularly well-received among fans of Toyota's front-engine, rear-wheel-drive cars, which have been celebrated for their road performance.
1984: Ferrari Testarossa
The Ferrari Testarossa — produced from 1984 to 1991 — quickly became an '80s icon. The car was featured on "Miami Vice" and in the Sega arcade game "OutRun," according to Top Speed.
1985: Chevrolet Camaro IROC-Z
Like the Testarossa, this third-generation Camaro became a true symbol of the 1980s. The car featured 16-inch five-spoke wheels and a Tuned Port Injection 5.0-liter V-8 engine capable of delivering 215 horsepower.
1986: Porsche 959
The 959 was way ahead of its time in terms of technology, with an air-cooled 450-horsepower flat-six engine and four-wheel drive. The sport version could accelerate from zero to 60 mph in 3.6 seconds and reach a top speed of 198 mph.
1987: Ferrari F40
Ferrari designed this two-door, rear-wheel-drive, mid-engine sports car to celebrate its 40th anniversary. With a top speed of 201 mph, the F40 was the fastest — and most expensive — car available to the public when it was introduced in 1987, according to Unlimited Revs.
1988: BMW M3 E30
BMW created the M3 as a street version of a racing sedan. This year marked the launch of the Evolution version, which offered 220 horsepower and a maximum speed of 151 mph, plus a stylish new spoiler.
1989: Mazda MX-5 Miata
The Mazda Miata experienced three redesigns during its 30 years in production, but it all started with the 1990 NA model, which made its debut in 1989. The MX-5 Miata made a splash with its classic British sports car layout, with rear-drive and an engine in the front.
Make Your Money Work for You
1990: Acura NSX
The Acura NSX hit showrooms in 1990 as a 1991 model, featuring a mid-mounted 270-horsepower VTEC 3.0-liter V-6 engine and a five-speed manual gearbox. At the time of its debut, Motor Trend called it "the best sports car ever built."
1991: Honda Beat
Despite never being sold in America, the Honda Beat became one of the most popular mid-engine Japanese cars of all time, according to Road & Track. The Beat has a three-cylinder engine capable of revving to almost 9,000 rpm.
1992: Dodge Viper
The Dodge Viper was introduced in 1992 and stayed in production until 2010. The original Viper had a 400-horsepower V-10 engine and a clamshell hood.
1993: Lotus Esprit S4
The Lotus Esprit S4 was in production from 1993 to 2004, and marked a successful redesign of earlier Esprits, according to Popular Mechanics. The early '90s version featured a twin-turbo V-8 engine.
1994: Mitsubishi 3000GT
When the Mitsubishi 3000GT came out during the 1994 model year, it was packed with technological advances, including electronically controlled suspension, a two-mode exhaust system, four-wheel steering, active aerodynamics and all-wheel drive.
1995: Ferrari F50
Although the F50 never reached the level of popularity that the F40 did, it was still a beauty worth taking note of. And it's as rare as it is beautiful — only 349 were produced, according to Popular Mechanics.
1996: Dodge Viper GTS
This two-door roadster is immediately recognizable with the two white stripes running the length of the body. But it's not just its looks that landed the Dodge Viper GTS on this list. It boasts an 8-liter engine capable of accelerating from zero to 60 mph in 4 seconds and reaching a top speed of 191 mph.
1997: Nissan R390 GT1
Nissan introduced the R390 GT1 as a sports prototype/competition car in 1997. At Le Mans that year, it came in 12th overall and fifth in its class.
1998: Mercedes-Benz CLK-GTR
Mercedes and AMG created the CLK GTR in a matter of months to race in the 1997 FIA GT competition, Road & Track reported. Only 25 were built from 1997 to 1998, with the road version debuting in 1998. The road version was still plenty powerful — it had a V-12 engine capable of accelerating to 62 mph in 3.8 seconds.
1999: Porsche 911 GT3
Porsche introduced the 911 GT3 in 1999 as a high-performance version of its classic sports car. The GT3 was built to be raced, with a 3.6-liter H6 engine that produced 380 horsepower and a top speed of 193 mph.
2000: Toyota MR2 Spyder
Only 40,000 Toyota MR2 Spyders were sold in the U.S. during the car's five-year stint, Top Speed reported — but it was still the coolest car in 2000. Toyota's short-lived sports car featured a five-speed manual transmission, capable of accelerating to 62 mph in under seven seconds, and a transverse, mid-engine, rear-wheel-drive setup that made it a true pleasure to drive.
2001: BMW M3 GTR
BMW's M3 GTR is the most successful grand touring car in the history of racing — winning more Motorsport titles than even the Porsche 911, Unlimited Revs reported. What gives this high-performance car its power? A 4.0-liter V-8 engine capable of doing zero to 60 mph in 3.3 seconds.
2002: Pagani Zonda C12 S 7.3
The Pagani Zonda C12 S 7.3 is just as fast as it is good-looking. With a 7.3-liter rear mid-engine V-12, the rear-wheel-drive supercar can reach a top speed of 220 mph.
2003: Mercedes-Benz SLR McLaren
Mercedes-Benz and McLaren Automotive teamed up to create this grand tourer/sports car, sold from 2003 to 2010. Able to sprint from zero to 60 mph in 3.1 seconds, it's the fastest automatic transmission car in the world, Unlimited Revs reported.
2004: Porsche Carrera GT
Manufactured from 2004 to 2007, the Carrera GT is "one of the most aggressive Porsches ever produced," according to Unlimited Revs. It's powered by a Formula One-derived engine capable of reaching a top speed of 205 mph and producing over 600 horsepower.
2005: Bugatti Veyron
The Bugatti Veyron's stats are pretty much unparalleled: Its 8-liter W16 quad-turbocharged engine produces 1,000 horsepower, can reach a top speed of 253 mph and can accelerate from zero to 60 mph in 2.46 seconds.
2006: Ford Shelby GT500
The Ford Special Vehicle Team and Carroll Shelby joined forces to produce the Ford Shelby GT500 in 2006. This higher-performance version of the Mustang is powered by a 5.4-liter supercharged V-8 engine that can produce 500 horsepower and sprint from zero to 60 mph in 4.5 seconds.
2007: Subaru Impreza WRX STi
The Subaru Impreza WRX STi debuted at the Tokyo Auto Show in 2007 as a street car equipped with racing performance amenities. The high-performance car can reach a top speed of over 175 mph.
2008: Dodge Challenger SRT8
Dodge introduced its first Challenger SRT in 2008. Although its performance wasn't on par with its contemporary Ford Mustang or Chevrolet Camaro, according to AutoGuide.com, it makes up for its shortcomings with its comfort and style.
2009: Lamborghini Reventon
Lamborghini only produced 20 Reventons for public sale over the year it was in production. The interior and exterior of this rare sports car were heavily influenced by military jets, Popular Mechanics reported.
2010: Lexus LFA
The Lexus LFA is both sleek and powerful, boasting a V-10 engine. The Nurburgring version of this supercar achieved one of the fastest production car lap times at the German track, Popular Mechanics reported.
2011: Lamborghini Aventador
Lamborghini introduced its Aventador supercar in 2011 as an evolved version of the Murcielago.
2012: Maserati GranTurismo MC
Maserati introduced the GranTurismo MC — described by MotorTrend as being "dead sexy" — for the 2012 model year. With a top speed of 185 mph, the GranTurismo MC became the fastest Maserati ever sold in North America, MotorTrend reported.
2013: Porsche 918 Spyder
Not only is the Porsche 918 Spyder one of the quickest production cars ever built, according to Popular Mechanics, it also happens to be a hybrid.
2014: BMW i8
Top Gear named the BMW i8 one of the best sports cars in its magazine's history, praising it for being among the only hybrids in the luxury sports car category.
2015: Alfa Romeo 4C
Alfa Romeo marked its return to the U.S. and North American market with the introduction of the 4C in 2015. MotorTrend called it "a stunning rebirth of the Italian sports car."
2016: Porsche Cayman GT4
The 2016 addition to Porsche's Cayman lineup can accelerate from zero to 60 mph in 3.8 seconds and reach a top speed of 183 mph. The GT4 also made Top Gear's list of best sports cars. The magazine called it "a masterpiece," stating that it "sounds right, goes right, steers and stops right."
2017: Ford GT
Ford introduced the GT in 2017 as the manufacturer's fastest and most expensive car ever, Popular Mechanics reported.
2018: Aston Martin Vanquish S Volante
Aston Martin introduced this coupe convertible in 2018. Not only does it feature luxurious touches — like its plush Strathmore-enhanced leather seats — but it also brings the power, with a 5.9-liter V-12 engine capable of reaching a top speed of 201 mph.
2019: Chevrolet Corvette ZR1
Chevrolet introduced its first Corvette ZR1 in 1970. The 2019 version marks its fourth iteration — and it might be the best yet. The 2019 Chevrolet Corvette ZR1 is the fastest production Corvette ever, MotorTrend reported, with a max track speed of 212 mph.
Click through to find out what car dealers don't want you to know.
More From GOBankingRates
About the Author