How To Save Money on Gas Using ChatGPT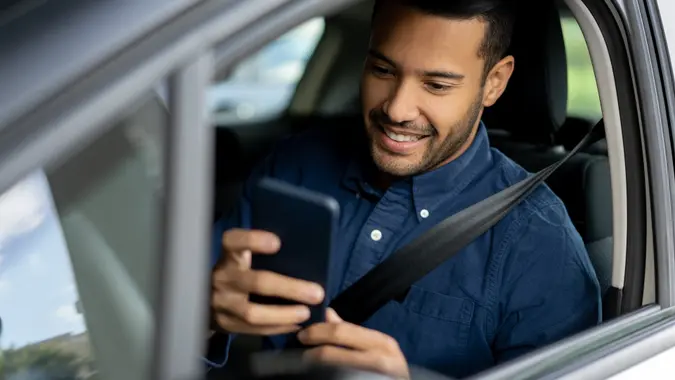 andresr / iStock.com
If you're dreaming of a scenario where ChatGPT can give you the best gas prices within a few miles of your location just as you're leaving work, that's not an option. Unfortunately, ChatGPT is unable to give real-time data, such as current gas prices, but that doesn't mean it's not a possibility for the future.
Companies are making plugins for their services and platforms to be used by ChatGPT Plus subscribers, so it's not too far-fetched to imagine a gas-price plugin is a possibility. Fortunately, even though ChatGPT can't give you real-time fuel prices, it can help you in plenty of other ways. Here's how to save money on gas using ChatGPT.
Discover Fuel-Saving Techniques
Max Shak, the founder and CEO of HeroBot, said ChatGPT can provide valuable advice on fuel-saving techniques.
He said that by asking questions like, "What are some ways to improve fuel efficiency?" or "How can I reduce fuel consumption?" you can receive tips and strategies from ChatGPT that may include driving at moderate speeds, avoiding sudden accelerations and braking, keeping tires properly inflated and minimizing idle time.
Get Vehicle Maintenance Guidance
"ChatGPT can help you stay on top of your vehicle's maintenance needs, which can contribute to improved fuel efficiency," said Shak. "By asking questions related to vehicle maintenance, such as, 'When should I change my oil?' or 'How often should I replace my air filter?' ChatGPT can provide guidance based on manufacturer recommendations, ensuring that your car is running optimally."
Make Your Money Work for You
Find Carpooling and Ride-Sharing Options
Shak said that ChatGPT can assist in finding carpooling or ride-sharing options in your area, which can help you save on gas expenses by sharing the cost with others. "By asking about carpooling services or platforms, ChatGPT can provide information on available options and how to connect with potential carpoolers," he said. 
It can also provide you with alternative transportation options by city if you don't want to drive your car, such as bike-sharing options, e-scooters and public transit options. 
Find Cost Calculators 
If you're planning a car trip and you're trying to make a fuel budget, ChatGPT can help with tool suggestions to help you accomplish your goal.
Michelle Silva, the owner and writer behind Travel with Intention, said that some websites or apps can calculate approximate fuel costs for your trip based on the distance and your car's average gas mileage. She recommended prompting ChatGPT to share highly rated road trip fuel cost calculators.
Learn About Fuel-Related Credit Card Rewards
"Some credit cards offer rewards or cash back on gas purchases," said Silva. "If you're not sure about your credit card benefits, prompt ChatGPT to share [credit card name] gas rewards."
You can also ask ChatGPT to give you a list of highly rated credit cards that feature fuel rewards and the details for earning and redeeming them. Of course, you'll need to follow up by visiting the card's website and confirming the details for yourself. 
Make Your Money Work for You
Find Gas Station Rewards Programs 
Madison Testa, business development officer at Digital Caterpillar, said that ChatGPT can also be used to find gas station rewards programs. Just ask it, "What are the best gas station rewards programs?" or "What are the best gas station rewards programs in [city name]?" said Testa.
"ChatGPT will then search through its database of gas station rewards programs and generate a list of the best programs available in your area."
More From GOBankingRates