MileMax Fuel Saver: Scam or Real? An Honest Assessment of Its Benefits and Drawbacks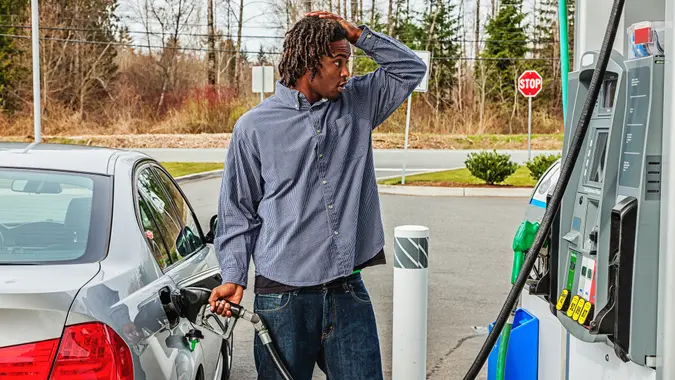 jhorrocks / Getty Images
There can be nothing more thrilling than a road trip — heading out on the highway, looking for adventure — then what comes your way is the less-exciting prospect of paying for gas. With soaring gas and fuel costs, driving down the block is almost as daunting as farther destinations.
There are many companies developing technology designed to help with fuel costs and emissions, but what they are designed to do and what they actually do may be two different things. 
What Is MileMax Fuel Saver?
MileMax Fuel Saver is a device focused on fuel economy. Essentially, it is a fuel-saving device that you can — theoretically — put in your car to increase your gas mileage by improving fuel efficiency and reducing fuel consumption.
Optimizing fuel efficiency and reducing emissions sounds like a winning proposition, but the question remains: Does MileMax Fuel Saver work?
How MileMax Fuel Saver Claims To Work
According to the official website getmilemax.com, MileMax Fuel Saver works in the following plug-and-play ways:
Connects to the OBD-II port in your vehicle
Uses AI technology to optimize fuel performance and save fuel
Reduces fuel consumption by up to 35%
Adapts to your driving style and your car's performance after driving approximately 150 miles 
Designed to interface directly with your engine control unit
Improves performance settings, such as injection timing and boost pressure
MileMax Fuel: Scam or Real?
All of these qualities and features this device claims to have sound ideal, yet there is little evidence supporting that MileMax Fuel Saver actually saves fuel. You can see why this could be problematic. 
Make Your Money Work for You
Some red flags include: 
The website posts no physical address or phone number for the company.
Even if the device does make your car more fuel efficient, a 35% reduction in fuel consumption is unsupported.
The website's domain owner's contact information is hidden. 
The site also displays certain tactics to urge you to buy quickly without thinking too much about it, such as claiming limited availability and showing a pop-up box reporting that someone "just purchased" a MileMax device. While these tactics are not exclusively used by scams, urgency is commonly employed by scammers.
Pros and Cons of MileMax Fuel Saver
There are many benefits to having a fuel-saving device installed in your vehicle — if it works — and potential drawbacks if the device itself doesn't work.
Before purchasing any fuel-saving device, be sure to research both the company and consumer product reviews. Embellishing what a product can do is bad enough, but if a device is found to be fraudulent in its claims, the results can be much more serious.
Here are some key takeaway pros and cons of MileMax Fuel Saver:
Pros of MileMax Fuel Saver
AI technology could enhance your driving performance and help you save fuel
Easy installation and wide range of vehicle compatibility
Can adapt to your driving style to better help with fuel performance and emission reduction
Cons of MileMax Fuel Saver
Fuel efficiency results vary from what is advertised, according to many product reviews
Incompatibility between your vehicle and the device could decrease your fuel efficiency
Website presents as not reputable
Make Your Money Work for You
Final Take To GO
Though no cemented conclusion can be made yet as to whether or not the MileMax Fuel Saver device is a scam or not, there is enough evidence out there to support you probably want to hold off purchasing until the technology is better developed or another company releases a proven, higher-performing device.
For now, the idea of a device that can save you fuel, money and emissions seems a little too good to be true. However, these are usually the ingredients used when better-developing technology, so here is hoping it exists in its fullest capacity soon.
FAQ
Here are some quick answers to frequently asked questions about the benefits and drawbacks of the MileMax Fuel Saver and similar devices.
Does the Fuel Saver device work?

Many consumers are on the fence as to whether or not the MileMax Fuel Saver device actually works.
Though the official website claims the device can use AI technology to optimize fuel performance, improve performance settings such as injection timings and boost pressure, interface directly with your engine control unit, save fuel, reduce fuel consumption by up to 35% or adapt to your driving style after driving approximately 150 miles, the website itself presents suspiciously, as it has no company address or phone number. Not being able to contact a company easily after you give it money is always a warning sign.

How does fuel-saver liquid work?

Allegedly, fuel-saver liquid works by making use of strong magnets, which create a magnetic field around the fuel inlet pipe. This allows homogeneous fuel to more efficiently combust. Essentially, more fluid fuel boosts combustion.

How does magnetic fuel saver work?

A magnetic fuel saver is designed to create a magnetic field around a fuel inlet pipe, thus allowing the fuel to flow more freely and combust more easily.
Information is accurate as of May 23, 2023.
Editorial Note: This content is not provided by any entity covered in this article. Any opinions, analyses, reviews, ratings or recommendations expressed in this article are those of the author alone and have not been reviewed, approved or otherwise endorsed by any entity named in this article.