Monthly Payments on New Cars Hit Record High of $1,000+ — When and How To Refinance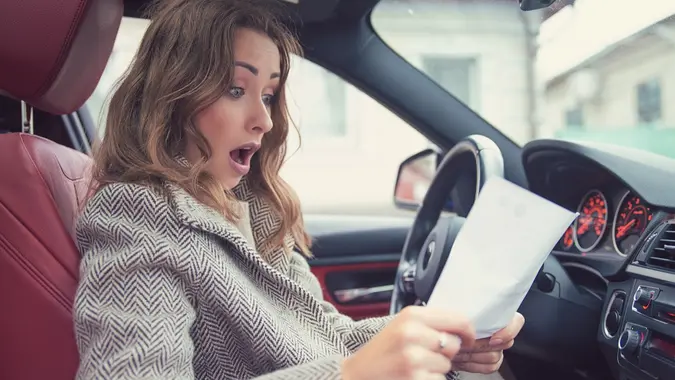 SIphotography / iStock.com
Americans who think a $1,000 mortgage payment is high might be amazed to see where average car payments have gone in the United States. The number of U.S. consumers who are paying at least $1,000 a month on car loans hit a new record during the 2022 fourth quarter amid a rise in both auto loan rates and vehicle prices.
Learn: The Best Month To Buy a Car in 2023
Used Cars: 10 Biggest Winners on the Market in Terms of Lifespan
More than 15% of consumers who financed a new vehicle in Q4 2022 committed to a monthly payment of $1,000 or more, according to a new report from Edmunds. That's the highest percentage ever and is up from 0.5% in Q4 2021 and 6.7% in Q4 2020.
The number of used car buyers with payments of at least $1,000 also hit an all-time high during the 2022 fourth quarter, at 5.4%. That's up from 3.9% the previous year and 1.5% two years earlier.
The average annual percentage rate (APR) on new financed vehicles rose to 6.5% during the 2022 fourth quarter from 5.7% the previous quarter and 4.1% the previous year. The APR on used financed vehicles rose to 10% in Q4 2022 vs. 9% in Q3 and 7.4% a year earlier
Make Your Money Work for You
Interest rates aren't the only rising costs car buyers face, either. The average price paid for a new car in December set a record of $46,382, CNBC reported, citing data from J.D. Power and LMC Automotive. Although sticker prices have recently eased off, they are still 2.5% higher than a year ago.
Meanwhile, car buyers are putting more money down on their purchases to offset rising costs. The average down payment for new and used vehicles during the quarter hit record highs of $6,780 and $3,921, respectively.
Because of high costs, some car buyers face the risk of seeing their loans go underwater when car values decline, according to Ivan Drury, Edmunds' director of insights.
"At the onset of the pandemic, consumers benefited from low interest rates and elevated trade-in values, helping shield even the more questionable financing decisions from resulting in negative equity," Drury told CNBC. "But as we shifted toward an environment with diminished used car values and rising interest rates over the past few months, consumers have become less insulated from those riskier loan decisions, and we are only seeing the tip of the negative equity iceberg."
Make Your Money Work for You
If you are paying an astronomical APR on a recent car purchase, you don't necessarily have to be stuck with the loan forever. One option is to refinance your car loan when interest rates go back down again. If you choose this route, you'll likely have to go with a new lender, according to Experian.
See: 8 Tips To Help You Save $1,000 Every Month in 2023
Find: 6 Top Tips for How To Turn $1,000 Into $10,000
Among the things you'll want to do before considering a refinance at a future date are the following:
Double-check the terms of your current loan to see if there's a fee for paying it off earlier than agreed.
Clean up your credit to achieve the highest score possible, which will also ensure the best possible terms on a refinance.
Check with lenders to see if they charge an origination fee to refinance.
Make sure the length of the repayment period is not longer than your current loan period. If that's the case, then it might not be worth it because you could end up paying more in interest that you do with your current loan.
Gather documents you might need for the new loan, such as your driver's license, vehicle registration, proof of insurance, proof of income, proof of residence and 10-day payoff statement.
You should also look into several refinance options from different lenders to find the one that offers the best terms.
More From GOBankingRates
Make Your Money Work for You
Make Your Money Work for You