New Car Market: Now Is the Time To Buy as Prices Hit Lowest Mark in a Year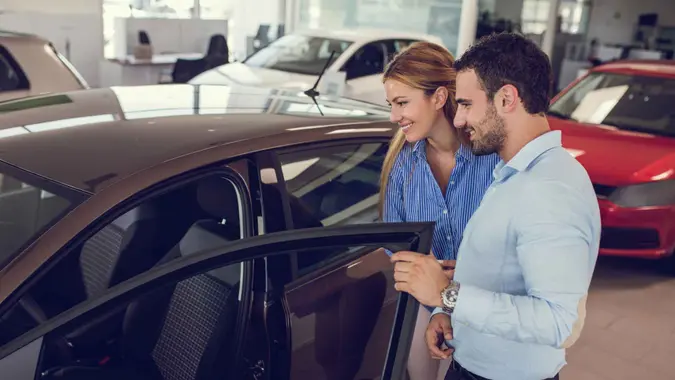 skynesher / Getty Images
If you've been waiting to buy, now could be the time. Due to supply chain issues, silicon chip shortages and demand, new cars were among the categories hardest hit by inflation in 2023.
In January 2023, the average price of a new car peaked at $49,669, according to data from Kelley Blue Book. But the latest data shows car prices finally trending downward.
Based on the company's analysis, the average transaction price, or ATP, of a new vehicle in July was $48,334, down by 0.7% from June 2023. This represents a $337 drop. More significantly, prices are down 2.7%, or $1,335, since January 2023.
"New-vehicle price inflation has all but disappeared in 2023," said Rebecca Rydzewski, research manager at Cox Automotive, via the market insights report.
She primarily attributed the drop to cuts in the costs of luxury and electric vehicles. Luxury vehicle prices have dropped by nearly 3% year-over-year, and more than 5% since January 2023. If the trend continues, luxury buyers can expect to spend less than $63,552 for a new vehicle. For instance, in July 2023, the average new Tesla went for $54,660, down from $62,000 in January — the lowest ATP since April 2020.
Non-luxury vehicles prices are also falling, with the average transaction price pegged at $44,700 in July, according to Cox Automotive data. However, it's still virtually impossible to find a new car for under $20,000. Only the Mitsubishi Mirage, with an ATP of $19,205 in July 2023, fits the bill. In July 2018, shoppers looking for a deal — perhaps college students or teens buying their first car — could find nearly a dozen small vehicles for under $20,000.
Make Your Money Work for You
Additionally, dealers are increasing incentives to move inventory off the lots. The incentive spend for July rose to an average of $2,148, or 4.4% of the average transaction price, which is the highest level since October 2021.
Of course, as transaction prices are falling, interest rates are climbing. If you're financing your new car, your payments might be higher. To reduce your overall costs, shop around for the lowest loan rate and ensure your credit score is in tip-top condition before you apply for a loan.
More From GOBankingRates