5 Reasons You Should Sell Your Car (and Save Big)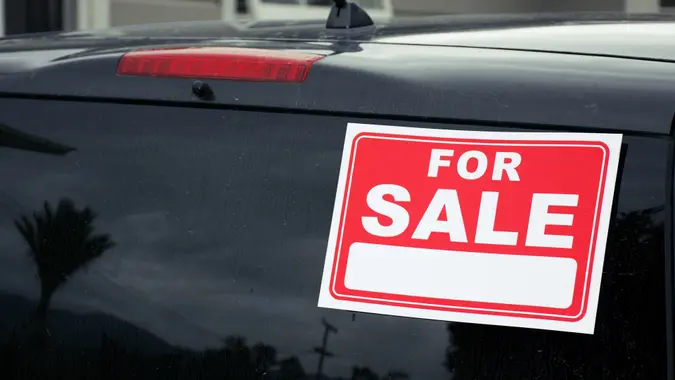 LazingBee / iStock.com
If you're in the market to buy a used car, 2022 is no more your year than 2021 was — but for sellers, there's no better time than the present. In the modern era, there has literally never been a time when used cars — even those that are just OK — were selling for more money after less time on the market. But the seller's paradise that defines today's market won't last forever, so here's why you should consider selling your car now.
See Our List: 100 Most Influential Money Experts
Check Out: 7 Surprisingly Easy Ways To Reach Your Retirement Goals
If You Have a Spare Car, You're Sitting on a Gold Mine
In January, the price of a used car was up by nearly 37% compared to the same time period in 2021, according to iSeeCars. Even so, they're gone almost as soon as they hit the market — in-demand models like the Kia Telluride sell in less than 13 days.
Make Your Money Work for You
If you have a car you're willing to part with, there's literally never been a better time to sell.
"A paucity of new cars has fueled demand for secondhand cars, while a shortage of microchips and raw materials such as copper and aluminum has created production delays," said Phillip Villegas of Three Pedal Mafia. "As a result, your car may be worth far more than it was a year ago, making it a good time to sell it."
Even Older, Less Expensive Cars Are Fetching Top Dollar
If you've been tooling around in the same old ride for a decade or more, you might assume that you won't be able to enjoy the bounty that today's sellers are reaping on the red-hot used market.
Think again.
The average car on the road is now more than 12 years old, according to Kelley Blue Book. That record longevity is part of a larger trend that the pandemic only accelerated — and if you have an earlier model, it could work in your favor.
Make Your Money Work for You
Older, lower-priced vehicles are in the highest demand. If you have something with a market value under $15,000, it will be a hot commodity that you can expect to sell at a premium with minimal effort.
You Can Choose Between Maximum Profits and Convenience
How you sell your car and on which marketplace will have a lot to do with how much money you walk away with. As a general rule of thumb, according to Kelley Blue Book, you'll get the most money for your car by cutting out the middleman and selling it directly to a buyer on the private market, but that comes with headaches, hassles and scammers. Selling to a dealer or an online reseller like Carvana is quick and easy, but you pay for that convenience — they, after all, have to turn around and sell your car for a profit.
No matter how or to whom you offload your wheels, don't assume you'll get top dollar just because the market is tight. Maximize your profits by acting like a pro.
"If you're ready to sell either through private channels, online resellers or your local dealership, you can help those navigating the market by offering detailed maintenance records and transparency on the condition and history of the vehicle," said Richard Reina, product training director at CARiD.com. "This helps boost the market value of your car, and the buyer will no doubt appreciate it."
Make Your Money Work for You
Take Our Poll: Are You Concerned That Social Security Benefits Will Be Reduced During Your Lifetime?
You Still Have Time To Think About It
Another good reason to consider selling is that there's no rush. The pressure is on the buyer, not you — and that's not expected to change any time soon. According to KBB, the new market will cool faster and sooner than the used market, where prices are expected to remain sky-high for the foreseeable future.
In fact, you might be better off waiting to sell until the weather gets a little warmer even if you don't have to. 
"The prices are expected to increase by 10.5% in June for both new and used models," said David Clelland, CEO of Infiniti Tracking.
The trick is to make sure you have a transportation plan B.
"If you have an extra vehicle and can wait a year to replace it, selling might be in your best financial interest," said Melanie Musson, a vehicle retail expert with CarInsuranceComparison.com.
On the other hand, if you are eager to trade up, and you do happen to stumble upon one of the few great deals left on the market, you can pull the trigger without hesitation — rest assured, your current car will sell itself.
"If you're able to secure a deal on a new or used car, you can sell yours with the confidence that you'll probably never get a better sale price than now," Musson said.
Just don't let FOMO trick you into blindly chasing dollar signs without a backup plan for how you'll get around. If you jump the gun, after all, the shoe will be on the other foot before long.
"It's an excellent time to sell a car, but only if it's a vehicle you no longer need," said Ian Lang, senior car advice editor at Bumper.com. "You'll be able to command a historically high price for your used vehicle, but if you're looking to replace it or upgrade, you'll find yourself in the same boat as other car shoppers."
You Can Save a Ton of Cash by Going Carless
Finally, cars are expensive not just to buy, but to own — even during normal times. If it's feasible to forsake your car in favor of public transportation, your bike or your feet, abandoning your vehicle could be to your financial health what quitting smoking is to your physical health. According to AAA, the cost of vehicle ownership is now just shy of $10,000 per year –that's more than $800 per month you'd save on top of whatever you earn from the sale.
More From GOBankingRates
Make Your Money Work for You