These Are 10 of the Slowest Selling Used Cars on the Market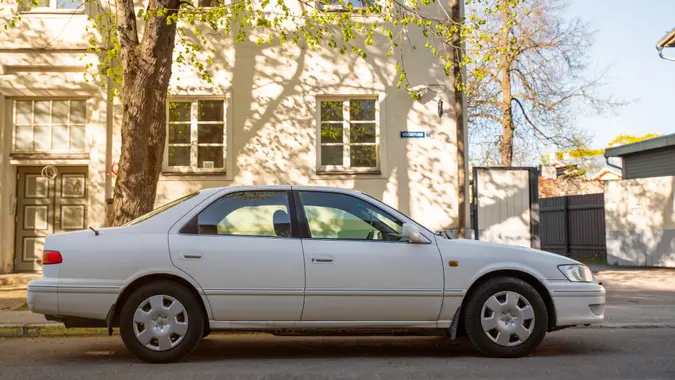 Aimur Kytt / Getty Images
The pandemic threw every economic sector for a loop, but the automotive industry was impacted heavily as supply-related shutdowns slowed global assembly lines and made new vehicles scarce and costly. Subsequently, the used car market was hit hard and became as puzzling and unpredictable as the new.
Now, as the industry as a whole attempts to slowly correct itself, a new study by online marketplace iSeeCars.com found that while used cars are selling 6.1% faster than last year overall, the top-selling models are selling 26% slower.
Here are the 10 slowest selling used vehicles right now, according to the study, with their average number of days in stock and selling prices listed:
The 10 Slowest Selling Used Cars on the Market
Tesla Model S: 88.3 (average days on market), $65,216 (average price)
Buick Envision: 82.3, $29,057
Ford Mustang Mach-E: 75.8, $42,503
Land Rover Discovery Sport: 73.6, $30,206
Cadillac XT4: 71.9, $31,650
Tesla Model X: 71.4, $70,835
Land Rover Range Rover: 68.4, $75,060
Chevrolet Blazer: 65.9, $31,644
Chrysler 300: 64.7, $25,021
Buick Enclave: 64.3, $32,075
In case you were wondering, popular new cars are taking an average 29% longer to sell, and a bunch of models are taking more than 100 days to leave the lot. Here are the five slowest selling new cars, according to iSeeCars.com study:
The 5 Slowest Selling New Cars on the Market
Jeep Cherokee: 128.7 (average days on market), $39,238 (average price)
Land Rover Discovery Sport: 119.4, $53,422
Buick Envision: 117.0, $39,917
Ford Mustang: 108.6, $56,670
Mazda MX-5 Miata: 107.3, $34,543
Addressing these results, iSeeCars Executive Analyst Karl Brauer said, "This suggests consumers are considering a wider range of used cars and seeking the best value wherever they can find it. Essentially, the strong grip previously held by popular used models is loosening."
Make Your Money Work for You
Used electric vehicle (EV) sale rates are lagging even worse, with used EVs average days supply (the measure used to express the average inventory for any given vehicle) climbing from 26.4 days last year to 57.8 days now, a 120% rise.
"Used-car prices were initially driven up by a lack of new-car inventory," Brauer added. "Now there are plenty of new cars on dealer lots, but consumers aren't rushing out to buy them."
For the study, iSeeCars.com analyzed 228,000 new and 1- to 5-year-old used car transactions from July 2023 and found that as inventory is expanding and prices are finally coming down, used car shoppers might finally be able to find a bargain sitting on a lot (which hasn't been the case over the past few years).  
According to a separate, older iSeeCars.com used car affordability report, average used car prices are up 47.7% since 2019 and market share has dwindled from 49.3% to 12.4%.
"Among the pandemic's many casualties is the affordable used car, which has nearly vanished from the used car marketplace," Brauer remarked. "In 2019, used car shoppers with a budget of $15,000 could afford over 20 percent of the late-model used car market. Today that budget only gets them access to 1.6 percent of the market."
Not only are there less used cars available for under $20,000, but those that can be found are older and have higher mileage. According to the study, the fastest-selling used cars are well-known models in the $20,000-$45,000 price range, with Hondas and Toyota easily leading the way.
Make Your Money Work for You
Used EV prices have decreased by 38.9% over the past 12 months, but have doubled their days to sell. The slowest selling used car on the market is Tesla's Model S, at an average of 88.3 days on the market.
"Many of the slowest-selling vehicles, including both Teslas, are older models in need of a redesign," said Brauer. "But some, like the Ford Mustang Mach-E and Land Rover Range Rover, are new to the market, making it surprising to see them languishing on dealer lots."
More From GOBankingRates