4 Ways a Tesla Will Pay You Back for the Price You Bought It For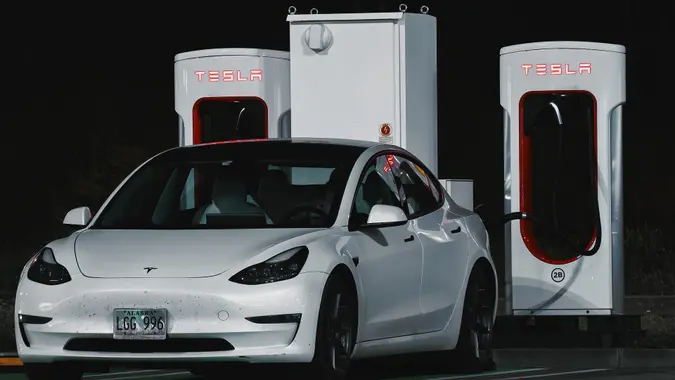 Kukurund / iStock.com
If you're thinking about ditching gas for an EV, you've probably considered the biggest name in the industry and the brand that brought electric cars to the masses — Tesla.
Most automakers have launched lineups of their own electric models to keep pace with the revolution that Elon Musk pioneered. But even so, Teslas still have unique qualities that pay their owners back for their high MSRPs in more ways than one.
Like All EVs, Teslas Save You Money on Gas and Maintenance
Teslas might have premium price tags, but they pay the same long-term dividends to their owners as all EVs — they're cheaper to power and maintain.
"Tesla cars are a real money-saver compared to regular gas guzzlers," said Talha Atta, mechanical engineer and editor of AutoGlobes. "The U.S. Department of Energy says it costs about $0.06 a mile to run an electric vehicle (EV), while you're looking at $0.16 a mile for a gas car. So, if you roll with a Tesla, you'll be counting those extra bucks you're not spending on fuel."
Make Your Money Work for You
But cutting your fuel costs by nearly one-third isn't the only way that Teslas — and all EVs — make up for their purchase prices.
"Also, fewer moving parts means fewer breakdowns," said 18-year veteran mechanic Jason Farrell, certified master technician at Mechanic's Diary. "I've torn apart countless engines, and I can tell you that the fewer things you have moving inside, the less likely something is to break. Teslas, being electric, have fewer parts prone to wear and tear. This means reduced maintenance costs. Think about the joy of not replacing things like exhaust systems, timing belts or even spark plugs. Later on, this translates into significant savings."
Also, all Tesla vehicles are eligible for the full $7,500 federal tax credit under the Inflation Reduction Act.
Regenerative Braking Extends Your Range and Spares Your Brakes
If you drive a Tesla Model S or X, you have a power meter in the instrument cluster — it's in the center screen for Models 3 and Y. The readout shows how much energy the vehicle is using to accelerate or how much it's capturing by slowing down — and this is a key part of how Tesla pays you back.
Make Your Money Work for You
"Teslas use a regenerative braking system that recaptures energy during braking," said Patryk Doornebos, owner and lead author of CarTriple. "This not only conserves energy but also results in reduced brake wear, extending the lifespan of brake components."
Tesla's regenerative braking technology also extends driving range by returning the energy it reclaims back to the battery. According to Driven2Drive, some drivers recapture up to 70% of the energy lost during braking.
Connectivity and Over-the-Air Updates Continuously Add Value
Tesla has long believed that perpetually updating technology — like its Full Self-Driving (FSD) software — can stem the natural tendency for cars to depreciate or even make them gain value over time.
"Unlike most traditional vehicles, Teslas receive over-the-air software updates," said Doornebos. "This ensures that the vehicle remains up-to-date with the latest features and optimizations, potentially saving owners from paying for similar upgrades in conventional cars."
In April 2019, Elon Musk took to a podcast to make this bold statement: "I think the most profound thing is that if you buy a Tesla today, I believe you are buying an appreciating asset — not a depreciating asset."
They Retain Their Value Well Over Time
So far, Musk has not achieved his vision of a car that appreciates over time — but Teslas do tend to hold their value much better than the industry standard.
Make Your Money Work for You
"Tesla vehicles have proven to have impressive resale values, which is a testament to their longevity and the continued demand in the used car market," said Doornebos.
Is Doornebos right? According to EnergySage, "Simply put, yes! Despite initial depreciation, Teslas are a good investment compared to many other cars, especially internal combustion engine (ICE) cars, also known as gas-powered cars. There are a few critical reasons for this, including slower depreciation, steady improvement, demand and warranty protection."
An Auto Industry Expert and Tesla Owner Tells His Story
Jon Albert, partner and vice president at JKR Automotive Advertising in Orlando, Florida, owns a 2022 Tesla Model S Plaid. He doesn't need industry data or statistical reports to prove that Teslas pay their owners back through cheaper fuel and maintenance, regenerative braking and automatic software updates.
How Fuel Savings Play Out in Real Life
Albert believes his Tesla saves him more than the $0.06/$0.16 ratio that's standard for all EVs.
"My Tesla app says I've spent $66 in charging fees during the last 31 days, and it estimates that I have saved $133 on fuel during that same time frame," said Albert. "However, I believe I've actually saved even more. In the 19 months I've owned my Tesla, I have driven an average of 823 miles per month. I'd previously owned a gas-powered sports car that produced about 15 miles per gallon. That would come out to just under 55 gallons of gas during that same time period, which, at today's gas prices, would be nearly $250. If you take that $250 and subtract the $66 I spent on the charging fees, I saved about $185 on fuel this month alone."
Make Your Money Work for You
Then There's Maintenance and the Power of Regenerative Braking
But fuel is just the beginning of the savings.
"If I still had my old car during this 19-month period, there would have been three to four regular service intervals costing me, at minimum, $100-$150 apiece," said Albert. "With my Tesla, I don't have to worry about this expense or taking time out of my schedule to fit in the appointment. It's also interesting to note that Teslas have 50% less brake wear than their gas-burning counterparts. This is due to their regenerative braking, which uses the motors to not only slow the car down but also recharge the battery."
Software Updates Do More Than Just Stave Off Depreciation
Albert also said that "Tesla's incredible service" saves him time, which he values as much as money.
"For example, I recently received a recall notice in the mail. With my old car, it would have required a service appointment and a lengthy wait to fix the issue. But in the case of the Tesla, the issue had already been corrected with a software update. They were simply contacting me to let me know it had been done, and it took no effort on my part whatsoever. Tesla also has an intuitive feature that saves on charging costs. When you set the navigation to a supercharger, it preconditions the battery so it is more receptive to a faster charge."
Make Your Money Work for You
More From GOBankingRates