Back to School 2022: Here's How Much Americans Are Budgeting for Supplies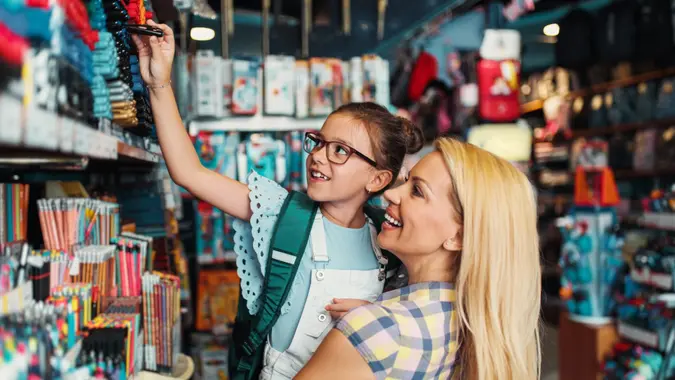 Group4 Studio / Getty Images
As summer comes to a close, back-to-school shopping is in full swing as students, parents and teachers flood the stores looking for the best deals for 2022.
Explore: Your Biggest Money Etiquette Questions Answered
Here It Is: Our 2022 Small Business Spotlight
To shed some light on what shoppers are planning on spending this season and how inflation is affecting shopping, GOBankingRates surveyed over 1,000 Americans about their back-to-school shopping plans. Here, we share financial insight on back-to-school spending and expert insight on the best money-saving moves to make.
40% of Back-to-School Shoppers Expect To Spend Between $1 and $200 on Supplies
According the GOBankingrates survey, the largest portion of Americans planning to back-to-school shop anticipate that their spending will fall under $200. Not far behind them, however, is the 33% of shoppers planning to spend between $201 and $400 this fall.
While spending over $400 on back-to-school supplies might be a terrifying thing to consider, for college students and parents of college students, spending a higher amount this season might be a necessity. In our survey, we found over 11% of shoppers anticipate spending between $401 and $600.
Make Your Money Work for You
This year, shoppers are also facing high inflation costs and extra stress when trying to stay within budget while purchasing school necessities. According to our survey, over 34% of Americans shopping for school items are looking for sales and coupons more often. Additionally, over 30% of shoppers had to switch to cheaper alternatives.
In this season of high inflation and educational necessities, let's take a look at where you can save, where you might want to consider splurging and shopping secrets for optimal savings.
How To Save During Back-to-School Shopping Season
There are a variety of cost-cutting measures you might want to consider before shopping. Here are a few of them.
Take Advantage of Free Resources
"One way to save on back-to-school supplies is by using free resources," said Jake Hill, CEO of DebtHammer, a personal finance publication. "Some libraries offer study materials and books that can be extremely helpful for college students who don't want to buy a new expensive textbook."
Additionally, many school libraries offer graphing calculators and scientific calculators for students to borrow at no cost. These items can run at a high price point in stores, so be sure to check out your school's library options right away as these devices tend to run out quickly.
Make Your Money Work for You
Take Our Poll: Do You Tip for Service?
Avoid Shopping at One Store
Before bringing your supply list to one store to get all your shopping done, make sure to do a quick online search to check which stores have the best deals on the items you need. Taking a few extra trips to the store might cost a little extra gas, but will be well worth the amazing savings you can enjoy.
"Never buy everything from a single store," said Kyle James, founder of Rather-Be-Shopping.com. "The absolute worst and most expensive way to do your back-to-school shopping is to go into one store and knock it all out at once."
To avoid wasting gas, check out store flyers and websites in advance to plan out where the best prices are on the items you need. Start planning ahead of time to ensure you have plenty of time to buy the items when the price is right.
Buy Secondhand When Possible
You can also make significant savings by buying what you can secondhand. Back-to-school necessities such as clothing, fancy calculators, textbooks and dorm furniture can be found on websites such as Facebook Marketplace, Poshmark, eBay or thrift stores in your area for a significant discount.
Make Your Money Work for You
While taking stock of the things you need, be sure to take inventory of what you already have and use these sites to sell any items you no longer need to earn some extra cash.
Buy in Bulk
"If you have a warehouse club membership, consider buying some items in bulk and splitting the cost with other parents who are in need of the same supplies," said Julie Ramhold, consumer analyst for DealNews, a website that finds the best deals on products. "It'll be a win-win because you get to split the cost and the supply, and don't have to worry about storing the excess product."
You can also buy notebooks, folders, pencils, glue and many other school supplies for cheap from Amazon or Office Depot.
Skip Anything Not Immediately Necessary
Every dollar counts when shopping. Avoid making too big of a dent in your wallet or going over budget by only purchasing items that are an immediate need. If you or your child won't need these items for the first couple of weeks of school, hold off to enjoy clearance deals later.
"If you don't need new backpacks, lunch boxes and similar items right away, hold off until Labor Day sales," Ramhold said. "After Labor Day, there's a good chance that retailers will be trying to get rid of any remaining school supplies in order to make room for other fall and winter stock. By waiting until they're ready to get rid of it right after Labor Day, you increase the chances of finding an even better deal."
Price Match
It can be hard to find great-priced popular items in stock. Be sure to price match sold-out items to get the best deal.
"Let's say you're shopping at Office Max and they're sold out of their 25-cent boxes of crayons," James said. "All hope is not lost. Just take their ad to your local Walmart or Target and as long as it's a brand they also carry, they will happily price match the screaming deal on crayons, or whatever it might be. Never assume that since a store is sold out you're out of luck."
Use Cashback Apps
Get some money back this back-to-school season by using cashback apps. While the percentage of cash you get back may seem small, it will add up over time and culminate in significant benefits. Some cashback apps to consider include Ibotta, Checkout 511 and Rakuten, according to Ramhold. With these apps, you can earn cash back when purchasing items such as clothing, electronics, groceries and gas.
Splurge on Technology Items
While it's a great idea to save some money by purchasing some back-to-school items at the cheapest price you can find, other items are best to splurge on. Cut back on other costs so you can spend more on technology and digital items you need for school.
It's best to invest in quality laptops, tablets, phones and other technology you need that will last a long time and comes with a high-quality warranty. Think of buying a new laptop as a serious investment and avoid buying the cheapest option available. Failing hardware and constant technology issues might take away from your or your kids' education and cost you more in the long run.
While it's best to purchase high-quality technology items, you can still get major savings on these items by waiting for a little and purchasing during Black Friday deals or taking advantage of the Apple education pricing available during the back-to-school season.
More From GOBankingRates
Make Your Money Work for You