Dave Ramsey's Baby Step #5: How to Get Banks to Pay for Your Child's College Savings Fund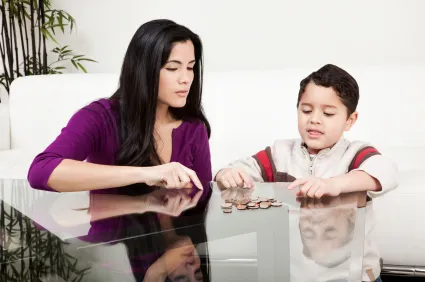 Go to college, get a well-paying job and get filthy rich was the path in life I was always assured of as a child, as long as I stayed on track. What never hit me until I began the college admissions process, however, is how I'd even begin to accomplish the first phase of this game plan without an education savings account.
My middle-class household had its own list of financial priorities that were more urgent than saving for college education expenses, especially with state college tuition costs at the time being about $1,800 per semester. Today's figures are even worse for students with financial disadvantages such as having no savings account; CollegeBoard reports the average cost for in-state tuition and fees increased by 4.8% and is now at $8,655 for the 2012-13 school year.
But that's not all. According to The Project on Student Debt, college graduates had an average of $26,600 in student loan debt in 2011 — an eerily familiar number, as this is about the amount I owed when I left college myself. While it may be too late for me to prepare for the financial challenges tied to a college education, my experience — and the Dave Ramsey Baby Steps — have reinforced the importance of establishing an education savings account for my future children with the help of my financial institution.
Make Your Money Work for You
Dave Ramsey Baby Step 5
If the exorbitant tuition and fees shown above haven't convinced you that making college savings plans for your college-bound student is essential in the long run, perhaps this will: Forty percent of parents do not save for their children's college tuition, and among this number, 18 percent say they don't know how to even start saving for college education costs. This is why the fifth milestone in the Dave Ramsey Baby Steps process is
While setting cash aside in a jar at home is certainly better than nothing when it comes to setting up an education savings account, there are a few lesser known alternatives that not only get you on the path to saving for college, but also get your banks to help cover the costs, too (and no, not in the form of a loan either).
Make Your Money Work for You
Saving for College Education Costs
Anticipating major life expenses, such as saving for college education expenditures, can be accomplished in a number of unconventional ways. Here are just a few options for college savings plans available, and where to find them.
Citizens' Bank
Headquartered in Providence, RI, the Citizens' Bank helps parents actively save money through its CollegeSaver Savings Account and offers a $1,000 bonus. The program requirements are as follows:
Open an account before your child's 6th birthday: Activate an account for just $25, and commit to $25 monthly deposits until your child's 18th birthday at which time a $1,000 bonus will be granted.
Open an account after the 6th birthday but before 12th birthday: A $5o0 initial deposit is required with monthly contributions of $50 will grant $1,000 bonus cash upon your child reaching 18 years old.
There is no limit to how much you can save, and as long as you maintain the terms of the account you're guaranteed the extra $1,000 at no restriction to how the funds are used, in addition to any earned interest gained from
savings account rates
during the program.
Make Your Money Work for You
College Savings Bank
With rates so low, it can be difficult to fathom just how helpful a certificate of deposit (CD) can be when used as an education savings account. At the College Savings Bank, they found a way to make interest rates competitive despite the rising cost of higher education. The CollegeSureCD is a variable CD account that adjusts based on the rate of college inflation. The institution uses the College Board's Independent College 500® Index as a way to measure where deposit interest rates should be for CollegeSureCD customers.
There are no fees involved, and a small opening deposit of $250 is enough to purchase a CD to get started saving for college education costs.
Contribution Matching
Similar to a 401(k), individual development accounts (IDAs) are education savings account alternatives, wherein institutions match your contributions. A few credit unions and local banks offer this kind of saving fund throughout the country. Montana Credit Unions for Community Development is a non-profit organization that partners with local credit unions in the state to offer the Matched Education Savings Account (MESA) Program, a need-based program which contributes a $3 match for every $1 qualified students make into their education savings account.
Saving money for college costs isn't a task you need to contend with single-handedly. With so many available solutions, many of which offer direct financial aid from banks themselves, executing the fifth stage of the Dave Ramsey Baby Steps can be a lot simpler to achieve without the use of student loans.
Sign up for my newsletter and check back for the next installment of the Breaking Up with Debt series to learn how to give back, save money and grow wealth the Dave Ramsey way.