Best Streaming Devices: Google Chromecast, Apple TV, Amazon Fire and More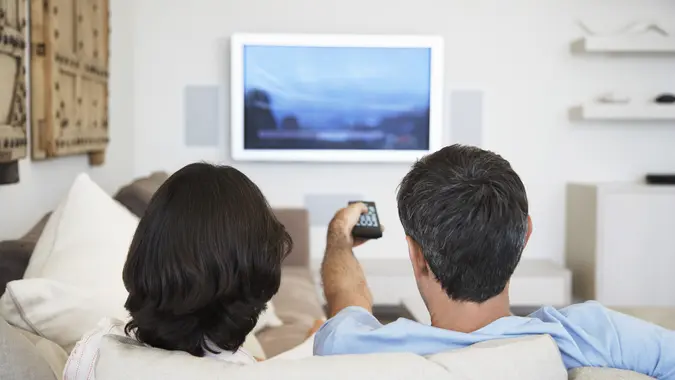 ©Shutterstock.com
You can save time comparing streaming services from Apple, Amazon, Google and others by using side-by-side comparisons to help you decide which device or provider is best for your budget and show variety preferences. Whether you want to replace your cable to save money or to make it easier to get the Netflix movies and TV shows you want on demand — or both — you'll have to weigh some pros and cons to find the right streaming option for you. Take a look at some of the top streaming services and devices available and decide which one you want to replace or cut down on cable.
Best Streaming Devices
Streaming Device
Price
Features
Smartphone/Tablet Control
Internal Storage (GB)
Chromecast
$29.98
Access to 200,000+ shows; stream Android phone or tablet screen to TV; 108 hp resolution; supports all wireless networks
Yes
None
Roku
$89.99
Access to 350,000+ movies and TV shows; use mobile device as a remote control; HD and 4K picture quality
Yes
None
Tivo Bolt
$169.99
TiVo service — $14.99/month; delivers all channels in cable subscription; 4K TV compatible
No
500 GB
Apple TV
$129.99
1600+ video apps to watch TV shows, movies, and news; interactive TV app for recommendations and mobile device connection
Yes
64GB or 128GB
Amazon Fire Stick
$39.99
Access to 7,000+ apps, games, Netflix, Hulu, and more; hands-free commands with Alexa voice remote; quad-core processor with 1GB memory
No
8GB
Make Your Money Work for You
Easiest to Use: Apple TV vs. Amazon Fire Stick
The Amazon Fire TV Stick, priced at $39.99, provides hands-free commands with the Alexa voice remote. Apple TV works with your iPhone, iPad or tablet computer — and also includes a handheld remote control.
Both devices require minimal setup, and you don't need a cable box or satellite dish. If you're interested in downloading Kodi — a free, open-source software media center designed to play videos, music and games — it works with the Amazon Fire Stick, and online tutorials are available to show you how to set it up.
Most Smartphone-Friendly: Roku vs. Chromecast
The best media streamer will enable you to use your iPhone or Android phone as a remote control, and Roku and Google Chromecast both fit the bill. Roku gives you the added benefit of HD and 4K picture quality, and Chromecast provides 1080p resolution for your high-quality viewing.
Both support all wireless networks and quickly connect to your mobile device via Bluetooth or WiFi. In addition, Chromecast can stream on your Google Chromebook as well as your Apple and Android devices.
4K Picture Quality: TiVo Bolt vs. Roku
If you've splurged for a 4K TV, you've now got four times as many pixels as an equivalent 1080p resolution TV. But if you're still watching lower-resolution content, all those extra pixels are effectively going to waste. You can't watch 4K TV shows and movies without 4K technology, so you'll want to be sure your streaming device can deliver. 
Both TiVo Bolt and Roku deliver 4K picture quality. If you choose TiVo, you will need to subscribe to the service to make use of its features, but it's still one of the best streaming TV service options available. Google Chromecast Ultra also streams in 4K Ultra HD and HDR.
Make Your Money Work for You
Best Price: Amazon Fire Stick vs. Chromecast
The most affordable options for the best streaming stick or media streamer are Google Chromecast, priced at $29.98, and Amazon Fire Stick, which costs $39.99. Also consider Amazon's Fire Stick Lite, which, apart from Dolby Atmos Support, has all the features of the regular Fire Stick (the Lite remote also lacks the ability to control your TV, so you will have to use your TV's remote to control volume and mute, for example). Both cost less than half the price of the Roku Ultra at $98.99.
If you go with Chromecast, however, you won't have any internal storage, but you will have access to more than 200,000 shows. The Amazon Fire Stick comes with 8 GB of storage and gives you access to more than 7,000 apps, plus games and movie rental services like Netflix and Hulu. If you're a Roku fan, consider the Roku Streaming Stick, which is a portable version of the Roku priced at $49.99.
Access to Shows and Channels: Amazon Fire Stick vs. Roku
If you have Amazon Prime or want its unlimited access to thousands of TV shows and movies, you will want to consider getting the Amazon Fire Stick. With a Prime membership, you can also add more than 90 premium and specialty channels — including HBO and Showtime — most for less than $10 a month each.
Roku doesn't offer Amazon Prime member benefits, but it does provide users with access to a selection of free services as well as Netflix, Hulu, and Amazon Video and Google Play rentals. It also supports on-demand programming from ESPN and dozens of other channels.
Make Your Money Work for You
The Bottom Line
If you want to replace cable with a low-cost streaming device, Amazon Fire Stick or Google Chromecast are your best bets. Both devices cost less than $40 and offer high-quality streaming. Also consider that many newer TVs have support for streaming built in, so if you are trying to save money, you may not need to buy a separate device at all.
Look into the Roku Ultra if you want to splurge and get extra features. The Amazon Fire Stick has the added benefit of hands-free commands with Alexa and gives you access to thousands of apps, and if you're an Amazon Prime member, you'll have access to a range of shows and movies. Google Chromecast gives you access to apps and works with Google Chromebook and Apple and Android devices.
Although it's priced higher than other streaming devices, TiVo Bolt — the only streaming device that enables you to record shows — gives you 150 hours of HD recording and the ability to record four of your favorite shows at once. You can upgrade to TiVoBolt+ and get 450 recording hours and the ability to record six shows at once. If you're a diehard Apple fan, Apple TV is compatible with the iPhone and tablet and will give you the simple user interface you're familiar with from your other Apple devices.
More From GOBankingRates
Make Your Money Work for You
Laura Beck contributed to the reporting of this article.