Celebrate the First Day of Summer With These Free Activities

8 min Read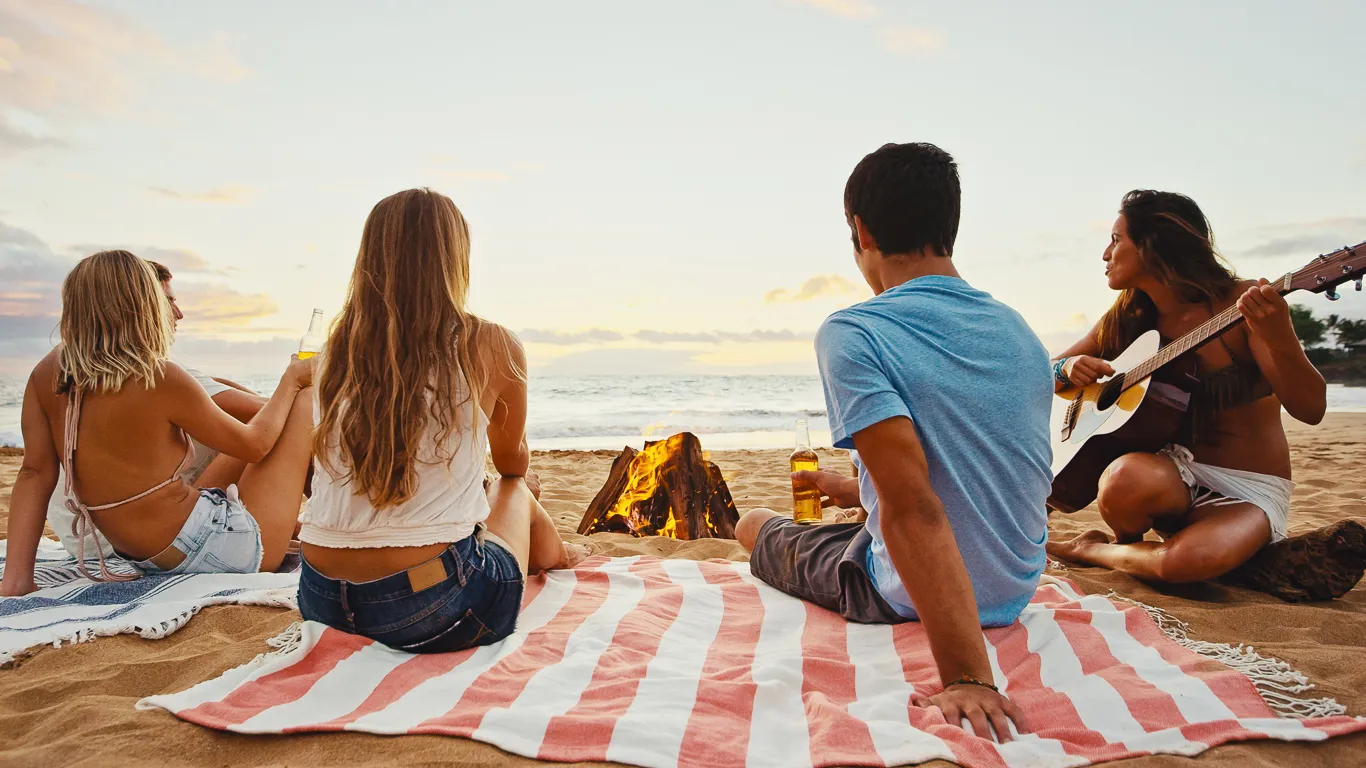 Summer solstice — the longest day of the year — falls on June 21. A season filled with sunshine and warm temperatures simply must be kicked off with outdoor activities. Fill your day, as well as the next three months, with these free activities adults and kids can enjoy.
Make Your Money Work for You
1. Exercise Outdoors
Skip the gym and enjoy a free workout in the great outdoors. Ideal for fitness enthusiasts and anyone looking to burn a few calories, there's plenty of fun activities that will relax your mind and get your heart rate up.
Consider playing tennis on a free community court, hiking around your neighborhood, doing yoga in the park or swimming laps — if you have access to a public pool, lake or ocean, that is. Exercise is already a healthy pastime, but it becomes even more beneficial with a dose of vitamin D.
2. Have an Outdoor Game Day
Teach your little ones some of your favorite outdoor games from childhood. Relive memories from your youth, and make new ones playing classics like freeze tag, Simon Says and hide-and-seek.
This totally free entertainment for your kids is also a good source of exercise. They'll be staying healthy without even thinking about it. Better yet, active outdoor games help tire kids out, ensuring a prompt bedtime.
Once they've been introduced to these games, you can be certain your kids will be begging you to head outside for a few rounds on the regular.
3. Attend a Free Outdoor Festival
Summertime is filled with community festivals, and charging admission isn't a neighborly move. Fun for everyone, these outdoor activities include everything from free art shows to concerts. Reconnect with old friends and make some new ones while enjoying the local culture.
Check your community calendar to find a schedule of free events planned for this summer. If you're feeling adventurous, broaden your horizons by checking out festivals in nearby towns. This is a savvy way to expand your list of free activities while taking in new scenery.
Make Your Money Work for You
4. Cool Off in the Sprinkler
No doubt about it, your children desperately want you to install a swimming pool, but that's a costly venture. Instead, have them put their swimsuits on and head out into the backyard to play in the sprinklers for free.
One of the best activities for kids to beat the heat, they'll have fun frolicking in the cool water. Some communities also have splash pads where kids can play, so if there's one in your area, add it to your list.
5. Have a Picnic
Eating inside is standard, but dining al fresco is a fun and easy outdoor activity. Raid your pantry for delicious fare to fill your picnic basket, grab a blanket and head to the park, the beach or even your own backyard.
A creative way to impress a date or a fun family escapade, picnicking can easily be turned into a regular summer outing. Enjoy a budget-friendly day by pairing it with other free activities, such as outdoor festivals or stargazing.
6. Walk a Shelter Dog
Animal shelters heavily rely on the kindness of volunteers to help walk the dogs in their care. One of the most heartwarming outdoor activities, both you and the pooch will benefit from spending quality time together. You might even find your new best friend.
Volunteer requirements vary by shelter, so check with your local organization to find out specifics. You might need to commit a certain number of hours per week to the cause or just be able to stop by when you have a free hour.
7. Play Photographer
Grab your camera — or your smartphone — and head outside to document the beautiful sights. Photograph your favorite city landscapes or find some new ones. If you take any you really like, consider having them printed for unique home décor.
You can also add this to your list of activities for kids, because it's a fun way for them to explore a new pursuit. This could also be a good time to take a family photo for your holiday card.
Make Your Money Work for You
8. Have a Yard Sale
Not only is hosting a yard sale a good way to spend a significant chunk of the day outdoors, it's also a great way to make some extra money while ridding your home of unwanted items. Make it more fun by inviting friends to join in to sell their own castoffs.
At the end of the day, you'll have a wad of cash and more space to move around your home. Use the money you earned to treat yourself to a couple outdoor activities with an admission fee.
9. Plan a Scavenger Hunt
Depending on your audience, a scavenger hunt can be a super romantic date idea or a fun activity for kids. Make a list of the items that must be found — which, of course, should all be located outdoors — and explain the rules.
Give your contestant(s) something to carry the found items in and set a time limit for completion. The best part about scavenger hunts is that no two are the same, so those planned for children can be modified and recycled all summer long.
10. Beautify Your Community
Making your neighborhood a better place to live is one of the best outdoor activities for kids and adults. Volunteer projects run the gamut from planting a community garden to picking up trash.
You'll get to meet other like-minded people in your community and enjoy the satisfaction of giving back. Complete one volunteer initiative or make it a regular occurrence. Every time you drive past your endeavor, you'll enjoy the satisfaction of knowing you helped make it happen.
11. Take in the Sunrise, Sunset or Both
Since they happen every day, you probably take two of Mother Nature's most beautiful wonders — the sunrise and sunset — for granted. Make a point to appreciate them on the summer solstice.
Start your day sitting outside with a cup of coffee to watch the sunrise, and end it with a leisurely sunset stroll. Both settings are romantic, which makes for a delightfully easy, dreamy date that is sure to impress your significant other.
Make Your Money Work for You
12. Go Stargazing
One of the best free activities for anyone, checking out the stars can be a romantic date or a fun family outing. Spread a blanket out in your backyard — or the roof of your building — and enjoy watching the lights twinkle in the sky.
Enjoy spotting constellations like Orion and maybe make up a few of your own. Don't forget to bring a sweater because even summer nights can be a bit chilly.
13. Explore a New Park
Your local park is wonderful, but visits are a regular occurrence. Switch things up and head to a nearby nature area that previously slipped your radar.
One of the most versatile outdoor activities, parks are a free spot that everyone can enjoy. Find your spot by searching for a specific attribute — such as a playground if you're bringing your kids or a hiking trail if you want to get some exercise. Spend the rest of the summer park-hopping to find out what your region has to offer.
Check Out: Enjoy a Beautiful Vacation for Free at These National Parks
14. Make a Bonfire
Fun for everyone, a bonfire is the ultimate way to stay warm on brisk summer nights. Build one in your backyard or head to the beach — where permitted, of course — and huddle around it with family and friends.
Spend the evening making s'mores and telling ghost stories. Also a great way to end a party, guests will enjoy huddling together and enjoying lively conversation around the fire.
15. Watch Airplanes Take Off and Land
Buying an airplane ticket can be costly, but watching them take off and land is a magical open-air pastime that's completely free. Ideal for daytime or night, find a spot under the flight path and take in the magic of modern aviation.
This is an excellent option for anyone searching for solo outdoor activities. It can also make for a romantic, unforgettable date. Bring a blanket and a bottle of wine from home and give your special someone a time he or she won't soon forget.
About the Author