Check Your Pokémon Cards — They Could Be Worth Thousands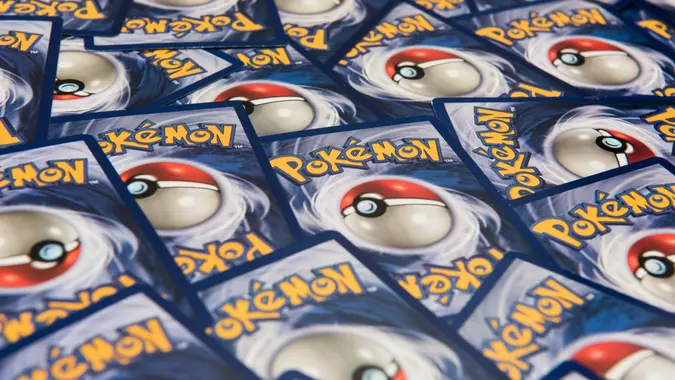 apilarinos / iStock.com
Did you ever collect Pokémon trading cards? If you said yes, it is possible your Pokémon card collection could be quite valuable. Some rare cards are worth hundreds while others are worth thousands of dollars.
Take a moment to dust off your Pokémon cards or a Pokémon card collection belonging to a friend or member of your family. These are the cards which could be worth hundreds or thousands of dollars.
Espeon and Umbreon Gold Star POP Series 5
According to Dicebreaker.com, some of the most valuable Pokémon cards are Gold Star Pokémon cards. Two of the rarest Gold Star cards are Espeon and Umbreon. 
For those with Pokémon card collections, it's worth checking to see if you have the Espeon and Umbreon cards in the POP Series 5 set. There should be a gold star next to the Pokémon's name at the top of the card. This means the card had alternative color artwork from the typical version. A pair of these Espeon and Umbreon cards sold for $22,000 in February 2021 and only 27 Gold Star cards were released between 2004 to 2007.
Make Your Money Work for You
2010 Pokémon World Championship Master's Key
Did you know a Pokémon card player who was a contestant in the 2010 Pokémon World Championship in Waikoloa Village, Hawaii? If so, they received a Master's Key Pokémon card. According to Dexerto.com, this card sold for $26,900 in an August 2020 auction. 
There are 36 Master's Key Pokémon cards to ever exist which makes this card rare, but it may mean former contestants are still in possession of the card.
1999 First Edition Shadowless Holographic Charizard
In a March 2022 auction, a 1999 first edition shadowless holographic Charizard sold for $420,000. This specific card is from the base set, meaning the first-ever set of Pokémon cards released in the U.S. In general, Charizards are extremely popular Pokémon cards and the USA TODAY reports only 121 copies of this card are considered PSA 10. This means it is in perfect condition.
2002 First Edition Mysterious Mountains Crystal Charizard
What makes this particular Pokémon card so valuable is it is part of the Japanese e-Card series. Fans of the Game Boy Advance e-Reader know Pokémon created a line of cards which could be scanned by the e-Reader. This rare card has a value of $40,800 and only 100 PSA 10 cards are in existence. 
Make Your Money Work for You
2004 Pokémon EX Team Rocket Returns Holo Torchic Gold Star
Only 300 Gold Star Torchic cards having been graded, according to FanNation. Out of the 300 cards, only 17 are determined to be in mint condition. Its value is estimated at $43,200.
Pokémon Cards Worth a Few Hundred Dollars
Don't feel discouraged if you can't find a Pokémon card worth thousands in your collection. Diehard fans can use the TCGplayer Price Guide tool to see which cards have a high market price. Currently, this includes the following Pokémon cards.
Charizard Holo. No. 4/102: $339.02
Blastoise Holo. No. 2/102: $122.76
Which Pokémon Card Is Worth Millions?
The Pikachu Illustrator is one of the most expensive, rare Pokémon cards in existence. It boasts several unique attributes including being the only Pokémon card to say illustrator instead of trainer on the card.
According to Dicebreaker, YouTuber Logan Paul purchased the PSA 10 Pikachu Illustrator in exchange for a PSA 9 version of the same card for $5.275 million in July 2021. Paul received a Guinness World Record in 2022 for the most expensive Pokémon trading card sold at a private sale. 
Make Your Money Work for You
Despite its rarity, there are 39 Pikachu Illustrator cards thought to be in existence. Check your Pokémon card collection carefully as it is possible you may unknowingly possess this card!
More From GOBankingRates