Does Disney+ Have a Free Trial?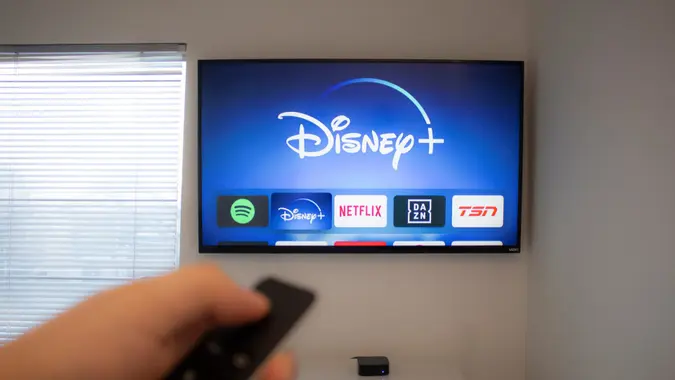 Marvin Samuel Tolentino Pineda / Getty Images
Disney launched its own streaming service back in 2019, making it one of the newer mainstream platforms. When it debuted, it offered free trials to give everyone a taste, but does Disney+ have a free trial in 2022?
Unfortunately, Disney+ stopped offering free trials in June 2020, and they're not expected to come back anytime soon. With Disney's worldwide brand recognition and popularity, they simply don't need a free trial to attract new customers.
Learn: 3 Easy Tips to Turn Your Credit Woes into Wows
However, there are ways to get a free Disney+ subscription through other services, such as Verizon's mobile phone plans. Keep reading to find out how much Disney+ costs and the cheapest ways to get a subscription. 
What Is Disney+?
Disney+ is the streaming platform for content owned by Disney. This includes Disney, Pixar, Marvel, Star Wars and National Geographic, covering a wide variety of movies and TV. In selected international markets, the Star channel also offers content from Disney subsidiaries like FX and has a range of shows such as "Family Guy" and "Buffy the Vampire Slayer."
Make Your Money Work for You
How Much Does Disney+ Cost?
Disney+ offers two tiers of subscription: the ad-supported basic plan and the ad-free premium plan.
The basic plan costs $7.99 per month, and the premium plan costs $10.99 per month or $109.99 per year.
Disney also offers bundles with other streaming services. These include:
Disney Bundle Duo Basic: Disney+ with ads and Hulu with ads for $9.99 per month
Disney Bundle Trio Basic: Disney+, Hulu and ESPN+, all with ads, for $12.99 per month
Disney Bundle Trio Premium: Disney+ with no ads, Hulu with no ads and ESPN+ with ads for $19.99 per month
All Disney+ subscriptions give customers unlimited downloads on up to 10 devices and the ability to watch on four screens at once. There are also over 300 titles available in 4k and HDR.
Does Disney+ Have a Free Trial?
Disney+ does not have a free trial, and this isn't expected to change anytime soon. They also don't offer any free content, so the only way to start watching shows is to pay for a subscription right away or be eligible for a promotion.
Make Your Money Work for You
While there isn't a free trial, Disney+ does offer flexible subscriptions that can be canceled anytime, so viewers are free to subscribe for just one month to watch a new Marvel show or stream a new movie, and then cancel straight away.
How To Get Disney+ for Free
Disney+ does not have as many deals and promotions with other providers as some other streaming services, but it does have some. 
Free Disney+ Subscription With Verizon
Verizon offers a variety of mobile plans, some of which are eligible for a free Disney Bundle subscription. These include the 5G Get More plan and the 5G Play More plan. There are also other ways to get Disney+ through Verizon, including just paying for the subscription through them rather than through Disney.
Free Disney+ Subscription With Hulu Plus Live TV
As well as their streaming service, Hulu also offers a Live TV service bundle for those who don't want to deal with the fees of cable providers. It includes over 85 live channels, Hulu's on-demand streaming, no hidden fees and costs, and also comes with Disney+ and ESPN+. 
Make Your Money Work for You
However, this subscription costs $69.99 per month, so if you're not going to use the live TV streaming, you're better off with a Disney Bundle.
Final Take
Disney is not known for offering budget content or experiences, and the Disney+ streaming service is no different. For most customers, access to Disney+ content is only available after a payment. However, it's still worth checking out current promotions to see what's available.
FAQ
Here are some frequently asked questions about the Disney+ streaming service.
Does Disney+ have a 7-day free trial?

Disney+ does not have a free trial or any free content available to users before signing up and making payment. Unless users are eligible for a promotion that grants them a free subscription, Disney+ must be paid for before content can be viewed.

Is Disney+ worth the money?

Disney owns a huge amount of content, including wildly popular franchises, such as Star Wars and the Marvel Cinematic Universe. With all the TV and movie content being released for just these two franchises alone, any fan would get their money's worth out of a Disney+ subscription. It's also the perfect streaming service for kids -- and anyone else -- who loves Disney movies and Disney Channel TV shows.
Information is accurate as of Dec. 8, 2022.
Editorial Note: This content is not provided by any entity covered in this article. Any opinions, analyses, reviews, ratings or recommendations expressed in this article are those of the author alone and have not been reviewed, approved or otherwise endorsed by any entity named in this article.
Make Your Money Work for You